The kitchen crew at Hook—chef de cuisine Joshua Whigham, chef Barton Seaver, and pastry chef Heather Chittum—is as young and energetic as the dining room at night. Chittum's desserts, such as chamomile-roasted apricots with brown-butter cake, are among the best reasons to visit this Georgetown fish house. Photographs by Stacy Zarin-Goldberg.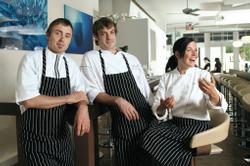 With its minimalist dining room, beautiful-people crowd, and buzzing bar scene (is that a Bush twin?), Hook might seem to be all about looks and trendiness. But in the kitchen, this Georgetown restaurant aims to be more Alice Waters than Padma Lakshmi.
Chef Barton Seaver, a DC native, is an adherent of the "sustainability" movement—he and his cooks wear baseball caps that read NO FARMS, NO FOOD. At Hook, his focus is on preserving the world's seafood supply. Depleted species such as Chilean sea bass and yellowfin tuna are absent, replaced by such abundant fish as amberjack, bluefish, and Tobago snapper.
Seaver devotes a good part of the menu to crudo—two-bite, sashimi-style slices of raw fish paired with different oils, salts, and herbs. These miniature studies can be artful: A flowery ice-wine gelée mellows a salty Canadian oyster, while a spoonful of bright-orange trout roe with a dab of crème fraîche makes a big statement on a sliver of brioche. But they can also fall flat—briny slivers of mackerel clash with a golden raisin; orange and mahi-mahi make a boring match.
On bigger plates, you'll find that the fish is fresh and often well prepared. But it's Seaver's deft way with vegetables that steals a lot of the attention. Plump curls of grilled octopus are complemented by a sweet, vinegary tangle of purslane hiding underneath. A cut of kingfish—a relative of mackerel—is seared nicely, but what's most compelling is the side of lemony green beans.
Heather Chittum's desserts are spare and uncluttered; they're also some of the most exciting things coming out of the kitchen. Her ice creams, baked-to-order mini-cakes, and fruit croustades change with the seasons. But we'll crave two of her summer offerings—warm, powdered-sugar-dusted madeleines with rhubarb preserves and chamomile-roasted apricots with dense brown-butter cake—all year long.
Hook, 3241 M St., NW; 202-625-4488; hookdc.com. Entrées $22 to $26.