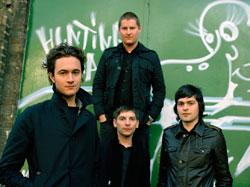 The most extraordinary thing about the British band Editors, who played at the 9:30 Club last night, is the sinuous grace of lead singer Tom Smith's hands. Outstretching and bending around Smith's tiny frame in seemingly impossible ways, they gave a competent but rather unremarkable performance a jolt of personal flare and eccentricity.
Smith's voice is often negatively compared to that of Paul Banks, lead singer of fellow indie rock band Interpol. But while it evokes Banks's trademark somber timbre, as you watch Editors perform live, you realize the band is more a slightly moodier Snow Patrol or Coldplay than a toothless Interpol. This likeness extended to the crowd gathered at the 9:30 Club—an assortment of young people clad in polos and khakis as well as more mature Top 40 listeners.
To the band's credit, the show's energy level never dwindled. Slower tunes such as "Weight of the World" and the encore "Smokers Outside of Hospital Doors" were either followed or preceded by spitfires like "Munich" and "An End Has a Start"—performed, sadly, without the kooky rainbow-colored-panties-wearing dancers from the video. The show's lighting, with shifts from deep hues to incessant flashing, also kept the momentum going. And with only a couple of thank-yous uttered by Smith between songs, the show was short and sweet and . . . nearly forgettable.
What with the lack of audience interaction and zero spontaneity, all pressure was on the band's sound, which fell far from unique. Feeling more calculated than heartfelt, most of the tracks performed kept the audience tapping along, but few seemed to linger afterward.
On the band's record, Smith may sing about ends having starts but as last night's show proved, Editors should focus less on the finish line and more on jump-starting their musical career with a style all their own.