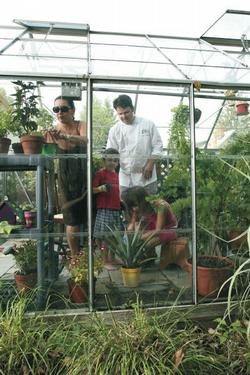 Fresh and Green
With four establishments to run in Old Town—Restaurant Eve, Eamonn's, the Majestic, and the speakeasy PX—chef Cathal Armstrong doesn't have much time to cook at his Alexandria home. On his day off, he makes Sunday dinner with his children, eight-year-old Eve and five-year-old Eamonn—often using fresh herbs snipped from his greenhouse out back.
Dream kitchen: The house Armstrong and wife Meshelle moved into three years ago was built in 1997, so updating its sunny kitchen hasn't been a priority. But Meshelle does hope to expand it into the adjacent garage space. "My idea of a home kitchen would be to design it along the lines of a professional kitchen," Cathal says, "with food storage in one location, dishwashing in another, cooking in yet another."
Family affair: Whenever Armstrong cooks at home, the kids join in. They love Dad's roast chicken and ribs and will, Armstrong says, "eat corn until it's coming out of their ears." When his parents visit from Ireland, he prepares bouillabaisse, a family favorite, or relinquishes the kitchen to his father: "My dad is a talented cook; he often does the cooking when he's here."
Must-have tools: "The butcher-block cutting board was the first thing I spent money on for this house," Armstrong says. "It's key." He also can't live without a set of Wüsthof knives—he uses the same brand in the restaurants—and good pots. Three copper Cuprinox pots from France—a wedding gift from Cathal's former employer Jeffrey Buben, owner of Vidalia and Bistro Bis—hang from the ceiling.
Chef's garden: A small glass-enclosed greenhouse is steps away from the kitchen's back door. The home's original owner was an avid gardener, and Armstrong took advantage of the space, planting lots of herbs and fruit, including nectarines, mini-pomegranates, even Cabernet Sauvignon grapes: "I'm going to experiment with making wine."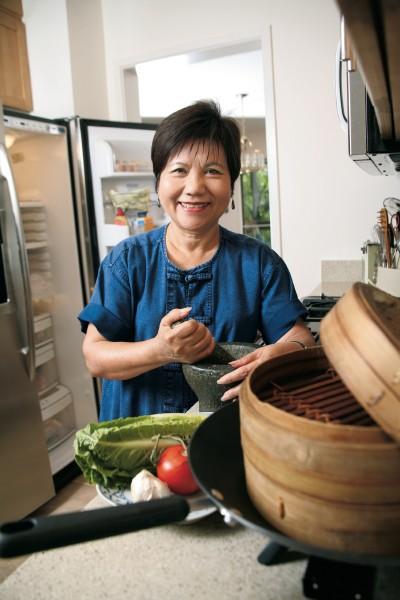 Taste of Asia
Nongkran Daks cooks seven days a week at Thai Basil, her restaurant in Chantilly, but she spends a lot of time in her home kitchen, too. She and husband Larry, a retired Foreign Service officer, have lived in their Reston townhouse since 1975 and remodeled the kitchen last year.
Heart of the home: "The kitchen is where I live," Daks says. "That's why I have a TV here." She likes to watch the news on the flat screen while preparing dinner. The floor is Spanish tile: "It's softer, easier on your feet." When guests come over, they keep her company in the kitchen, sitting at the L-shaped Silestone counter to chat and watch her cook.
Favorite toys: She loves her electric wok, which heats up quickly to 420 degrees. For frying, she plugs it in and takes it outside to the deck "so the smell doesn't linger in the house."
Quick fire: All of the other townhouses in Daks's development have electric ranges, but she removed hers and installed gas burners upon moving in more than 30 years ago: "Asian cooking is quick, and electric takes too long to heat up."
Adding spice: Pull-out spice drawers inside a cabinet give Daks easy access while cooking. "I don't use much dry spice—but a lot of fresh," she says. She returns to Thailand every year and always brings back spices such as cloves and black peppercorns.
In the round: "I cannot live without a round table and a lazy Susan," Daks says—her kitchen has both for family meals and entertaining. She also uses lots of heavy serving dishes collected from Thailand, China, and other travels: "I hate to have to pick them up and pass them around."
Creating Space
When Susan Kolman, a pastry chef in the test kitchen of Gaithersburg's Albert Uster Imports, and her lawyer husband, Mark, moved into their Bethesda house, they were faced with a kitchen mess. Besides a broken dishwasher, they were up against bad lighting and a cramped layout. "The room had nice depth but no width," says Susan, who likes to entertain casually. Baltimore kitchen designer Stu Dettelbach of SD Kitchens came up with solutions.
The shallow end: To save space, the designer encouraged them to install a wall of 12-inch-deep maple cabinets; standard depth is 24. "I had nightmares that nothing was going to fit," Susan says. "But he was right. It stays more organized, and you don't have a ten-year supply of anything—you see what you've bought and know what you need to replenish."
Heating up: The couple's favorite appliance is the six-burner Wolf gas range, with up to 15,000 BTUs of firepower. Its Wolf hood connects to an external blower routed through the roof, so it's virtually silent. The range's digital panel makes it easy to see temperatures. "If you're as old as we are and your eyes aren't so wonderful," Mark says, "getting on your hands and knees to read a dial is a pain."
Island living: A narrow, ten-foot-long island is a place for guests to hang out and an extra workspace for Susan. It also holds a second KitchenAid oven, a warming drawer, and lots of storage, including a wide drawer for organizing spices, a larger drawer for baking supplies, and a hidden shelf for her KitchenAid stand mixer; crank a lever and the appliance pops up to countertop level.
Chocolate bar: "Most people choose granite because it's beautiful," Susan says. She chose her coppery brown slabs for the counters because granite stays cold enough to temper chocolate. Says Mark: "The happiest she is is when she's in that kitchen listening to John Mayer or Keb' Mo', chocolate everywhere."
Do-It-Yourselfer
What would possess Brendan Cox, a chef who works six-day weeks at downtown DC's Circle Bistro and Notti Bianche, and wife Leslie, a stay-at-home mother of three toddlers, to undertake a do-it-yourself renovation of their kitchen? Blame it on the rain. When a 2006 storm flooded their Alexandria condo—and its 50-year-old kitchen—the couple didn't have a choice. Working on a tight $15,000 budget, they handled everything but wiring and plumbing. After 2½ months of labor, they have a bright, smartly designed kitchen.
Getting started: "We'd never done a renovation before, and time management was a challenge," Leslie says. The easiest job? Building white Lidingô Thermofoil cabinets from Ikea: "Once you put one together, the rest are the same," she says. The hardest? Laying ceramic tile for the floor and backsplash. "We thought about doing a smaller-tile mosaic for the backsplash," she says. "But grouting is my least favorite job—I didn't want to spend years doing it."
Small but not small-minded: Space is at a premium in the 9-by-11-foot galley kitchen—though Brendan says it's not much smaller than Notti Bianche's—so layout was crucial. Brendan sees the three-foot swath of butcher-block counter space as a large cutting board—for everything from rolling pasta dough to chopping. Three big drawers next to the stove keep pots at arm's reach. And the ten-inch-deep sink is similar to those in restaurants. "I work at private dinners, and some people have huge, beautiful kitchens," he says. "But when it comes time to do something, you're still in the same five-foot radius—where the sink and stove are and where you're plating the food."
Good and bad: High-end appliances were out of the Coxes' budget, but they're satisfied with the Frigidaire gas range and stainless refrigerator from Best Buy. The only hitch to the five-burner range? No capacity for a hood. Says Brendan: "I have to take down the smoke alarm every time I use it."
No garlic presses: Brendan is old-school when it comes to gadgets. He puts pasta dough through a hand-cranked machine instead of electric, uses a food mill to make mashed potatoes, and uses a Masahiro vegetable knife—not a food processor—for most chopping. He calls his style of home cooking simple and relaxed: "I'm not curing meats and making pancetta-wrapped cod. I'll pan-roast a chicken with a ton of garlic and serve some spinach. If I'd had a French grandmother, I like to think I'd cook how she would have."
Homey Kitchen
The cool, modern interior is one of the most striking aspects of the restaurant Zola in DC's Penn Quarter. But the Arlington kitchen of Dan Mesches—who owns Zola and is a partner in Alexandria's Indigo Landing—has the opposite feel. He and wife Kate went for a Arts and Crafts look. Says Kate: "We wanted it to have a period feel but be functional and fit in with the house."
Artful touches: Arlington interior decorator Melissa Broffman helped the couple choose William Morris's Blackthorn-patterned wallpaper, curtains, and barstool cushions. Their contractor pointed them to artisanal touches—Italian hand-painted tiles for the backsplash and a local granite cutter for a honed black countertop.
Their little secret: The couple's favorite design element is a narrow, custom-made island topped with a three-inch block of distressed maple. Carved into the wood are the initials of Dan, Kate, and daughters Hannah, 12, and Sophie, 8. "This was our little treat to ourselves," Kate says. "It's not going to be everybody's thing when you think of resale." Set into the surface is a small hammered-copper bowl sink with a garbage disposal. Says Dan: "We wanted as many sinks as we could in a small area, because that's where you always back up."
Small luxuries: Dan loves the six-burner Wolf range: "The BTUs are high—it's close to the restaurants'." He's just as enamored of his Sub-Zero wine cooler, set under a counter. And he gets giddy about the double Bose speakers in the ceiling, which connect to a flat-screen TV visible from the den. The 48-inch Sub-Zero side-by-side fridge gets lukewarm reviews. "It's just okay," he says.
Let there be light: "I'm a big fan of natural light," says Kate, who thought that would mean fewer fixtures. Instead of relying on their one kitchen window, she and Dan installed lots of sources, including halogen task lighting under the cabinets and hanging stained-glass lamps that can be set at different levels. The ambiance is easier to control, and the lights don't emanate much heat.
Architect's Eye
Designing kitchens is a big part of architect Griz Dwight's job. Most of his clients at his firm, GrizForm, are restaurants, including Black's Bar and Kitchen in Bethesda, PS7's in DC's Penn Quarter, and Farrah Olivia in Alexandria. When it came to designing his home kitchen in the District's Wesley Heights neighborhood, he added some restaurant-savvy touches.
Starting from scratch: When Dwight and his wife, Mary, a vice president with the Cystic Fibrosis Foundation, moved in about three years ago, the kitchen was tiny. "It had old farmhouse sinks that weren't exactly functional," he says. The couple gutted everything and added to the back of the house to extend the kitchen.
Functional and quick: The Dwights omitted cabinets from their kitchen in favor of open shelving for plates and glassware. Everything else—including trash and recycling bins—is stored in drawers for easy access. They also opted for an extra-wide and extra-shallow GE Monogram refrigerator: "The idea is you see everything. Nothing's hiding in dark corners."
Finding inspiration: For counters, Dwight had an image in mind: "I wanted something like the black tables you had in a science lab in high school. If you spilled anything, it wiped right off." He did a lot of research—"just short of calling my high school"—and decided on black granite that's honed, not polished, to achieve the science-lab look.
Restaurant quality: The layout is similar to that of a restaurant kitchen: There's the prep area, the cook line with a six-burner Wolf range, and the "plating" area that faces into the living room. "Sometimes my wife stands up here like the expediter," says Dwight, who loves to cook. "Right now our signature dish is turkeyburgers with bleu cheese inside, topped with bacon."