Clarice's Pieces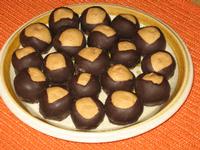 Makes about 25.
1 cup creamy peanut butter
¼ cup butter or margarine, softened
1 teaspoon vanilla extract
2 ½ to 3 cups powdered sugar
1 ounce baking chocolate or semisweet chocolate chips
Line a baking sheet with wax paper. Combine peanut butter, butter, and vanilla either by hand in a large mixing bowl or with an electric mixer. Gradually add the powdered sugar, blending until smooth. Shape the mixture into balls ¾ to 1 inch in diameter. Place the balls on the lined baking sheet. Cover and chill or freeze 20 minutes or until firm.
Cover a large countertop area or a large baking sheet with wax paper.
Set a double boiler over simmering water. In the top pan of the double boiler, melt the chocolate, stirring until smooth.
Take the chilled peanut butter balls from the refrigerator and insert a toothpick into the top of each 1. Dip the bottom 2/3s of each ball into the melted chocolate, leaving the top 1/3 uncoated.
Carefully slide the balls onto waxed paper so the undipped portion is pointed upwards. Remove the toothpick. Using a knife or metal spatula, smooth over the hole left by the toothpick. Let stand until the chocolate is firm. Store in an airtight container.

When trick-or-treaters are lucky enough to stumble upon the home of a chef, what will get dropped into their plastic pumpkin? Homemade truffles, perhaps? We asked local chefs with kids of their own what they hand out on Halloween.
Cathal Armstrong, Restaurant Eve and Eamonn's: A Dublin Chipper : "We make some cookies with the kids, and decorate them with orange and black frosting to give out to trick-or-treaters. It's just a shortbread cookie. We have cookie cutters in ghost shapes and jack-o-lanterns."
Todd Grey, Equinox: "Reese's peanut butter cups. They're a favorite of all of us, not just our son. Snickers is a close second. And we give out full size. No 'fun size' here."
Brendan Cox, Circle Bistro: "I'm in a condo, so we don't get many trick-or-treaters. We take our kids about a mile away, to Old Town. But I'm a huge fan of candy corn."
Jeff Black, Black's Bar and Kitchen: " We live in 150 year-old farmhouse in Kensington, and the neighbors before we moved in thought the house was haunted. No kids come to our house. We do get a mix of candy to give out, but I just end up eating it all. I have a terrible sweet tooth, I love pretty much anything chocolate."
Jamie Leeds, Hank's Oyster Bar: "Usually it's just candy corn. A personal favorite."
Ris Lacoste, formerly of 1789: "Snickers, hand down. And the big stuff—not those fun-sized candy bars. I can appreciate the homemade treats like candy apples and cider at some houses, but deep down, I just want the Snickers bar…My last ten or so Halloweens were spent at the '89, where we handed out our own candy–my homemade pumpkin ravioli. Since the diners were my neighbors and friends, they were practically my own trick-or-treaters.
Jonathan Krinn, 2941: "My pastry chef Clarice makes something with peanut butter and chocolate that we call Clarice's Pieces. I eat most of it and give one or two out to the kids. They're made with chocolate and peanut butter, and they're very addictive."
On that note, here's 2941 pastry chef Clarice Lelle's recipe: