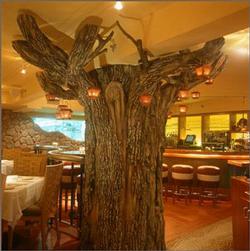 Okay, so he's not exactly a bartender, but I figured he'd make for an interesting Belly Up feature nonetheless—especially since he just revealed his spring drink menu and it's worthy of a look (and a taste). Will Earls, the bar manager at the glam Dupont spot Firefly (1310 New Hampshire Ave., NW), is a mixologist—he's perfected the art of inventing and mixing tasty and innovative drinks. Wednesday night at Firefly he unveiled six new drinks the bar will start serving this weekend, and he talked to us about everything from his background in bartending to how to make the perfect margarita—a natural topic, given that he hails from Austin, Texas. Read below for descriptions of the drinks and more from Earls.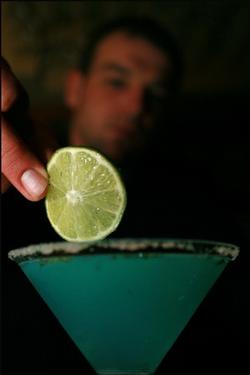 The first drink Earls mixed for us was the El Agave Azul, a margarita made with Patron Silver Tequila and Blue Curaçao. Earls talked about his boss's reluctance to serve a blue drink—it seems cheesy, he explained—but the El Agave Azul was incredibly smooth and flavorful. In fact, I might go so far as to say it's the best margarita I've had in town. The cilantro-infused simple syrup added a kick, and it was by far my favorite drink of the night.
A close second was the Dash of Basil, a concoction that mixed rich bourbon with the bite from green apples. The drink was sweet, but not the sickly sweetness that tends to overpower cocktails. It was tempered by the earthy bourbon.
While making his Ruby Sparkler, a pomegranate-infused drink made with sparkling wine from Virginia's Barboursville winery, Earls spoke of two things—the importance of using as many locally made ingredients as possible, and the claim that he was the first to come up with the now-popular pomegranate martini. While I can't validate the latter point, I can certainly endorse the former.
Other drinks included a Dill Pickle Martini, a Rose Petal (rosewater tonic and gin), and a Cherry Blossom Mojito ((a bing-cherry-infused version of a classic mojito), one of the official drinks of the National Cherry Blossom Festival.
With Earls's fresh and creative spring drink menu and Firefly's regular $7 cocktail happy hour Monday through Saturday from 4 to 7 pm, it's worth your time to drop by.