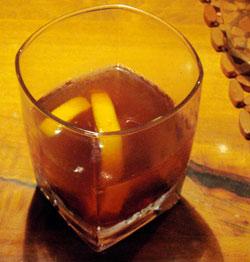 The spot: Firefly , 1310 New Hampshire Ave., NW; 202-861-1310.
The drink: Bourbon Street, blood orange and muddled Bing cherry poured with Bulleit rye bourbon.
The price: $12.
First impression: If fall has a taste—besides fun-size candy bars—Bourbon Street is it. The rye bourbon nips at your tongue but warms your throat.
Last impression: Strong until the end. The muddled cherries add a faint cherry-pie flavor—just enough to complement but not overpower the Bulleit. At the end, savor the Bing cherry that has been bathing in bourbon for the past month. Yum. The only disappointment is the classic orange subbed in for the more potent blood variety, which isn't quite in season yet. (Firefly will be switching to blood oranges as soon as it gets them in—probably next month, bar manager Will Earls says.) But even with the change, a trip down Bourbon Street is a real treat.
Grade: A
Firefly's fall cocktail menu includes an apple mojito and the Cosmousseau, which combines lime vodka, white-cranberry juice, and Cointreau. Like something better than Bourbon Street? Tell us below.