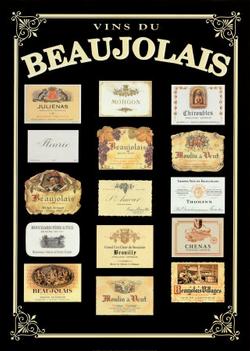 It's the time of year when revelers crack open bottles of Beaujolais Nouveau. French law dictates that the wine can't be uncorked until the third Thursday in November, and a slew of parties and other events have sprung up to celebrate the occasion. The wine itself may not be the best thing you've ever drunk—but it guarantees some good parties. Here's our guide for those who want to sip Beaujolais and party like the French.
Looking for advice on which types to drink? Wine columnist Dave McIntyre gives the lowdown on his favorite bottles.
The Beaujolais Nouveau party on Wednesday at Dupont Circle-area Bistrot du Coin is one of the most well known—and most insanely crowded. Free wine is given away starting at midnight, and DJs spin French and other European tunes. By the end of the evening, folks will have packed the place dancing and drinking. Getting in can be difficult, though; dinner reservations are filled for that night, and if the place reaches capacity, you'll be let in only on a "one in, one out" policy. If you want to give it a try, go early.
Bistrot du Coin, 1738 Connecticut Ave., NW; 202-234-6969.
Wednesday, November 14, 11 PM
Les Halles' party is a tiny bit more low-key but no less fun—and you may stand a better chance of getting inside. Plus the restaurant hands out free wine—and free tripe! Who could pass that up? A DJ will be spinning as well. Make reservations beforehand for dinner—if spots are still open—to guarantee entry into the party, or show up an hour or so before 9 PM.
Les Halles, 1201 Pennsylvania Ave., NW; 202-347-6848.
Wednesday, November 14, 9 PM.
Been wanting to check out the new lounge and restaurant Park at Fourteenth? (Pssst—we gave Park a first look here.) Friday may be your night—plus you'll be able to celebrate with Beaujolais Nouveau and a French-wine-loving crowd. The French Wine Society is hosting a Beaujolais party at Park at Fourteenth with free wine until 10 PM as well as a fashion show. The party is open to anyone; tickets are $20 in advance and can be purchased here.
The Park at Fourteenth, 920 14th St., NW; 202-737-7275.
Thursdan, November 15, 8:30 PM.
Café du Parc (read our review here), the French bistro next to the Willard hotel, will be hosting Beaujolais activities starting this Thursday and going throughout the weekend. From 5:30 to 9:30 PM, the bistro's bar will be selling the wine for $7 a glass and $30 a bottle—with complimentary petits plats for every bottle purchased. Make a reservation here.

Café du Parc, 1401 Pennsylvania Ave., NW; 202-942-7000.
Thursday, November 15, through Sunday, November 18, 5:30 to 9:30 PM.
L'Enfant Cafe, the adorable cafe at the corner towards the outskirts of Adams Morgan, hosts its own party on Thursday night. There will be free Beaujolais samples, a DJ, and plenty of dancing. There's a $5 cover.
L'Enfant Cafe, 2000 18th St., NW; 202-319-1800
Thursday, November 15, 7 PM; $5.
For the official Beaujolais Nouveau release party, head to the French Embassy on Thursday night, where you'll find a mix of embassy employees, wine lovers, and international types. Admission includes unlimited tastings of seven Beaujolais Nouveau wines, and seven local chefs have created dishes to be served with them. Tickets ($69) are available here.

French Embassy, 4101 Reservoir Rd., NW.
Thursday, November 15, 7 to 10 PM.
The Alliance Française throws a wine-and-cheese party this Friday at the group's Kalorama location. Simone Marchand will croon Edith Piaf tunes, and a DJ will be playing later on. Tickets ($33) must be bought in advance; you can do so here.

Alliance Française, 2142 Wyoming Ave., NW; 202-234-7911.
Friday, November 16, 6:30 to 9:30 PM.
Central's Wine Director Brian Zipin will have a Beaujolais on the wine list starting this Thursday. It'll run you $9 a glass/$35 a bottle.

Central, 1001 Pennsylvania Ave. NW, 202-626-0015