Gina Chersevani of Rasika (633 D St., NW; 202-637-1222) is a force to be reckoned with. Seconds after I've met her, she's already offered to make not one, not two, but three of her best cocktails to sample (score!) and can barely contain her enthusiasm when talking about mixology. Judging by the attention she gives to every concoction—from the mixing to the smallest detail in presentation—it's clear that for this University of Maryland graduate, a cocktail is not just a cocktail; it's a piece of art.
Despite recognition from peers and local media, Chersevani remains humble, often sharing cocktail recipes with other bartenders and friends. And she serves up some lethally delicious cocktails—the latest of which is the Saffronik (and, boy, is it good). As Chersevani tells it, her love for mixology is perhaps equaled only by her love of DC's Penn Quarter neighborhood.
When did you start bartending?
I first bartended throughout college, and when I say "bartended" I mean served beers from a bucket. But I got my first martini gig at Penang when it opened in 2001, I believe. That's where my whole martini/make-your-own-cocktail-creation started. After that, I went to 15 Ria and worked with Jamie Leed for a little bit. She's from New York, and I had read about her, thinking how incredible she was—and still is. I worked with her for about seven months before she opened her own restaurant. I then went to Poste and worked under Robert Weland, who is another incredible chef. My drink knowledge just kind of grew from there. Then I came to Rasika, which will have been open two years in December.
Tell us about your time at Rasika.
It's been the best experience. I've gotten to use ingredients that I would never think of putting into a drink, like saffron, clove, cinnamon, and star anise. And then doing stuff with yogurt, coconut whip, and lotus—just crazy things that are very everyday at Rasika but would otherwise never cross my mind.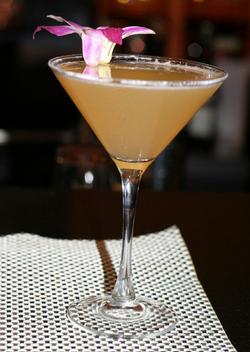 Do you have free reign when putting together or tweaking Rasika's cocktail menu?
Yes, it's my drink list. It has actually been my drink list at every place I've worked for in the last five years.
Do you think your skills behind the bar are innate or something you've developed over the years?
I've definitely developed them over the years, but my father is a chef in New York, so I grew up in a kitchen. Being on the bar side of the business wasn't what I thought would happen to me, and my parents definitely did not want me to work at a restaurant. But it just felt natural. I've done everything: I went to school and thought I'd have this great desk job. I actually wanted to be a psychologist—that was one of my degrees—but I decided that this is the best way to reach people and do what I like to do, which is to be creative.
Do your parents approve of your profession now?
Just very recently. My mom is very New York, so she would tell me things like "I can't believe you're wasting your degree and working in a restaurant for the rest of your life." Then when someone wrote about me for the first time, I sent her the article and she brought it to her work, telling people, "Did you see my daughter, the mixologist? Oh, my God, she's in the magazine."
Do you remember what your very first cocktail was?
My first cocktail came about when Woodford Reserve handed out infusion jars five years ago. If you wanted one and had a Woodford account, you could take a jar. So I took one but didn't think I'd do anything with it. Then I started reading Difford's Guide to Bartending—which is a four volume guide that comes out every year in London—and came across a page on infused drinks. I thought it was cool, and I had some bourbon, so I took some pears and cinnamon and threw them in—that was my first infusion.
Do you keep count of the different cocktails you come up with? If so, how many do you have?
Last time I checked, it was around 66 or 71. I don't number them, but I keep them all in a recipe book. One day I would like to publish them in a book.
What are the two cocktails you're currently most proud of?
I have two. The first one—the Spicy Queen Martini—is made of Winesap apples, Kashmiri chilis, and Snow Queen vodka, all infused together. Winesap apples are indigenous to the Virginia area, and actually, Martha Washington was the first person to ever make an apple pie with them, so that kind of intrigued me to use them.
Winesap apples are really tart, so I put them with the Kashmiri chilis, which are really hot Indian chilis, and add the Snow Queen vodka. Then I take that mixture and put in a little bit of Cointreau, fresh lemon juice, a dash of egg white, and a micro-drop of pomegranate—only for color. Shaken and served up, it's delicious.
The other one came about after a challenge from my friends. Have you ever heard that [Harry Nilsson] song "You put the lime in the coconut . . ."? Well, my friends said, "If you think you're so good, then make a drink with the lime in the coconut." I thought about it, and the only thing I could think of was a piña colada, which is a bit too sweet but delicious.
So I made a lime-based gin cocktail, using Bombay Sapphire and a little bit of Cointreau with a little splash of soda water, and then topped it with fresh coconut whip and "put the lime in the coconut."
Let's have some fun. If you had to assign a cocktail to specific neighborhoods in the city, what would those be?
Columbia Heights would be a Highlife and a Jameson shot, because I go to Wonderland Ballroom over there and that's what I drink. Love it.
Adams Morgan would definitely have to be a vodka on the rocks of some sort, because anytime you go to those bars, they're so busy that you can either get a vodka on the rocks or a beer.
Georgetown has to be something sophisticated like a Negroni. It has to be a grown-up drink that was very in fashion in the '60s and is kind of yachty.
Penn Quarter would have to be something fresh, like a mojito. It would have to be fresh and muddled and good because that's what people expect from this area.
Do you have a secret ingredient?
Bitters. All the bitters. Bitters can spike a drink just the right way. I love the line of Fee Brothers because they're always done very well and are consistent with the recipes. You can have a cocktail and think it's good, but then you put a drop of lemon or orange bitters in it and that drink just pops.
What inspires you?
Everything. It could be a lip gloss. I had a lemon-chiffon lip gloss that inspired one of my drinks. I put it on every day, loved it, and thought it should be made into a cocktail. So I thought about it and thought about it and made a type of flip, with Captain Morgan, a little bit of Cointreau, fresh lemon juice, egg white—all shaken to death and then served up with a little bit of sugar. So good, and it tasted just like my lip gloss.
Describe the bar crowd at Rasika.
It's everybody. You get people from every different nationality and race and every different job background. I can have a bartender sitting next to a former senator and then sandwiched in between two of my friends. That's what makes this place so unique—everyone gets to come here.
Where can you be found when you're not at Rasika?
My go-to place—and I'm always bashful because I feel like I should be going to a cooler spot—is Clyde's. It just is what it is—a divey Irish bar. The music there is terrible, and the people there are great. It's a place where I feel like I can just go and have a beer and a shot and it's cool. I can be alone or be with 30 people, and it's always okay.
I also like going out to U Street. It's my new favorite thing. This new place, Marvin, just opened there. My friend Brian Miller—who's one of the designers of the place—took me there, and I've been back already three times. I'm not usually the person who scopes out a new joint, but Marvin's upstairs room—you can just chill there, and I like it because nobody there knows who I am. It's great.
The Liquid Muse, a local blog, called you "the grande dame of Penn Quarter." Why the title, and what about this area is special to you?
Because the area is new, and it gets to be mine. There's a lot of young restaurants and people in their late twenties getting out there and doing their thing. It's not about being in the city for a million years and having people know who you are. It's about the risk takers.
This place used to be a horrible neighborhood, but some people—the visionaries—took a chance in the area. It took a lot of guts, and that's what I love about this area: You have a chance to be new. Nothing was ever here before. You're not in the shell of a different restaurant. There aren't any old haunts or ghosts walking around. Here you get a chance to be all creative and new all the time.
For more Belly Up interviews with great bartenders, click here.