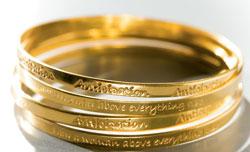 Glitter for Good
A gold-plated bangle from Après Peau is inscribed with this Jackie Kennedy quote: "I am a woman above everything else." Another alternates the words "love" and "amour." Twenty percent of sales are being donated to the Nina Hyde Center for Breast Cancer Research at the Lombardi Comprehensive Cancer Center at Georgetown University. The bracelets are $40 for one, $70 for a pair. Après Peau, 1430 K St., NW; 202-783-0022.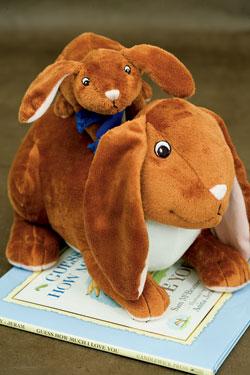 Bunny Love
Delight the little ones on your list—and help someone else's child at the same time. Each of Kohl's Washington-area stores is selling stuffed animals and children's books—like these plush rabbits and the book Guess How Much I Love You—with all profits going to Children's National Medical Center. For adults, there's a CD with holidays songs from Bing Crosby and Frank Sinatra. Each item is $5 at Kohl's stores or at kohls.com.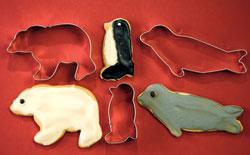 Make a Cookie, Save a Penguin
Add a goodhearted twist to baking with marine-animal cookie cutters from Oceana, a nonprofit that works to protect ocean habitats. Adopt an animal through the organization's Web site (oceana.org/adopt) and get an adoption certificate, a cookie cutter shaped like your adopted creature, and a sugar-cookie recipe from local bakery CakeLove. Donations of $100 get four cookie cutters—16 choices include a clam, polar bear, and penguin—and a baking mitt.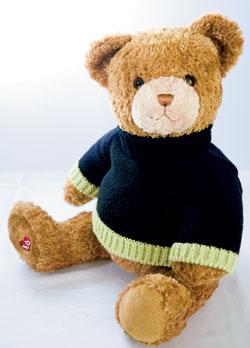 Give a Bear Hug
Sales of Bloomingdale's Little Brown Bear, designed by Gund, benefit ten children's museums, including Discovery Creek Children's Museum in Glen Echo. In all, the museums will split $50,000. Bears are $16 at Bloomingdale's in Chevy Chase, White Flint Mall, and Tysons Corner Center, or at bloomingdales.com.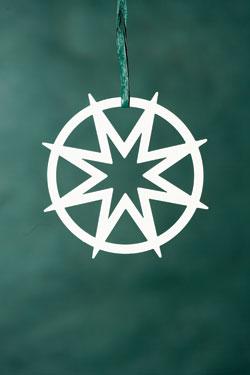 Tree of Life
Hang one of these stars on a tree this season and you'll be helping families. Herndon Friends Meeting is donating sales from the ornaments, after a $1 deduction for materials, to the Medical Care for Children Partnership, which provides health insurance to working-poor families. Proceeds from every 22 ornaments sold buy one child's insurance for a year. Choose from silver, gold, or white stars—or order a sunrise design created this year by a student at South Lakes High School in Reston. Ornaments are $15; call 703-968-2971 or e-mail jrosenthal2@cox.net.Looking for more gift and shopping ideas? Sign up for Shop Around, our free weekly shopping and fashion newsletter. We'll have plenty of holiday gift ideas coming up soon!