Dive-Bar Food
Jackie Greenbaum—the streaked-hair restaurateur who brought mini–Elvis burgers and other trendy comfort food to Silver Spring at her restaurant Jackie's—nearly caused a neighborhood revolt when she took over the venerable tavern the Quarry House. Here come the yuppies! But two years later, the subterranean bar is still a local hangout, the often-live music is still loud, and the grub is still greasy. Only now the grease has some thought behind it. Hot dogs are imported from Wisconsin sausage maker Usinger's. Potato chips are made in-house, hash-brown poppers are kicked up with Old Bay, and the fried pickle spears show up the flimsier versions at upscale Southern restaurants. A new beer list offers not only Pabst Blue Ribbon in a can but Abita Turbo Dog from Louisiana and Delirium Trem­ens from Belgium. And you can still find a good half-pound bacon cheeseburger—no miniature versions here. 8401 Georgia Ave., Silver Spring; 301-587-8350.
Do-It-Yourself Restaurant Dining
Why go out to a restaurant to cook for yourself? Because at Bob's 88 Shabu Shabu, sticking to the menu of plated dishes means missing out on the fun of shabu-shabu. Each diner gets a burner and a pot full of stock—think Taiwanese fondue. Once it starts boiling, you throw in some Napa cabbage, tofu, tomato, and enoki mushrooms, then swish a piece of meat, shell-on shrimp, or even lobster around the pot until cooked. It's hard to keep your shirt clean but easy to whip up something delicious. 316 N. Washington St., Rockville; 301-294-5888.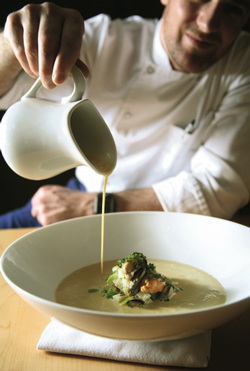 Warm Winter Comfort Food
True New Englanders might scoff at Michel Richard's refined mussel chowder at Central Michel Ri­chard—but not once they've put spoon to mouth. A deep bowl arrives empty, aside from a handful of plump mussels, perfectly diced potatoes, and braised leeks. The golden-hued soup is poured in tableside. Ri­chard was trying to copy the clam chowder "that Americans love" when he created this dish. "But I'm a Frenchman," he says. "It's American food with a little French accent." The accent comes from saffron and a pinch of turmeric, the pungent spice that lends yellow-orange color to Indian curry and to this elegant version of an American classic. 1001 Pennsylvania Ave., NW; 202-626-0015; centralmichelrichard.com.

Coffee Mate
New Georgetown restaurant Hook has gotten lots of attention for its ecofriendly philosophy and simply prepared fish. It's not exactly the first place you'd look to find a decadent Gallic treat. But each afternoon, pastry chef Heather Chittum bakes madeleines—the butter cakes that a nostalgic Proust made famous—to order. Flavored with orange, wildflower honey, and butter that's browned until it takes on a whiff of nuttiness, they're terrific dipped in the accompanying pot of seasonal marmalade but are delicious with a cappuccino, too. A $9 order brings you five shell-shaped cakes, though Chittum usually bakes an extra for the line cooks: "They smell them, and they know." 3241 M St., NW; 202-625-4488; hookdc.com.
On-the-Go Lunch
Kati rolls—the popular Calcutta hawker snack—bear all the hallmarks of great street food. The roti roll-ups, filled tightly with bite-size chunks of chicken and shreds of mixed vegetables, are one-handedly portable and easy to eat without making a mess. Our favorite versions are available for takeout at the colorful Loudoun County cafe Rangoli (24995 Riding Plaza, South Riding; 703-957-4900; rangolirestaurant.us) and at Maryland's Indique Heights (2 Wisconsin Cir., Chevy Chase; 301-656-4822; indiqueheights.com). We haven't yet found a version worth praising in DC—street vendors, are you listening?
Cool Restaurant Ice Cream
Valerie Hill, pastry chef at Johnny's Half Shell, reminds diners just how satisfying a simple bowl of ice cream can be. Hill's grandmother owned a dairy farm in Chatham, Virginia, and she remembers making ice cream there: "When the peaches were ripe, we'd have peach ice cream. That was the best." Daily ice-cream and sorbet flavors at Johnny's change with the seasons and Hill's whims. Her rich, eggy vanilla is always available. Recently, lemon ice cream paired perfectly with a pecan-and-cranberry- studded cookie. Hill's been experimenting with cranberry ice cream for the winter: "It'll be great with sweet-potato pie." 400 N. Capitol St., NW; 202-737-0400; johnnyshalfshell.net.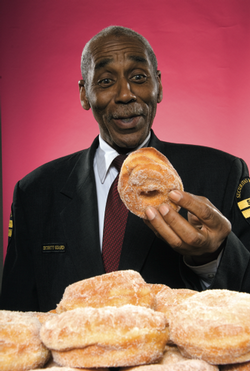 Gourmet Doughnuts Worth Standing Guard Over
Think Krispy Kreme is the last word in doughnuts? Think again. Come weekend brunch, many good restaurants are putting their spins on the morning confection. Here are the ones worth seeking out—and the ones to skip.
The best: 2 Amys (3715 Macomb St., NW; 202-885-5700) doesn't technically do brunch. But on weekends, it's not unusual for a line to form outside the Cleveland Park pizzeria before its doors open at midday. Step inside and you'll see why: An extra-large sheet tray lined with homemade Italian-style cinnamon doughnuts sits on a table up front. The soft fritters, dipped in canola oil, are rich with egg and lightly scented with orange. They're the Armani of doughnuts—simple and perfect, without any unnecessary frills. For $1.50, you get one doughnut and its punched-out hole, and it's hard not to want more. Once the tray is empty, the doughnuts are gone until the next weekend.
Runners-up: Chef Paul Pelt might be turning out innovative dishes at night, but the most talked-about item at the Tabard Inn's cozy restaurant (1739 N St., NW; 202-785-1277) is still the weekend-brunch doughnuts by pastry chef Huw Griffiths. For three or six at $1 each, the cinnamon-sugar-sprinkled circles are light and pillowy with a slight sourdough tang. The plate comes with just-whipped cream, but these little guys are fine on their own.
If you fall into the cake-doughnut camp (they're denser and more crumbly than yeast varieties), head over to Colorado Kitchen (5515 Colorado Ave., NW; 202-545-8280), where chef Gillian Clark fries up batches all through the weekend brunch. The six crumbly rounds, $7.25, are slathered with chocolate, honey and almonds, or old-fashioned confectioner's sugar.
Stick with just coffee: If you're going to sell three doughnuts for $10 at brunch, they'd better be fantastic. And while Poste's (555 Eighth St., NW; 202-783-6060) trio of sugared, yeasty puffs is freshly fried and airy, the leaden fillings (a glob of bitter chocolate, a lemony custard in a dough with too much rosemary) are distracting rather than delicious.
Too Many Calories, Not Enough Flavor
We're all for lily-gilding, cardiac-clogging indulgence—if the result is delicious. But sometimes restaurants go for excess for excess's sake and seem to forget about actual flavor. Here are four menu items that aren't worth the calories.
Chicken-fried pork belly BLT at Rustico: We're fans of chef Frank Morales's whimsical appetizer trios and creative pizzas. But this $10 sandwich, with its layer upon layer of white fat that's been coated in batter and deep-fried, makes us wonder whether he wants us to come back—or keel over. 827 Slaters La., Alexandria; 703-224-5051.
Foie gras BLT at BLT Steak: Recipe for a bad BLT: Slice one rock-hard ciabatta. Add not only bacon but skirt steak and sautéed foie gras. Let the meats' flavors meld into a salty mess. Throw on a slice of tomato for tradition. Hope customers fill up on the delicious free popovers and don't have more than a bite or two. Charge $28. 1625 I St., NW; 202-689-8999.
Fried Milky Way at Eamonn's: We know, we know. This chip-shop dessert, usually made with Mars bars instead of Milky Ways, is tradition in the UK. But so are boiled dinners. After tearing through a paper bag of expertly fried cod at Cathal Armstrong's Old Town fish-and-chips stop, this cloying $2.50 glucose torpedo—a deep-fried caramel-and-nougat-filled chocolate bar—probably won't leave you glad you saved room. 728 King St., Alexandria; 703-299-8384.
Truffled twice-baked potato at Charlie Palmer Steak: Twice-baked potatoes, in which the vegetable's skins are stuffed with mashed potatoes and then browned, are a wonderful thing even in their simplest form. So why does this usually sensible steakhouse take things so far over the top? The spuds feature truffle oil, chopped ham, a ton of butter, a cap of melted Gruyère cheese, and enough salt to make the whole thing barely edible. Take into account that truffle oil does not mean truffles, and the $14 price tag verges on ridiculous. 101 Constitution Ave., NW; 202-547-8100.