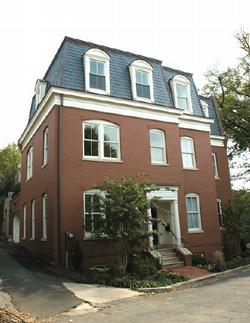 In DC: Republican insider Kenneth B. Mehlman bought a house on 32nd Street in Kalorama for $2.8 million. Earlier this year, he sold a three-bedroom, three-bath rowhouse on Capitol Hill for $899,000. Mehlman is a partner at the DC law firm Akin Gump.
Former AIDS czar Randall Tobias sold a three-bedroom, four-bath condo in the Ritz-Carlton Residences downtown for $2 million. Tobias resigned as the first US global AIDS coordinator after being linked to Deborah Jeane Palfrey, the escort-service owner dubbed "the DC madam."
Former Episcopal bishop Jane Holmes Dixon sold a three-bedroom, three-bath Colonial rowhouse on Fulton Street near Observatory Circle for $849,000. Dixon retired as bishop of Washington in 2002.
Lawyer and civil-rights activist Cheryl A. Jacques sold a five-bedroom, five-bath Beaux Arts–style rowhouse on Biltmore Street in Kalorama for $1.8 million. Jacques, former president and executive director of the Human Rights Campaign and a former Massachusetts state senator, is of counsel to the Boston law firm Brody, Hardoon, Perkins & Kesten.
Political writer Michael Barone bought a three-bedroom, three-bath condo on L Street in the West End for $1.4 million. The 2,000-square-foot unit has cherry floors and a kitchen by German design firm Poggenpohl. Barone is the author of The Almanac of American Politics and a senior writer for U.S. News.
In Maryland: Writers Steve and Susan Coll downsized. After selling their five-bedroom, four-bath Craftsman-style home in Bethesda for $1.3 million, the couple bought a three-bedroom, four-bath house in DC's Cleveland Park for $949,000. Their old house had a reading nook with floor-to-ceiling bookshelves; the new one has a rear garden and patio. A former managing editor of the Washington Post, Steve Coll has won two Pulitzer Prizes; he's now a New Yorker staff writer and president and CEO of the New America Foundation, a public-policy institute. Susan Coll is a novelist.
Oakland Raiders running back LaMont Jordan bought a seven-bedroom, seven-bath home in Bowie's Woodmore Acres for $2 million. The house has a two-story marble foyer, a theater room, exercise room, elevator, and three wet bars. Jordan went to Suitland High School in Forestville and the University of Maryland.
In Virginia: James B. Comey, a key figure in the scandal surrounding former attorney general Alberto Gonzales, and his wife, Patrice, bought a house on Kirby Road in McLean for $2.2 million. Comey, who was a top aide to Gonzales and predecessor John Ashcroft, testified this year about Gonzales's hospital-room visit to persuade Ashcroft to certify the legality of the Bush administration's warrantless-wiretapping program. Comey resigned from the administration in 2005 and became general counsel and senior vice president for Lockheed Martin.