Clad in a slightly crumpled black suit with a Santa hat pulled snugly over his mop of curly brown hair, Carbon Leaf lead singer Barry Privett addressed his audience: "It's an honor for us to be here playing at one of the premier clubs in the country." The honor is one Carbon Leaf assumed many times previously.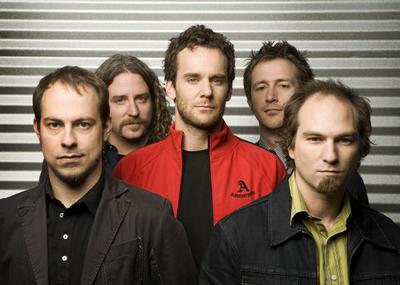 Thursday night, the Richmond-based band packed the house again. A crowd began to gather toward the end of Tom McCormack's opening gig, eagerly anticipating Carbon Leaf's heartfelt, folky lyrics and unique rock melodies. The band took the stage promptly at 10, settling in comfortably among a plethora of Christmas trees and garland-wrapped microphones. The fivesome launched immediately into "Wolf Trap and Fireflies," a reminder to many loyal listeners of the band's July performance at Wolf Trap's Filene Center.
"Each time we play a show, we want it to be different," Privett explained. "You know you're not coming to the same Carbon Leaf show each time." And different it was. For two hours the audience was treated to an entertaining blend of traditional crowd-pleasers and more uncommon material. Privett's pennywhistle and Carter Gravatt's mandolin charmed listeners through favorites including "Life Less Ordinary" and "What About Everything?" The crowd went wild for "The Boxer," Carbon Leaf's first and most popular single, which propelled the band into the limelight in 2002 as the first unsigned artists to perform on the American Music Awards. Fans fervently sang along to "Texas Stars," and "The War Was in Color," popular tracks on its 2006 album, Love, Loss, Hope, Repeat.
As if its own tunes weren't enough, Carbon Leaf ended the evening with a handful of covers. The Beatles' "Come Together" finished off the show but was followed by a powerful encore beginning with a heavy instrumental of "My Favorite Things" from The Sound of Music. Saving the most relevant for last, the band ended the show with the Christmas carol "What Child Is This?"
With the holiday only days away, what's on Carbon Leaf's wish list? "What we really want most of all is what we've got here tonight," Privett reflected. "A fan base that comes out and supports us." As the crowd left the club with Carbon Leaf melodies swirling in their heads and CDs stuffed in their pockets, many people thought that perhaps their own holiday wishes had been fulfilled as well: It was going to be a very Barry Christmas.