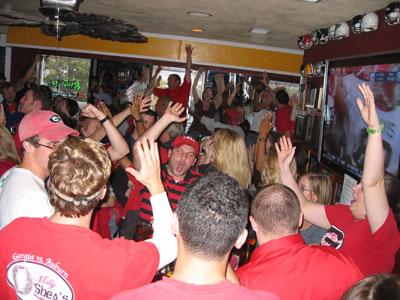 Holiday Bowl: Arizona State (10-2) vs. Texas (9-3), December 27 at 8 pm
Texas: Rhodeside Grill, 1836 Wilson Blvd., Arlington; 703-243-0145; Metro: Court House.
With every TV tuned to the Holiday Bowl (yes, on both levels), expect 200 diehard Longhorns fans by kickoff, fight songs galore, and game-time appetizer specials.
Arizona State: Crystal City Sports Pub, 529 23rd St. S., Arlington; 703-521-8215; Metro: Crystal City.
A small but rowdy bunch usually gathers at Crystal City for Arizona State games. The school's local alumni group expects 25 to 50 fans for the Sun Devils first-ever match-up with the Longhorns.
Champ Sports Bowl: Boston College (10-3) vs. Michigan State (7-5), December 28 at 5 pm
Boston College: Porter's Dining Saloon , 1207 19th St., NW; 202-0775-3797; Metro: Dupont Circle.
During big games, this three-level bar is bumper to bumper with BC fans. The crowd sometimes congregates in the main bar—but if enough people show up, they get the entire upstairs bar to themselves. Game-day specials include $2 Miller Lites and Coronas and $3 rail drinks.
Michigan State: Hawk 'n' Dove , 329 Pennsylvania Ave., SE; 202-543-3300; Metro: Eastern Market, Capitol South.
Dozens of Spartans fans gather at this Capitol Hill bar to cheer together during games. Wear team colors to get $1.95 domestic bottles and $3.50 microbrews; bring your MSU Alumni Club membership card to get a discount on appetizers.
Outback Bowl: Wisconsin (9-3) vs. Tennessee (9-4), January 1 at 11 am
Wisconsin: Hamilton's Bar & Grill , 233 2nd St., NW; 202-347-6555; Metro: Union Station, Judiciary Square.
No matter how hard they've partied the night before, Badgers fans are meeting bright and early on New Year's Day to watch the game at Hamilton's, says Scott Wiand, president of the UW Alumni Club of DC. The bar is the next-best thing to being at Camp Randall: Fans can kick back with a glass of Leinenkugel's ($3) and belt out songs like "Jump Around" and "On, Wisconsin."
Tennessee: Bailey's Pub & Grille, 2010-A Crystal Dr., Arlington; 703-416-0452; Metro: Crystal City.
About 50 UT fans show up at Bailey's in Crystal City for the alumni club's official game-watching parties. Listen for "Rocky Top" at every score, and make sure to ask about specials—the bar has different ones each day.
Cotton Bowl: Missouri (11-2) vs. Arkansas (8-4), January 1 at 11:30 am
Missouri: Mister Days Sports Rock Cafe, 3100 Clarendon Blvd., Arlington; 703-527-1600; Metro: Clarendon.
The DC chapter of the Missouri Alumni Association invites Mizzou alumni, family, and friends to a game watch at Mister Days in Clarendon. Chapter president Heather Starek guesses that at least 75 fans will meet up at the bar, which gets packed during any sporting event.
Arkansas: 18th Amendment, 613 Pennsylvania Ave., SE; 202-543-3622; Metro: Eastern Market.
If you're cheering for the Razorbacks, head to this Capitol Hill spot to find fellow fans. The scene has been pretty chill at other games—usually about 50 people, says Lane Marshall, the sports contact for the DC chapter of the Arkansas Alumni Association. The bar usually does specials on pitchers, pizza, and chicken wings.
Gator Bowl: Virginia (9-3) vs. Texas Tech (8-4), January 1 at 1 pm
Texas Tech: Finn MacCool's Irish Publick House, 713 Eighth St., SE; 202-547-7100; Metro: Eastern Market.
Texas Tech supporters may be outnumbered in the nation's capital, but you'll have no problem finding a sea of scarlet and black at Finn MacCool's, where a few dozen Red Raiders fans watch every game on a giant 106-inch HD projection screen. Specials include $10 domestic pitchers and $5 appetizers.
Virginia: Despite Virginia's being, um, right here, we couldn't find any leads on this game. If you know something we don't, please put it in the comments section.
Capital One Bowl: Michigan (8-4) vs. Florida (9-3), January 1 at 1 pm
Michigan: Pour House, 319 Pennsylvania Ave., SE; 202-546-0779; Metro: Eastern Market, Capitol South.
Tommy Joe's Restaurant , 4714 Montgomery La., Bethesda; 301-654-3801; Metro: Bethesda.
The UM Alumni Club of Greater Washington DC will host game-watching parties at both bars on New Year's Day. During normal season, Tommy Joe's—which flies a Michigan flag out front—gets about 200 Wolverines fans each game and offers $3 Budweiser products and half-price mini-burgers, quesadillas, and chicken wings.
Florida: Joe Theismann's Restaurant , 1800 Diagonal Rd., Alexandria ; 703-739-0777; Metro: King Street.
Gator turnout varies at this Virginia restaurant (anywhere from 50 to 250 fans), but there's always some blue and orange at the bar. The management offers a Gators special on food or drink, which changes every game.
Rose Bowl: Southern California (10-2) vs. Illinois (9-3), January 1 at 4:30 pm
Both teams: Crystal City Sports Pub, 529 23rd St. S., Arlington; 703-521-8215; Metro: Crystal City.
If you're looking for a place to perform the So-Cal Spell-Out after every USC touchdown with a couple of hundred feisty Trojans fans decked out in pompoms and football jerseys, then stop by Crystal City's third level, which boasts three projection screens and 34 flat-panel TVs. But things could get very interesting by kickoff. Ironically, a group of Illinois fans congregate at Crystal City for every Fighting Illini game, too. Let's hope cooler heads prevail.
Sugar Bowl: Hawaii (12-0) vs. Georgia (10-2), January 1 at 8:30 pm
Hawaii: The Warriors? The only undefeated team in the Bowl Subdivision?! This kind of success is pretty new to Hawaii's Alumni Association, which isn't affiliated with a local bar like your typical major bowl teams. Byron Shorter, vice president of Hawaii's DC Chapter, sometimes invites friends over for a tailgate party in his living room but may be planning a bigger event for the Sugar Bowl. He can be contacted at shorterbt@comcast.net.
Georgia: Penn Quarter Sports Tavern, 639 Indiana Ave., NW; 202-347-7936; Metro: Archives/Navy Memorial.
Providing one of the most authentic Georgia football experiences this side of Athens, Penn Quarter knows a thing or two about tradition—a bulldog, bundled in a black and red sweatshirt, even made an appearance at the tavern during the Florida game in October. Along with a school flag hanging outside and a friendly staff dressed in Bulldogs paraphernalia, there are game-time specials including half-priced burgers and wings and $12 Heineken pitchers. Can't get to DC on New Year's? Crystal City Sports Pub has been a Georgia game-watch spot for a dozen years.
Fiesta Bowl: West Virginia (10-2) vs. Oklahoma (11-2), January 2 at 8 pm
West Virginia: Ragtime , 1345 N. Courthouse Rd., Arlington; 703-243-4003; Metro: Court House.
Join a slew of West Virginia fans as they sing "Take Me Home, Country Roads" after every touchdown. Ragtime's owner, Chris Lefbom, will be singing right along with you—he's a class of '93 alum. Specials include $9 pitchers of Miller Lite, Bud Light, and Yuengling as well as $4 blue-and-yellow Mountaineer shooters.
Oklahoma: Mackey's Public House, 320 S. 23rd St., Arlington; 703-412-1113; Metro: Crystal City.
Sooners supporters get to Mackey's before anyone else and take up practically the whole bar on game days, says OU Capitol Alumni Club contact Jon Lunardi, who expects an even bigger turnout during the Fiesta Bowl. The bar usually puts the Oklahoma game on all of its screens and plays "Boomer Sooner" over the PA.
Orange Bowl: Kansas (11-1) vs. Virginia Tech (11-2), January 3 at 8 pm
Kansas: Porter's Dining Saloon, 1207 19th St., NW; 202-0775-3797; Metro: Dupont Circle.
Bailey's Pub & Grille; 2010-A Crystal Dr., Arlington; 703-416-0452; Metro: Crystal City.
Head to either bar to find KU-crazed Washingtonians cheering for the crimson and blue. At Porter's, the Jayhawks crowd enjoys specials on appetizers, Miller Lite, Bud, and Bud Lite bottles as well as Miller Lite pitchers, according to the DC chapter of the KU Alumni Association.
Virginia Tech: Grevey's Restaurant & Sports Bar, 8130 Arlington Blvd., Falls Church; 703-560-8530; Metro: Dunn Loring-Merrifield.
Grevey's—the official spot of the Virginia Tech Alumni Association's DC chapter—is "the place to be" for Virginia Tech games, say bartenders. The place is packed, loud, and crazy during games, with tons of clapping and yelling when the Hokies score. Specials include $3 pints of Yuengling; 5 percent off all food and beverage sales generated during the season will be donated to the local scholarship fund.
BCS National Championship: Ohio State (11-1) vs. LSU (11-2), January 7 at 8 pm
Ohio State: Rí Rá Irish Pub, 2915 Wilson Blvd., Arlington; 703-248-9888; Metro: Clarendon.
Two bars simply won't cut it for the Super Bowl of college football. Along with the usual Georgetown and Bethesda game-watch locations (washingtonian.com/blogarticles/artsfun/afterhours/5673.html), Ohio State alumni members plan to invade Rí Rá for a night of raffles, fight songs, and football munchies.
LSU: Bailey's Pub & Grille, 4238 Wilson Blvd., Arlington; 703-465-1300; Metro: Ballston.
Even though Bailey's—the official home of LSU backers all season—plans to air the national championship on all 56 TVs, the entire backroom has been reserved for Tigers fanatics only.