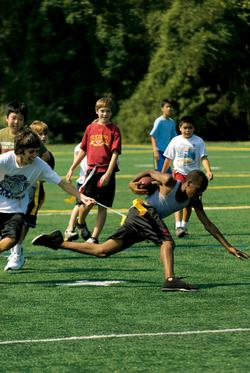 When Beth Cutrera's two boys are at the summer basketball camp run by legendary coach Morgan Wootten, she sometimes leaves work early to catch a glimpse of her favorite counselor, Kenyamo McFarlane, a former college player.
"Coach K puts a new meaning to the word 'enthusiasm,' " Cutrera says. "When I get caught up in the stress of daily life, I see a picture of him in the back of my mind with that smile of his. The camp is so inspirational, and it's made a huge impact on my family."
Dozens of sports camps in Washington promise to turn children into better athletes. They offer a range of experiences and competition for everyone from novice to budding college recruit. The trick is finding the camp with the philosophy and mix of activities that fit your child.
Coach Wootten's Basketball Camp (coachwootten.com), run by former DeMatha High coach Morgan Wootten and his son Joe, attracts 3,500 kids each summer. The overnight version of the camp, held at Frostburg State University, runs five weeks. It's followed by a two-week day camp at Arlington's Bishop O'Connell High School, where Joe coaches.
Campers play full-court games, do skill sessions, compete in three-on-three tournaments, and soak up wisdom from guest speakers. Cutrera thinks the experience has transformed her sons, Eddy, 13, and Bennett, 11.
"We use Coach K's philosophy all year in the house," she says. "Just being enthusiastic in everything you do in life—whether it's helping your parents clean or jumping on the trampoline with the kids next door."
This summer will mark Eddy's fifth and Bennett's fourth with the Woottens, who preach more than X's and O's.
"We focus on teaching the values and fundamental skills of the game," says Joe Wootten. "But more important, we're trying to teach them to use the lessons they learn in the game of life."
Bennett says the lessons on the court have had a big impact: "I used to be an ordinary basketball player, but I got better and better every day."
For older athletes, specialized camps such as the Woottens' can help players get noticed by college coaches.
Georgetown University hosts a residential soccer camp (guhoyas.cstv.com/camps/gu-camps-chart.html) to prepare high-schoolers for college soccer. Participants walk away with a formal evaluation of their play and a taste of college life and athletics.
"The kids get to see the coaches, meet the players, live in our dorms, eat our food, and train at our facilities," says Hoyas men's soccer coach Brian Wiese, whose team's incoming freshman class includes two former campers. "They get a real sense of what it's like to go to this school and to play soccer at this school."
Not every child is developmentally ready for the focused and intense experience of a specialized camp. Others love too many sports to choose just one.
General sports camps provide a more relaxed environment for children. Headfirst (playheadfirst.com), which started as a baseball-only camp in 2000, is adding other sports to its menu. Last summer, it started a Sports, Games & Swimming program at DC's St. Albans School. Codirector Rob Elwood says it's much less intense than the camp's specialized programs, and the counselors focus on building teamwork and leadership. Each day starts with a different outdoor sport, such as kickball or soccer, followed by an afternoon swim.
The Fairfax County Park Authority (fairfaxcounty.gov/parks), which runs adventure-sports camps and specialized programs, also offers traditional sports camps at eight recreation centers. "It's a great introduction into a variety of sports for kids to get a feel for what they like," says youth-programs specialist Ellen Werthmann. "Besides skill development, we emphasize teamwork, good sportsmanship, and character development."
Where to Find a Camp
The recreation departments of the District and suburban jurisdictions offer summer sports programs. Check their Web sites for details.
Big names in area college sports—including basketball coaches Gary Williams of the University of Maryland and John Thompson of Georgetown—run camps. George Mason University hosts an extensive number of camps, including traditional sports as well as tumbling, paintball, and inline skating.
Georgetown (yates.georgetown.edu/camp.html), Maryland (umterps.cstv.com/ot/md-camps.html), George Washington University (gwsports.cstv.com/camps/gewa-camps.html), and the US Naval Academy (navysports.cstv.com/camps/navy-camps.html) post information online about their sports camps.
Independent schools that run camps in several sports include Episcopal High School in Alexandria, Georgetown Prep in Bethesda, and Flint Hill School in Oakton.
Several Web sites offer directories of area camps, including the American Camp Association's acacamps.org; gocitykids.parentsconnect.com; and mysummercamps.com.
How to Pick a Camp
Here are some factors to consider, according to Peg Smith, CEO of the American Camp Association:
Safety comes first. Know the camp's philosophy, its disciplinary system, and how it handles health and safety issues.
Check counselor-to-camper ratios. For day camps, ideal ratios range between 1 to 6 and 1 to 12 depending on the age of the camper; for overnight camps, between 1 to 5 and 1 to 10.
Ask for counselor and camper return rates. The ACA looks for a 40-to-60-percent return rate for staff, 60 percent for campers.