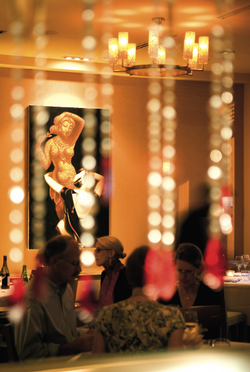 We just got an e-mail from the reservation site OpenTable with the subject line "Last Chance for Valentine's Reservations." Better get moving! Here's our guide to V-Day offerings at local restaurants, from luxe tasting menus rife with aphrodisiac ingredients to feasts of fun-to-share small plates. All dinners take place February 14. Don't want to break the bank with an over-the-top dinner? Click here for our ideas for creative ways to celebrate. Or check out our Cheap Eats list. Lots of ethnic restaurants, often cozy and romantic, will be open and serving their regular menus on Valentine's Day.

2941 Restaurant
2941 Fairview Park Dr., Falls Church; 703-270-1500; 2941.com
Newly installed chef Bertrand Chemel has planned a five-course tasting menu. Start with a Peekytoe-crab salad with ruby-grapefruit gelée, fennel salad, and basil or yellowfin tuna tartare with pine nuts, black-truffle vinaigrette, and celery. The second course for all diners is potato gnocchi with fresh black truffle, Parmesan, and chives. For the third course, choose between Dover sole with almonds, baby carrots, basmati rice, and sauce Normande or butter-poached Maine lobster with saffron, leeks, and bouillabaisse emulsion. The meat course offers a duo of beef with truffle-potato purée, braised short ribs, and dry-aged strip loin or orange-glazed duck breast with Swiss chard, Jerusalem artichoke, and natural jus. Desserts include a coconut vacherin with lime meringue and tropical-fruit minestrone and a dark-chocolate bombe with spiced crème brûlée and hazelnut praline.
•Dinner served between 5 and 10; $130 per person.
701
701 Pennsylvania Ave., NW; 202-393-0701; 701restaurant.com
At this modern American restaurant in Penn Quarter, a three-course set menu will be accompanied by live jazz. The meal begins with trio of salmon belly, followed by pan-roasted prime rib of beef with poached langoustine, potato rosti, vanilla bourbon, and black-truffle glaze. A dessert sampler features strawberry-Champagne sorbet, white-chocolate/passion-fruit truffle, panna cotta with lime-water syrup, and warm chocolate cake.
•Dinner served between 5:30 and 10:30pm. $85 per person.
A la Lucia
315 Madison St., Alexandria; 703-836-5123; alalucia.com
This cozy Italian spot in Old Town is offering a four-course tasting menu in its private wine room. Choices include burrata with cherry tomato and basil; arugula and fennel salad with orange dressing; duck confit with orange sauce and polenta; agnolotti with spinach and ricotta; linguine with scallops, shrimp, and cherry tomatoes; rigatoni with spicy sausage, peppers, and tomato sauce; cannelloni with veal and vegetables; baked whole rockfish for two with fine herb sauce and broccoli rabe; crabcake with pepper sauce; veal stew with polenta; chicken picatta with lemon and capers; filet of beef in red wine sauce with spinach; and duch breast with orange sauce and fennel. The meal ends with a choice of dessert or cheese.
•Dinner served between 5 and 9:30; $48 per person (wine pairings are an additional $25).
Ardeo
3311 Connecticut Ave., NW; 202-244-6750; ardeorestaurant.com
Chef Trent Conry whips up a three-course tasting menu with an amuse-bouche in this comfortable Cleveland Park spot. First-courses include baked stuffed oysters with mushrooms, spinach, and Champagne sabayon; heirloom beet salad with avocado, baby tomatoes, yuzu gelée, and basil; and beef carpaccio with roasted figs, goat-cheese custard, and truffled saba. For the second course, choose from dishes such as lobster fricassee with ravioli, gnocchi, and hazelnut emulsion; tuna and foie gras with carrot mousse and port reduction; and a vegetarian composition of carrot risotto, root vegetables, asparagus, red-pepper ravioli, and baby-artichoke gratin. Dessert brings a chocolate sampler for two.
•Dinner served between 5:30 and 10:30; $75 per person.

Bastille
1201 N. Royal St., Aexandria; 703-519-3776; bastillerestaurant.com
This Modern French bistro will serve an all-chocolate menu with wine pairings. Chefs Christophe Poteaux and Michelle Garbee have included some form of chocolate in every item on the five-course menu. It starts with a grilled-endive salad with dried cherries and blood orange in a citrus-chocolate vinaigrette or a saffron-cauliflower soup with white-chocolate shavings. Next up is either Hudson Valley foie gras seared in cocoa butter with pineapple-rum mignonette and parsnip chips or pistachio-and-cocoa-nib-crusted sea scallops in pink-peppercorn sauce with fennel compote. For the main course, choose among grilled quail in a port-chocolate sauce with cannelini-bean ragoût; seared venison tournedos with Espelette-pepper rub, Valrhona-chocolate sauce, and celeriac purée; or yellowfin tuna with Szechuan-pepper-and-cocoa rub, piquillo-pepper coulis, vanilla-infused carrot purée and sautéed cabbage with bacon. Dessert is a flourless chocolate cake with blood orange bavarois. An optional cheese course—Brie croissants with a balsamic-vinegar/chocolate sauce—costs an additional $9 (or $15 with a wine pairing).
•Dinner served between 6 and 9:30; $69 per person ($99 per person with wine pairings).
Bombay Club
815 Connecticut Ave., NW; 202-659-3727; bombayclubdc.com
Along with live piano music, this downtown-DC Indian restaurant offers a three-course tasting menu with an amuse-bouche to start. Appetizers include scallop peri peri; anjeeri chicken tikka; and tandoori portobello. Entrées include tandoori lamb chops, seafood biryani, and five vegetarian options, such as truffle paneer kofta. For dessert, there's fig halwa with cinnamon ice cream or toffee-banana tart with honey-ginger ice cream.
•Dinner served between 6 and 10:30; $75 per person.
Café Atlántico
404 Eighth St., NW; 202-393-0812; cafeatlantico.com
Chef Katsuya Fukushima has crafted a seven-course tasting menu. Starters include rose-petal tempura with honey and rosewater; oyster, smoked beets, Idiazábal cheese and raspberries; and foie gras with chocolate-covered liquid cherries. For the main course, choose between white-chocolate-dusted scallops with vanilla-scented potatoes and pomegranate or duck breast in a cocoa-salt crust with celeriac purée and mole sauce. Desserts include Mate-and-Earl Grey ice cream with bitter-chocolate ganache and blood orange.
•Dinner served between 5 and 10; $85 per person.
Cafe Promenade at the Mayflower Hotel
1127 Connecticut Ave., NW; 202-347-2233; renaissancemayflower.com
This Mediterranean restaurant will set the scene with long-stemmed roses and a strolling violinist. The four-course menu starts with either New England clam chowder, lobster bisque with spicy baby shrimp, or chicken-vegetable soup. Next, choose among an arugula salad with Bosc pears, caramelized walnuts, Gorgonzola, and balsamic vinaigrette; baked oysters on the half shell with Granny Smith mignonette; and escargot baked in puff pastry with pesto-garlic sauce. Entrées include a sautéed filet of Dover sole with lobster ragoût, asparagus, and Kentucky-bourbon sauce; roasted Long Island duck with Grand Marnier/chestnut mousse and cherry-brandy sauce; a duo of rack of lamb and quail over borlotti beans with natural herb jus; and grilled prawns and roasted tenderloin with sundried-tomato polenta and porcini-port reduction. For dessert, there's pistachio crème brûlée or a heart-shaped Napoleon with berries.
•Dinner served between 5 and 10; $69 per person.

Circle Bistro
1 Washington Cir., NW; 202-293-5390; thecirclehotel.com
Chef Brendan Cox is serving a four-course menu of bistro fare at this cozily romantic restaurant. Dishes include oyster stew with poached Beausoleil oysters; a duo of crispy Rappahannock oysters and celery; foie gras torchon with pickled Honeycrisp apples; Chesapeake fluke with melted leeks and caviar sauce; veal tenderloin with spinach and black truffle; and chocolate-and-blood-orange baked Alaska.
•Dinner served between 5 and 10; four-course menu is $75 per person and must be ordered for the entire table.

CityZen
1330 Maryland Ave., SW; 202-787-6308; cityzenrestaurant.com
Chef Eric Ziebold has crafted a four-course menu designed for couples to share in this luxe restaurant's "sin den," a private cabana-style seating area. The nibbles include a selection of "aphrodisiac shellfish," a foie gras torchon, a carving tray with sides, and chocolate fondue.
•Seatings at 6 and 9; $300 per couple.

Dino
3435 Connecticut Ave., NW; 202-686-2966; dino-dc.com
At this casual Italian wine bar and restaurant, executive chef Stephan Boillon will offer a four-course tasting menu. It begins with puréed-cauliflower soup topped with a creamy foam. Next, choose among seared scallops with uni butter and crimson lentils; porcini-and-truffle flan with balsamic vinegar; or steak tartare with horseradish, bloody-mary aïoli, and trout roe. The third course includes either pan-roasted wild rockfish with Chardonnay-thyme butter and truffled seasonal veggies; Châteaubriand for two with a béarnaise sauce, fingerling-potatoes confit, and roasted baby carrots; or layers of roasted veggies with carrot sauce and farro pilaf. For dessert there's chocolate cake with raspberry/Grand Marnier sauce and blood-orange gelato; passion-fruit crème brûlée; tiramisu; or a cheese plate.
•Dinner served between 5:30 and 10:30; $65 per person (additional $32 per person for wine pairings).
Domaso Trattoria Moderna
1121 N. 19th St., Arlington; 703-351-1211; domasotrattoria.com
Located on the fourth floor of Rosslyn's new Hotel Palomar Arlington, this Italian spot is offering a four-course prix-fixe menu. The first course is cappesante rosa, a dish of baby scallops with hackleback caviar. Next, there's ravioli filled with wild arugula, sheep's-milk ricotta, and quail egg served with goat's milk butter, thyme and Parmigiano-Reggiano. The third course is a surf-and-turf: grilled filet mignon with sauteed porcini mushrooms and Moscato wine sauce, next to shrimp in puff pastry with Dijon-mustard sauce. For dessert, there's chocolate-ricotta cheesecake in passion-fruit sauce.
•Dinner served between 5:30 and 10:30; $50 per person.
Firefly
1310 New Hampshire Ave., NW; 202-861-1310; firefly-dc.com
This cozy Dupont Circle spot is planning a prix-fixe four-course menu. To begin, chef Daniel Bortnick will offer house-made mozzarella with pomegranate marmalade and amaranth paired with a sparkling wine with cranberry-cardamom-infused vodka. For the second course, choose among sweet-potato-and-butternut-squash soup with toasted pumpkin seeds; Bibb-lettuce salad with buttermilk-herb dressing; Fanny Bay oysters Rockefeller; and steak tartare with pickled radish, herb salad, and caper powder. Third courses include pan-seared Arctic char with roasted Kabocha squash and apple-butter sauce; lobster pot pie with sunchokes and a rosemary-buttermilk biscuit; roasted chicken with Medjool-date stuffing and brown-butter turnips; beef Rossini, a grilled filet mignon with seared foie gras, baby carrots, and caramelized onions; and a miniature pot roast with mashed potatoes and roasted-shallot jus. For dessert, there's warm apple crisp with vanilla ice cream; carrot cake with cinnamon crème anglaise and apple-cider syrup; double-dip crème brûlée with vanilla custard, bittersweet-chocolate mousse, and caramel; or Bartlett-pear sorbet with a salty oat cookie.
•Dinner served between 5:30 and 10; $75 per person.
Hudson Restaurant and Lounge
2030 M St., NW; 202-872-8700; hudson-dc.com
This color-splashed new restaurant will serve a five-course, aphrodisiac-themed dinner on Valentine's Day. Appetizers include broiled Blue Point oysters in Chantilly cream with American sturgeon caviar; pan-seared Hudson Valley foie gras with spiced pineapple and huckleberry sauce; and a goat-cheese and Bartlett-pear salad with raspberry vinaigrette and toasted walnuts. Choose among such entrees as farm-raised Virginia quail with chicken mousse and Mission-fig sauce; poached Pacific halibut with butternut-squash risotto; braised osso buco with goat-cheese polenta and morel demiglace; and vegetables en papillote with Pattypan squash, asparagus, and winter greens in a Champagne vinaigrette. To finish, there's a chocolate/Grand Marnier soufflé.
•Seatings are at 5:30 ($65 per person), 7:30 ($80 per person), and 10:30 ($65 per person).

The Inn at Little Washington
309 Main St., Washington, Va.; 540-675-3800; theinnatlittlewashington.com
This bucolic destination's luxurious, rose-colored dining room is as over-the-top romantic as you can get. Chef Patrick O'Connell's ten-course Valentine's menu begins with black-truffle-dusted popcorn. Other dishes include "A Tin of Sin," American Osetra caviar with crab-and-cucumber rillettes; oyster slurpees; pan-roasted lobster with baby bok choy, grapefruit, and citrus butter sauce; Nantucket Bay scallops with mushrooms, peppers, and house-made Italian sausage; and a prosciutto-wrapped loin of veal with spinach raviolini and Parmesan broth. For dessert, there's ginger panna cotta with passion-fruit granité, and a "Marriage of Souffles"—one is hot, bitter chocolate, the other frozen raspberry.
•Seatings at 6 and 8; $235 per person.

Jaleo
480 Seventh St., NW, 202-628-7949; 7271 Woodmont Ave., Bethesda, 301-913-0003; 2250-A Crystal Dr., Arlington, 703-413-8181; jaleo.com
These Spanish tapas spots will offer their regular menus as well as special Valentine's small plates ranging from $7 to $14. Featured dishes include imported Ibérico ham; oysters with olives and capers; Maine lobster with cauliflower purée and caviar; and grilled beef petit filet with mashed potatoes and black truffles. Special desserts include a warm chocolate-mousse cake with raspberry sorbet.
•Open 11:30 AM to midnight in DC; 11:30 to in Bethesda and Arlington.

Locanda
633 Pennsylvania Ave., SE; 202-547-0002; locandadc.com
This rustic Italian spot on Capitol Hill is featuring a prix-fixe four-course menu that kicks off with a celebratory glass of Prosecco. The rest of the meal will include such dishes as steak tartare with a quail egg and chive fettuccine with scallops. For dessert, there will be a duo of Valrhona-chocolate and blood-orange gelato.
•Dinner served between 6 and 10; $75 per person (wine pairings are $35 extra).

Notti Bianche
824 New Hampshire Ave., NW; 202-298-8085; gwuinn.com
This relaxed Italian dining room near the Kennedy Center is offering a four-course menu, which includes scallops with shaved fennel and blood orange; duck raviolini with rosemary and truffle; and roasted rack of lamb with borlotti beans and garlic confit.
•Dinner served between 5 and 10; $75 per person (menu must be ordered for the entire table).

The Oval Room
800 Connecticut Ave., NW; 202-463-8700; ovalroom.com
At this pretty power-dining spot near the White House, chef Tony Conte is serving a tasting menu with choices such as foie-gras dumplings; poached-lobster vindaloo with jícama and Asian pear; and a prime strip loin of beef with porcini jam and toasted-garlic-soy butter. Pastry chef Joy Ludwig's desserts include mango crème brûlée with an exotic-fruit compote and chocolate pudding with red beets and pistachio ice cream.
•Dinner served between 5:30 and 10; $85 per person.
Oyamel
401 Seventh St., NW; 202-628-1005; oyamel.com
José Andrés's festive Mexican small-plates venue is offering the regular à la carte menu as well as a special menu of Valentine's Day antojitos, which range from $8 to $10. These include fire-and-ice oysters; passion-fruit soup; ceviche de los enamorados; and confit of duck leg with hibiscus glaze. The meal winds down with Mexican hot chocolate.
•Open 11:30 to 11:30.
Poste Moderne Brasserie
555 Eighth St., NW; 202-783-6060; postebrasserie.com
Situated in the former sorting room of a 19th-century post office, this Modern American dining room is serving a special tasting menu. Chef Robert Weland plans to serve West Coast oysters with American caviar; celeriac soup with shrimp, smoked bacon, and black truffles; arugula salad with mint, figs, and aged-Sherry vinaigrette; seared sea scallops with slow-smoked pork belly, parsley root, and dandelion; red-wine-braised rabbit with poppyseed tagliatelle, caramelized fennel, and mushrooms; and passion-fruit sabayon with blue Curaçao meringue and basil syrup.
•Dinner served between 5 and 10; tasting menu is $75 per person.

Rasika
633 D St., NW; 202-637-1222; rasikarestaurant.com
Expect a four-course tasting menu at this chic Indian dining room. Starters include chili-chocolate shrimp; oysters with red chili, tamarind, garlic, and semolina; and palak chaat—crisp baby spinach with yogurt, tamarind, and date chutney. Main courses include Goan fish curry as well as lamb with fennel seeds, curry leaves, caramelized onions, and roasted coconut.
•Dinner served between 5:30 and 10:30; $75 per person (wine pairings are $45 extra).
Rock 'n' Roll Hotel
1353 H St., NE; 202-388-ROCK; rockandrollhoteldc.com
If all the restaurants in this roundup are out of your price range (and if you're dining late), this popular bar/music venue is offering a "Broke and in Love" special. The meal for two consists of a bottle of Champagne, a shared appetizer, a choice of an individual entrée, and a fondue dessert. Start with either a cheese plate served with grilled flatbreads and marinated olives or a mixed green salad with hazelnuts and raspberry vinaigrette. Entrées include citrus-glazed salmon with Key-lime vinaigrette; grilled chicken breast with white-wine/caper sauce; or grilled pomegranate-glazed eggplant with roasted-red-pepper/walnut sauce. All entrées are served with roasted potatoes and grilled asparagus. Dessert is a warm bittersweet fondue for two with berries, pound cake, and marshmallows.
•One seating available at 10; $40 per couple.
The Source
575 Pennsylvania Ave., NW; 202-637-6100; wolfgangpuck.com
At Wolfgang Puck's sleek restaurant in the Newseum, executive chef Scott Drewno is offering an extravagant four-course menu. It begins with two amuse-bouches: spicy-tuna cones and heart-shaped lemongrass blini with Osetra caviar. First courses include chilled Kumamoto oysters with plum-wine mignonette; hamachi-and-tuna sashimi; crispy suckling pig with black-plum purée and pickled cipollini onions; and a warm lobster-daikon roll with sweet-and-sour dressing. Choose from such main courses as pan-roasted loup de mer with Thai-chili sauce; warm lobster with garlic-pepper sauce and Thai holy basil; Wagyu-beef short ribs with Indian spices; grilled lamb chops with Hunan eggplant, pea tendrils, and chili-mint vinaigrette; lacquered Chinese duckling with star-anise/tangerine reduction; and grilled Wagyu New York strip steak with Chinese mustard and parsnip purée. Sweets include a warm-chocolate purse with chocolate-dipped strawberries; peaches-and-cream with roasted-peach panna cotta; and raspberry soufflé with white-chocolate ice cream.
•Dinner served between 5:30 and 10; $85 per person.

Taberna del Alabardero
1776 I St., NW (entrance on 18th St.); 202-429-2200; alabardero.com
Valentine's Day at this opulent downtown-DC dining room is a Spanish-style celebration. The first course on the special prix-fixe menu is cream of beets with Serrano ham and oysters. That's followed by field greens with bacalao brandade, tomatoes, and pine nuts; grilled tuna with pastry-wrapped mushrooms, sautéed spinach, and piquillo sauce; sautéed venison over green beans and cinnamon apples; and a dessert called "Falling in Love with Chocolate"—dark-chocolate parfait, white-chocolate mousse with raspberries, and cocoa sauce with vanilla ice cream.
•Dinner served between 5 and 10:30; $85 per person.

Urbana
2121 P St., NW; 202-956-6650; urbanadc.com
This Dupont Circle restaurant and wine bar is offering a special four-course menu in addition to the regular one. Tasting-menu choices include seared tuna with spring-onion relish; duck frites with port reduction; pickled-vegetable and candied-squash salad; lobster agnolotti; short-rib ravioli; crispy branzino with vanilla-fennel confit and squash purée in a blood-orange/carrot reduction; beef rib eye with braised yellow wax beans and mashed potatoes; and for dessert, a "ménage à trois" of chocolate or fruit.
•Dinner served between 5 and 11; $60 per person.
Vermilion
1120 King St., Alexandria; 703-684-9669; vermilionrestaurant.com
Chef Anthony Chittum offers a four-course menu at this romantic, brick-walled Old Town spot. First courses include lobster tortelloni with cauliflower purée, curry froth, and almond-raisin brown butter; duck terrine and duck torchon with celery-apple salad and Pommery mustard; and raw and roasted vegetables with bitter greens, a poached egg, and truffle-red-wine vinaigrette. Main courses include Norwegian salmon with horseradish mashed potatoes, baby bok choy, and cider "caviar"; beef tenderloin with sunchoke purée, baby spinach, and black truffle; and sweet-potato ravioli with braised kale, Parmesan froth and vin cotto. For dessert, choose between an "ice-cream cake" with chocolate, banana, and peanut butter or a three-citrus Napoleon. Assorted petit fours finish the feast.
•Dinner served between 5:30 and 10; $65 per person.

Zaytinya
701 Ninth St., NW; 202-638-0800; zaytinya.com
Diners at José Andrés's airy Middle Eastern mezzeteria can sample from the à la carte menu or order a special Valentine's Day tasting menu featuring an array of small plates. Dishes on the latter include beef-and-shrimp souvlaki; duck visne; and lobster keftedes. At the bar, only the à la carte menu will be available.
•Open 11:30 to 11:30; tasting menu $65 per person.

Zengo
718 Seventh St., NW; 202-393-2929; modernmexican.com/zengodc
This Latin-Asian fusion spot in DC's Penn Quarter will offer a special four-course prix-fix menu. Dishes include tuna tataki salad with avocado, papaya, and lemon-wasabi dressing; steamed Gyoza dumplings with foie gras, shrimp, and ponzu-truffle sauce; charbroiled black cod with chile-chipotle miso, asparagus, and lemon-togarashi aïoli; and lemon-yuzu cake with Chinese five-spice sauce, ginger ice cream, and sesame lace.
•Dinner served between 5 and 10; $75 per person.