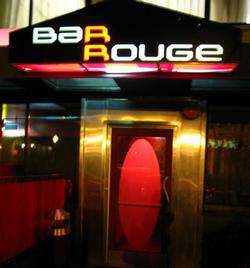 Large windows offer a tempting view of the scarlet-hued interior of Bar Rouge, the lounge in the stylish Hotel Rouge (1315 16th St., NW; 202-232-8000) near Dupont Circle. The drink list has a range of offerings, from the cold-weather Cocoa Kiss (hot chocolate, Frangelico, and Baileys with a sprinkling of cinnamon) to the smooth Champagne cocktail Mon Cherry (Grey Goose L'Orange, peach schnapps, Champagne, and a cherry). The Adulteress, a martini made with raspberry liqueur, adds to the shades of red. Miller, Stella, and Heineken dominate the beer side of the menu and are all $5 to $6; wine is $8 to $10 a glass.
During happy hour every weekday from 5 to 7, margaritas and selected cocktails are $5. Want a cheap bite? During happy hour, Bar Rouge offers the Red Hot Chicken Quesadilla with chipotle-lime sour cream for half price; it's regularly $9. The rest of the menu is inspired by the French. Try the Manger à Trois, a mixture of cheeses on different kinds of bread, for $9 or the salmon salad for $12. If you're in the mood for indulgence, try the chocolate bread pudding, a warm croissant pudding with chocolate sauce.
Booths with velvet thronelike armchairs offer privacy, and the long, narrow room looks good from every angle. The lighting from the Hotel Rouge lobby might be harsh to some, and the slightly-too-loud R&B music clashes with the lounge feeling. But Bar Rouge is hip and unique, with a London-like, laid-back atmosphere. Even on a quiet weekday, it feels like the place to be.