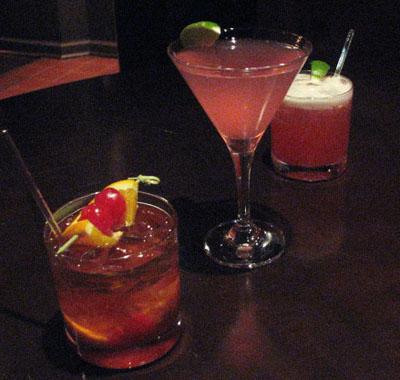 The spot: Off the Record in the Hay-Adams, 800 16th St., NW; 202 638-6600.
The drinks: Presidential Cocktails, traditional libations named after White House hopefuls—the McCain Manhattan, Clinton Cosmopolitan, Obama Old-Fashioned, Huckabee Harrington, and Ron Paul Pisco Punch.
The price: $14.
First impression: Across the street from the White House, the Hay-Adams hotel is right in the thick of campaign '08—mock ballots line the tables and encourage bargoers to select both their candidate and their drink of choice among the Presidential Cocktails. We were a little disappointed to learn that these cocktails are for the most part simply old standards with new names. The notable exception is the Ron Paul Pisco Punch, a drink as edgy and unusual as the fiery Libertarian for whom it's named.
Lasting impression: The cocktails are well executed, but sometimes a cosmo is just a cosmo. Ron Paul's punch (a blend of Peruvian grape brandy and fruit juices) is tasty—sour and sweet. Overall, the main draw at the Hay-Adams isn't the drinks themselves but the sense of occasion and gravitas you feel sipping the bar's signature Presidential Martini steps away from 1600 Pennsylvania Avenue. So although the newly named drinks might not get our vote, Off the Record is still a solid destination during the current primary contests or on Election Night in November.
Grade: B+.