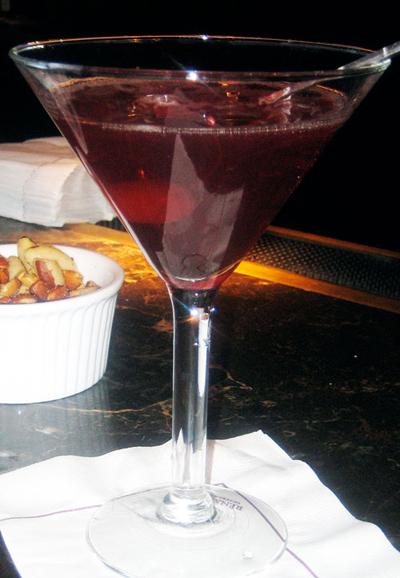 The spot: Town & Country bar at the Renaissance Mayflower Hotel, 1127 Connecticut Ave., NW; 202-347-3000.
The drink: The Super Tuestini, a martini made with Citadelle apple vodka and Heering cherry liqueur. It's available this Tuesday, February 5, only (we got a sneak preview). And it may be red, but we were assured it is a bipartisan beverage.
The price: $14.50.
First impression: The temperature. This drink is super-chilled, and we like it.
Last impression: My fellow Tuestini tryers and I agreed we have very different drink tastes, but—could it be?—we all gave this mixture a thumbs-up. It smelled deceptively sweet (yum! cherries!) but tasted nothing like an alco-pop. The cherry flavor (because of George Washington and the cherry tree, we were told) was subtle, the apple flavor even more so, and the liquor flavor—strong. In a good way. Finish things off with the maraschino cherry waiting at the bottom and—no matter who comes out on top in the primaries—you can't lose. Make sure to find bartender Sambonn Lek, who has been at Town & Country for more than 30 years. He'll dazzle you with magic tricks (as he says, "Showtime!") and, if you ask, will tell you all about the charity he started to help children in Cambodia afford to attend school. Before pouring you another round, of course.
Grade: A.
For more Buzzed reviews of drinks around town, click here.
Planning to try the Super Tuestini? Report back on what you think in our comments section. Also, check out our Super Tuesday roundup for a complete list of bars and hotel parties.
Have a suggestion on what drink we should investigate next? E-mail candrewsatwashingtoniandotcom.