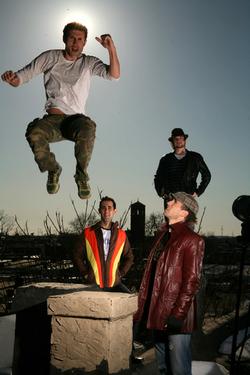 I can almost hear Dan Fedoryka, his brother Alex, Joe Crosby, and Mike Ounallah, members of local band Scythian, collectively trying to catch their breath as they lounge on the steps of DC's Carnegie Library, taking in one of this winter's balmier days.
Still ragged from the previous night's energetic show at Fadó, which had fans lining up outside to see them, the boys have only a short time to spare before they head to Baltimore to hit another venue. But this band seems to thrive on exhaustion.
Known for its impressive fiddling and enthusiastic shows, Scythian has just returned to DC from what the members call their "tundra tour," in which they traveled by RV to cities such as Chicago, Pittsburgh, and Madison, Wisconsin. After Baltimore, the boys hit the road again on their "Dixie tour," which will take them from North Carolina to Florida.
"You have to play as much as you can and develop a sound and a presence," Ounallah says.
Scythian has been working hard to make connections over the past year. In 2007, it played 25 festivals and numerous concerts. It has opened for Guster and Flogging Molly and will headline DC's Shamrock Festival on March 15.
"It doesn't matter how good you are," Dan Fedoryka says. "If you can't connect to the crowd, it means nothing."
The boys have also worked to connect with one another to make themselves a cohesive group, with each member lending his own style to the mix. "We have a totally different sound now," says Dan Fedoryka. "This is who we are. People want to call us a Celtic band, and we do a lot of Celtic, but it's gypsy-infused, you'll hear a lot of bluegrass, and it has funk backbeats."
This past summer, Scythian released its third album, Immigrant Road Show, so named because each member is the first generation of his family born in the United States.
Scythian is inspired by the sounds of other bands, and the members often come away from shows with fresh ideas as well as new contacts. "We want to change as a band all the time," says Alex Fedoryka from behind a scene-stealing pair of red sunglasses.
The Fedoryka brothers and Crosby are classically trained, and Ounallah, the percussionist, recently received his master's degree in jazz percussion and theory. Their personal musical tastes, however, aren't necessarily traditional—they range from '60s to bluegrass to punk to Poison's greatest hits.
Scythian—which was nominated in 2007 by the Washington Area Music Association for best contemporary folk group and best contemporary-folk recording—has been away from its hometown a lot in the past year. It's booked to play at 20 festivals in 2008, including Summerfest in Australia and another in Milwaukee, the world's largest music festival.
Says Alex Fedoryka: "First and foremost, we are a live show."
For more information, go to scythianmusic.com.