Feeling like U Street is a bit played out? Sick of the weekend crowds in Adams Morgan? It might be time to head to DC's H Street, Northeast. Also known as the Atlas District—named for a former movie theater that now houses the Atlas Performing Arts Center—it's a diverse three-block swath of nightlife that has been blossoming over the past few years.
Spearheaded by local nightlife guru and bar owner Joe Englert, who plans to open a total of eight-plus bars along the corridor, H Street is home to some of the most interesting and edgiest bars in the city as well as a few good music venues, coffee shops, and up-and-coming restaurants.
Though boarded-up storefronts still punctuate the street—the neighborhood was hit heavily by the 1968 riots and is still in recovery—signs of change are obvious. From the lively patio of neighborhood pub the Argonaut to the lines of hipsters waiting to see a show at the Rock and Roll Hotel to locals sipping a beer at the Majestic, H Street is making its mark on the nightlife scene.
Want to see more photos from Washington events and parties? Click here for Washingtonian.com's photo slideshow page.
Photo Slideshow: The Scene on H Street
Click the links below to read reviews of 12 different spots on H Street.
The Argonaut | Dr. Granville Moore's Brickyard | H Street Martini Lounge | The Majestic by Gwen | Palace of Wonders | The Pug | The Red & the Black | Rock and Roll Hotel | Rose's Dream Bar and Lounge | Sidamo Coffee & Tea | Theater

Getting to H Street and Back

Nightlife may be blossoming in the Atlas District, but transportation to and from this neighborhood is still somewhat limited. If you're making your way via public transportation, don't necessarily rely on the Metro: The closest stop is Union Station on the Red Line, and even then you're still more than a mile away. In a neighborhood where muggings and other crime can still be a problem, walking wouldn't be the smartest solution.
Buses aren't a bad bet. The X2 runs fairly frequently (see schedule here); it's about a 15-minute ride to the center of the Atlas District from the stop at Seventh and H streets, Northwest, near Gallery Place. The 90/92 line runs up Eighth Street, Northeast, into Adams Morgan.
Cabs to H Street are always an option, but it can be quite difficult to catch one back. Bar and club owners are well aware of this problem, so they've instituted a shuttle to the Metro; it picks bar patrons up at 13th and H streets, Northeast, and drops them off at Union Station from 10 PM to 2:30 AM on weekends. Many will also offer to call a cab.
Click here for our map of the establishments on H Street.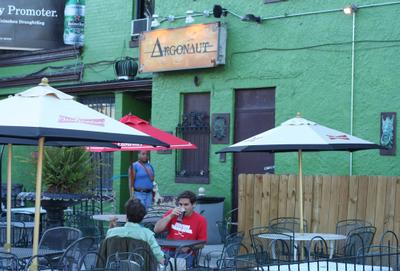 One of the first bars to open in the Atlas District, the Argonaut is a playful, low-key tavern suitable for both after-work drinks or a sit-down meal with solid bar food. With bright green walls and a spacious patio outdoors and a dark, cozy nautical-themed interior, the bar may not be the swankiest spot in town, but it's one of the most comfortable.
Try the $3 happy-hour Dos Equis on any weekday or sample the sweet-potato fries with one of the many sandwiches the bar offers—from a no-frills burger to a tasty fontina-and-Fuji-apple concoction to a catfish po' boy. If you're feeling a bit more adventurous, sample the bar's top-notch rum selection.
On weekends, head to the pub to listen to a DJ, play foosball, or tackle the pool table. Chat up the friendly bartenders or watch the world from the patio at the intersection of Florida and Maryland avenues.

The Argonaut | 1433 H St., NE | 202-397-1416
Dr. Granville Moore's Brickyard
Within a few blocks of music venues and dollar stores, the just-opened Dr. Granville Moore's Brickyard is a gastro-pub focused on Belgian-inspired mussels, frites, and 55 beers. Set in a dark, cramped space that used to be a doctor's office (hence the name), Dr. Granville Moore's is easy to miss. The front door even sticks a bit. Is it locked? Nope—all part of the extra effort it takes to get here.
Though a little shabby and gritty, the storefront appealed to proprietor Chris Surrusco, who last oversaw the beer selection at Alexandria's Rustico. Most nights, he's fixing drinks behind the bar, placing mussel orders with fishermen, or tweaking the menu with new executive chef Teddy Folkman, who has worked in such kitchens as Vermilion in Alexandria and the Reef in Adams Morgan. Folkman filled the role left vacant by original chef David Nugent, a former cook at Napa Valley's exalted French Laundry.
Read more about Dr. Granville Moore's food offerings on our Best Bites Blog.
Dr. Granville Moore's Brickyard | 1238 H St., NE | 202-399-2546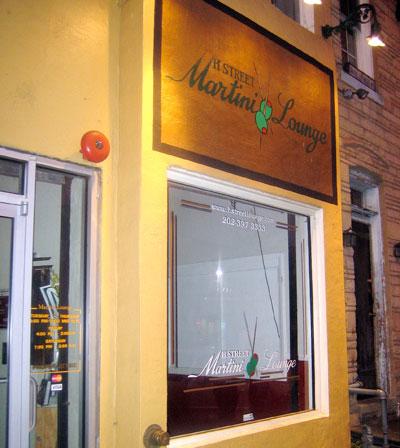 Reason number one to visit H Street Martini Lounge: The Caramel Candy Apple Martini comes with a lollipop. If you need a second reason, come for bartender Chris Babor. He'll be the one mixing three martinis at once, dashing from table to table to make sure everyone's happy, all while finding time to strain fresh pineapple into your Belvedere-Grand Marnier-Chambord blend.
"We were one of the first bars on this block," Babor says proudly before scurrying back to shake another few drinks. Since opening in 2005, the lounge has established itself as a low-key H Street hotspot: At 7 on a Thursday night, the first floor is hopping as much as four tall tables and a few sofas can hop. House music plays while a live band sets up. Happy hour ends at 7 PM, but stick around to try one of the bar's 63 types of martinis.
The winners are the Caramel Candy Apple, an adult version of the green-wrappered Caramel Apple Pop; and the Bermuda Triangle, a fruit-punchy blend of Grey Goose, Chambord, Amaretto, orange, and pineapple topped with finely crushed ice; both are $10. Go classic with a dirty martini or spice up the night with the Cajun, which has Absolut Peppar vodka and a jalapeño-stuffed olive.
New on H Street: Triple Threat Sundays, an attempt to blend Champagne and Cognac bottle service with NFL games. We're not sure if the Redskins crowd will snap up $195 bottles of Rémy 1738, but hey—if gin, rum, tequila, and bourbon can work together (try it in a drink dubbed the Zoo), then anything's possible.

H Street Martini Lounge | 1236 H St., NE | 202-397-3333The Majestic by Gwen
One of the few nightlife spots in the H Street corridor not owned by über-barman Joe Englert, the Majestic is a quiet, unpretentious spot that offers live jazz and blues. Run by Gwen Reese, the bar often draws a crowd made up more of older neighborhood types than hipsters from elsewhere in the city. The cozy atmosphere provides a good spot to sit and listen to the music. Sit at the bar and sip a drink or sample from the full bar menu of Southern soul food (be sure to try the chicken wings).
The Majestic by Gwen | 1368 H St., NE | 202-388-1204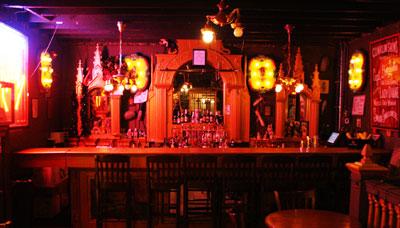 The Palace of Wonders is unique, to say the least. The latest venture from the owners of Mount Pleasant mainstays Tonic and Radius Pizza, the Palace of Wonders is a carnival sideshow, museum, bar, and vaudeville spectacular all rolled into one.
The space features two floors of sideshow relics from 19th-century dime museums—and they're the real deal. Last year, collector James Taylor brought his treasures to Washington from the American Dime Museum in Baltimore, which closed in February. Not wanting to box up his collection permanently, Taylor helped open the Palace of Wonders, where he currently serves as the bar's curator.
Though the Palace is only large enough to house a third of Taylor's collection, the items include Fivey the five-legged beagle, a turkey-headed chicken, a plaster cast of "Lobster Boy" Grady Stiles's hand, a killer rat chewing a blood-soaked bone, and a tattooed mummy arm.
The Palace of Wonders also features a vaudeville stage, outdoor seating, and two bars. Crowds pack in Thursdays through Saturdays for burlesque, sideshow, and vaudeville acts, which include sword swallowers, contortionists, monkeys, and magicians. The bar also hosts female arm wrestling, game-show trivia, movie nights, and other events. Check the online calendar before heading over to see what's in store.
Palace of Wonders | 1210 H St., NE | 202-398-7469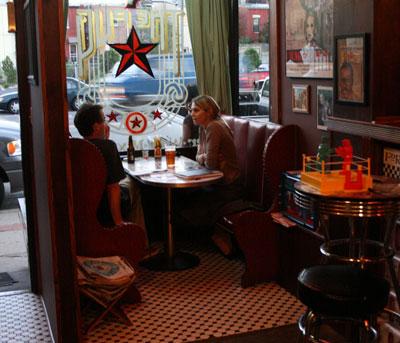 Despite what the pool table, boxing gloves, and soccer scarves might lead you to believe, the Pug is not a sports bar. "We're a neighborhood bar," says bartender Paul Sargent. "We're not trying to 'be' anything."
Whatever it is, the Pug, which opened in February, is one of the new kids on the block. A bit on the small side, the bar occupies the first floor of 1234 H Street and offers only two formal tables: one in window nook up front and one near the pool table in back. But because the pub doesn't serve food, tables aren't the point, and patrons can comfortably sip drinks at any of the barstools, couches, or movie-theater chairs that line the counter and walls.
The Pug is, as the owners admit, not a "bells and whistles" place. The beer list—which includes Bud, Michelob, and Yuengling—isn't particularly memorable. But with Boddingtons and Sam Smith making the cut, the selection has at least some depth. Buyer beware: The Pug hasn't yet installed taps, so if the art of the pour means a lot to you, this might not be your best happy-hour choice.
Speaking of happy hour, the Pug doesn't have one. No drink specials, no martini nights, no pink or frilly drinks, just beer and booze—including the house favorite, Jameson Irish Whiskey.
The Pug is probably best described as a no-rules place with rules. The bar opens nightly at 6 and stays open until 2 or 3 depending on the crowd. The atmosphere is relaxed, the service friendly, and the beer cold. All the Pug asks in return is "No idiots. No politics. No bombs." So be sure to leave your wonking at home.
The Pug | 1234 H St., NE | 202-388-8554
This New Orleans-themed bar and concert venue is smaller than the Rock and Roll Hotel but attracts top-notch musicians just the same. The intimate space has a small room upstairs that hosts indie-rock acts and singer-songwriters. Downstairs, you can hang out in the cozy space and order some Louisiana beer or jambalaya. Even if you're not there to take in a show, it's a friendly spot to spend an evening.

The Red & the Black | 1212 H St., NE | 202-399-3201 | Upcoming calendar of concerts
No, it's not actually a hotel, but the name hasn't stopped the Rock and Roll Hotel from becoming an up-and-coming concert venue for excellent bands, both local and national. They've recruited everybody from Austin country boys Okkervil River to Philly '70s rockers Dr. Dog to a two-night stand by cult indie rockers Clap Your Hands Say Yeah.
With a capacity of around 400, the Rock and Roll hotel provides an intimate space to watch bands—plus hotel- and-Asian-themed rooms upstairs to hang out in if you're not in the mood for a night of music but would rather sip a beer, enjoy the indie-and-punk aesthetic (guitars with wings hang from the ceilings), and generally feel rock-and-roll. Upstairs two larger rooms are available for private renting, making it a popular spot for birthdays. (Click here to request information and prices.)

Rock and Roll Hotel | 1353 H St., NE | 202-388-7625 | Upcoming calendar of concerts
Rose's Dream Bar and Lounge
Looking for good go-go in the District? Look no further than Rose's Dream Bar and Lounge, next door to the Majestic. Every Friday you can hear the homegrown music of Little Benny; on Thursdays you get Sugar Bear and the Band. Throw in some karaoke, DJs, and comedians on other nights of the week, and you've got a fun spot no matter when you want to go out. The cheerful atmosphere, plenty of TVs that often show sports, and chatty bartenders add to the friendly, relaxed and welcoming ambience.

Rose's Dream Bar and Lounge | 1370 H St., NE | 202-398-5700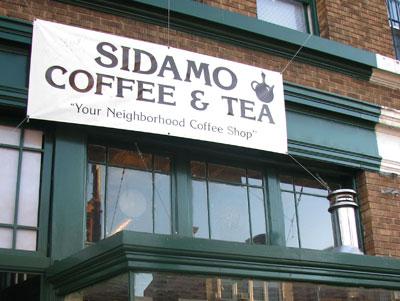 Twenty years after moving to the United States from coffee-rich Ethiopia, Kenfe Bellay brings organic African coffee to H Street with his hangout, Sidamo Coffee & Tea.
The coffee shop offers a wide range of specialty coffee, from Ethiopian Harrer to Ugandan White Nile. It also serves coffee-drink classics, including frothy cappuccinos and caramel lattes, and steeps 20 loose teas. Baked goods and sandwiches are available as well.
Weekends are big in the narrow shop. Every Sunday at 2 PM, customers are encouraged to join an Ethiopian coffee ceremony, in which the owner brews a pot and passes it around for tasting. Chairs—and conversations—are scattered both indoors and out. A fenced backyard, with a small garden and several tables, offers respite from the bland concrete of H Street.
Inside, the atmosphere is equally relaxed. Wooden tables line the wall, and menus are scribbled on blackboards in colorful chalk. Aromas of strong coffee waft through the air—so strong that your dreams, too, might be filled with roasting coffee beans.
Sidamo Coffee & Tea | 417 H Street, NE | 202-548-0081
Looking for more than just a drink? The Atlas District has everything from a dance studio to live theaters. In fact, the Atlas Performing Arts Center­­ is sparking a revival of the arts in the area. Consisting of four theaters, the Joy of Motion Dance Center, a rehearsal space, and more, the Atlas Center is sometimes referred to as the "people's Kennedy Center" for its community-based work. For upcoming shows this fall, click here.
Down the street is the H Street Playhouse, which hosts a 100-seat black-box theater. It's home to both Theater Alliance and a number of smaller companies. Local artists who want to display their work in the space may do so by contacting the theater. See Theater Alliance's upcoming shows here.
Atlas Performing Arts Center | 1333 H St., NE | 202-399-7993

H Street Playhouse | 1365 H St., NE | 202-396-2125