We asked the area's best architects—they're listed starting on page 152—to share some of their favorite places to find home furnishings and decor.
Here are 35 shops and showrooms that designers say they often turn to for furniture, rugs, accessories, original art, custom cabinetry, and more.
Architects also frequent places that aren't open to the public—such as some showrooms of the Washington Design Center—which are not included on this list. If you are working with an interior designer or architect who has access to to-the-trade-only showrooms, you may want to accompany them to these architect favorites: Alliance Lighting in Columbia and the Donghia, Galleria Carpets & Rugs, and Stark Carpet and Furniture showrooms in the Washington Design Center in Southwest DC.
Many architects also say they find good values at national furniture chains, including Crate & Barrel, Ethan Allen, Restoration Hardware, Pottery Barn, and Ikea.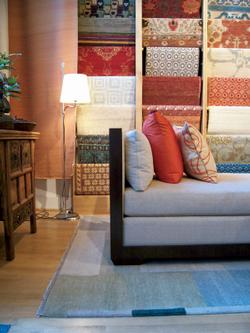 Contemporary and Midcentury Modern Furniture
Contemporaria, 3303 Cady's Alley, Georgetown; 202-338-0193; contemporaria.com. The 4,000-square-foot showroom—designed to resemble a skateboard park—is an edgy backdrop for high-end furnishings by the best Italian designers such as Cappellini, MDF, and Molteni. Prices reflect the top quality in pieces like the $16,000 Minotti sofa, but sample sales can offer some good buys. The sleek kitchen pieces by Italian cabinetmaker Elmar Cucine start at $15,000 and run as high as $60,000. The shop also exhibits original art and photography by new artists.
Design Within Reach, 3307 Cady's Alley, Georgetown, 202-339-9480; 1838 Columbia Rd., NW, 202-265-5640; 4828 St. Elmo Ave., Bethesda, 301-215-7200; dwr.com. This megastore covers all the modernist bases with more than 1,000 products, from vintage classics by Herman Miller and Knoll to new creations by Cassina, Vitra, and Kartell. It can be a one-stop shop for a contemporary home makeover, with lighting and a huge range of accessories, but DWR also now carries a few nonhousehold items like the Strida folding bike. DWR cut shipping charges last year, and delivery is fast.
Furniture From Scandinavia by Annette Rachlin, by appointment only; 202-244-7876; furniturefromscandinavia.com. Annette Rachlin's showroom is her home. She started her business ten years ago "to blow the Colonial dust away from this city," she says, and she travels to Copenhagen several times a year to pick out her Danish-imported, classic contemporary furniture.
Knoll, 1150 18th St., NW; 202-973-0400; knoll.com. Knoll is the first word in modern office furniture, but its designs by such greats as Mies Van Der Rohe, Frank Gehry, Maya Lin, and Eero Saarinen are home-friendly, too. Designers also love Knoll's fabrics for windows, walls, and upholstery. The downtown showroom is small and sparsely stocked, but the staff is efficient in helping customers through the vast catalog, and makes ordering and shipping a breeze.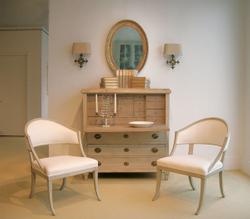 M2L Collection, 3334 Cady's Alley, Georgetown; 202-298-8010; m2lcollection.com. The new showroom in Cady's Alley is a big improvement over its former tiny Design Center digs, and it shows off its licensed reproductions of modern classics to their best advantage. In addition to furniture by design gurus Le Corbusier, Eileen Gray, Josef Hoffmann, and Alvar Aalto, M2L offers unique architectural doors by Movi and bathroom and kitchen systems.
Sixteen Fifty Nine, 1659 Wisconsin Ave., Georgetown; 202-333-1480; sixteenfiftynine.com. Mike Johnson's two-level Georgetown showroom specializes in classic midcentury modern vintage furniture, lighting, and art. Most of the late '40s to early '70s items are American-made; Johnson's finds come from all over the country—including from the Georgetown flea market.
West Elm, 1020 G St., NW, 202-347-8929; Tysons Corner Center, 571-633-0227; westelm.com. Great values on everything from bedroom and living-room sets to accessories, bedding, and tableware are what West Elm is all about. The look is contemporary and targets young nesters, but the wares are simple and refined enough to work in any setting. The retail chain is a subsidiary of Williams-Sonoma, and that shows in both quality and design.
Traditional Furniture and Antiques
Baker, 3330 M St., Georgetown; 202-342-7080; kohlerinteriors.com. In its 22,000-square-foot showroom, Baker's furniture and accessories range from traditional reproductions to cutting-edge contemporary. Check out fresh classics by local interior designer Thomas Pheasant.
Brass Knob Architectural Antiques, 2311 18th St., Adams Morgan, 202-332-3370; Brass Knob Back Doors Warehouse, 57 N St., NW, 202-265-0587; thebrassknob.com. This storehouse of architectural antiques is a great source for restored lighting, radiators, mantels, stained glass, and decorative items for home and garden. Hunters of treasures and bargains love poking through the piles for items to complete a historic restoration or complement a contemporary decor. The Back Doors Warehouse, in DC's Mount Vernon neighborhood, stocks larger architectural antiques like bathtubs and doors in bigger quantities.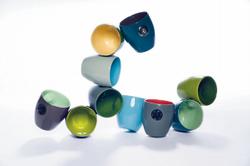 Marston Luce, 1651 Wisconsin Ave., Georgetown; 202-333-6800. In business for 26 years, Marston Luce is a top choice for 18th- and 19th-century French and Swedish furniture, pottery, and art. Luce, who has a home outside Bordeaux in France, looks for informal, naturally elegant styles. He also carries garden furniture and decor.
John Rosselli & Associates, 1515 Wisconsin Ave., Georgetown; 202-337-7676; johnrosselliantiques.com. John Rosselli, who was trained as a decorative painter, opened his flagship New York City store 50 years ago. The seven-year-old Georgetown location sells whimsical antiques—for example, a late-19th-century hat-and-cane stand with steer horns as coat hangers. Items come from all over the United States and the world. The store also has its own line of reproduction furniture, lighting, and accessories and offers Kathryn M. Ireland and Robert Kime fabrics.
Random Harvest, Alexandria, 703-548-8820; Georgetown, 202-333-5569; Bethesda, 301-280-2777; Arlington, 703-527-9690; randomharvesthome.com. Random Harvest's newest location, in Arlington, opened in October to sell the mix of stylish antiques and new items this local chain is known for. Owner Beth Aberg says each store has different pieces—but each shop also has a book with Polaroids of what's for sale at the other locations. Pieces hail from France, England, Eastern Europe, China, and the United States.
Tone on Tone, 7920 Woodmont Ave., Bethesda; 240-497-0800; tone-on-tone.com. The fine pieces from 18th- and 19th-century Scandinavia are antique, but their light, fresh look is anything but old. The sun-filled showroom is a unique source for furnishings, from settees and dining tables to china and sculpture. Swedish grandfather clocks are a specialty, and the shelves are filled with exquisite white ironstone china. The shop has added some darker European pieces to demonstrate how to mix things up and also offers a charming array of garden antiques and architectural pieces like old shutters and doors to use as inspired wall art.
Original Art, Accessories, and Lighting
Cross MacKenzie Ceramic Arts, 1054 31st St. (in Canal Square), Georgetown; 202-333-7970; crossmackenzieceramicarts.com. Husband-and-wife team Rebecca Cross and Max MacKenzie opened their Georgetown gallery two years ago. They sell clay artwork that is both sculptural and functional, as well as occasional paintings by clay artists. The main gallery features a different artist or themed show every month; the backroom has works for sale year-round.
Hemphill, 1515 14th St., NW; 202-234-5601; hemphillfinearts.com. A top vote getter in our survey of architects, Hemphill represents both local and national artists. In business for 15 years, the gallery shows contemporary works that include photography, prints, sculpture, painting, and installations.
Illuminations, 415 Eighth St., NW, 202-783-4888; 3323 Cady's Alley, Georgetown, 202-965-4888; illuminc.com. Unarguably the biggest source in Washington for cutting-edge lighting. The lamps and systems by top European and US designers range from whimsical to sophisticated. Some, like the hanging lamps by Ingo Maurer, are ingenious. The knowledgeable staff can help rig custom systems to solve lighting problems or to make a style statement; fixtures can be ordered. Illuminations also carries fans and cool illuminated doorbells.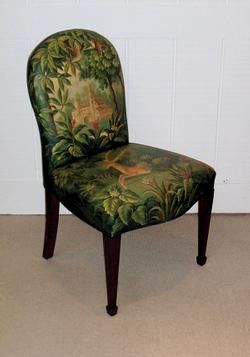 Flooring and Rugs
Classic Floor Designs, 2120 L St., NW; 202-872-9860; classicfloordesigns.info. A 5,000-square-foot showroom features carpeting and area rugs as well as hardwood, vinyl, stone, rubber, and leather flooring. The expert staff installs new floors in strip, parquet, or plank hardwoods of common and exotic species and refinishes existing ones. Customers can get help choosing among the vast rug and carpet options or make custom orders.
Timothy Paul, 1404 14th St., NW; 202-319-1100; timothypaulcarpets.com. The handmade rugs, new and antique, include hard-to-find imports from all over the world, with colors and designs that blend with any style. The collection—including contemporary flat weaves, woolen Nepalese carpets, and antique Moroccan rugs—is diverse, but every piece is of high quality in color, texture, and design. The shop also carries unique upholstery fabrics, a good selection of lamps, and a small line of furniture.
Custom Furniture and Architectural Accents
Master's Woodshop, 743 Bowman Ave., Hagerstown; 301-797-1100; masterswoodshop.com. Eben Conner has 35 years of experience making cabinetry. His Hagerstown shop specializes in custom cabinetry and millwork; design services are available.
RKI, 649-D Southlawn La., Rockville; 301-340-8844; rkiinc.net. For 25 years, RKI has been providing custom cabinetry and millwork in a range of styles. Owner Henry Kawa and his team recently restored an 1816 Alexandria home built by descendants of Lord Fairfax. RKI can do custom design for everything from kitchens to entire home renovations.
Wells Woodworking Specialties, 5113 Baltimore Ave., Hyattsville; 301-864-2111; wellsww.com (ready by April). Barry Wells, a former carpenter, has been custom-designing and manufacturing cabinetry and furniture for almost 30 years. His team specializes in green cabinetry using formaldehyde-free, sustainable products. In addition to custom designs, Wells's showroom carries semicustom manufactured lines.
Kitchen and Bath
Ann Sacks, 3328 M St., Georgetown; 202-339-0840; annsacks.com. Ann Sacks creates luxury baths and kitchens with beautiful plumbing fixtures and tiles. Its huge range of high-end stone, richly colored glass, and mosaic tiles is one of the national chain's biggest draws. Artistic ceramic tiles come in designs like Japanese cherry blossoms. Fixtures run the gamut of traditional to contemporary in materials such as bronze, china, and concrete. Lighting by Barbara Barry and Michael S. Smith illuminates the opulent designs.
Arc Stone II, 9020 Edgeworth Dr., Capitol Heights; 301-499-2100; arc-stone.com. This large showroom carries natural-stone selections including granite, marble, limestone, onyx, and slate.
Architectural Ceramics, Alexandria, 703-299-6200; Bethesda, 301-718-8343; Falls Church, 703-714-0161; Rockville, 301-762-4140; Washington Design Center, 202-554-8719; architecturalceramics.net. A top vote getter, this local chain has a huge tile selection including custom and hand-painted.
Ferguson Enterprises, 26 area locations; ferguson.com. This national chain has a large selection of appliances, fixtures, sinks, toilets, and tubs in all price ranges.
Jennifer Gilmer Kitchen & Bath, 6935 Wisconsin Ave., Bethesda; 301-657-2500; jennifergilmerkitchens.com. Architects sometimes leave kitchen design to specialty firms; many say they like Gilmer, who has been designing kitchens in Washington for more than 20 years. Her award-winning designs range from classic and vintage to sleek and contemporary. Her wide range of innovative materials are supplied by top manufacturers of appliances, cabinetry, and flooring.
Kitchen and Bath Studios, 7001 Wisconsin Ave., Bethesda; 301-657-1636; kitchenbathstudios.com. Architects like the three lines of high-end cabinets this kitchen- and bath-design firm carries: Christiana Cabinetry, Crystal Cabinets, and Premier Custom Built Cabinetry. The showroom has more than 350 cabinet-door styles in a wide variety of styles and veneers.
Lobkovich Kitchen Designs, 8000 Towers Crescent Dr., Suite 150, Vienna; 703-847-0601; lobkovich.com. This architect-owned kitchen-design firm specializes in high-end custom cabinetry.
Nancy Thornett Associates, 4833 Bethesda Ave., Bethesda; 301-718-0155; www.thornettkitchens.com. In business 25 years, this family-owned firm has seven designers on staff. Architects like the five lines of cabinets it carries, including Rutt Custom Cabinetry and Kountry Kraft.
R. Bratti Associates, 401 E. Glebe Rd., Alexandria; 703-549-1135; rbratti.com. This fourth-generation Alexandria business is one of the nation's top contractors for limestone, marble, and granite. It offers full service in custom kitchen and bath countertops, full stone-slab showers, and fireplace surrounds. R. Bratti is also the exclusive dealer of Pyrolave, a lava stone from an extinct volcano in France that enamels beautifully in bright, translucent colors.
Renaissance Tile and Bath, 816 N. Fairfax St., Alexandria; 703-549-7806; renaissancetileandbath.com. Formerly called Ademas, this architect favorite is part of a high-end chain based in Atlanta. Design consultants on staff help consumers choose from the wide selection of limestone, marble, travertine, and hand-painted tile.
Union Hardware, 7800 Wisconsin Ave., Bethesda, 301-654-7810; 7505-M Leesburg Pike, Falls Church, 703-893-4444; unionhardware.com. In business since 1914, this architect favorite carries bathtubs, sinks, faucets, decorative hardware, and accessories such as mirrors and lighting.
Waterworks, 3314 M St., Georgetown; 202-333-7180; waterworks.com. Known for its striking minimalist bathrooms, this shop can also accommodate tastes for ornate traditional or foreign-inspired looks with a wide selection of fixtures, sinks, tubs, washstands, and medicine cabinets. Small accessories such as stools, bathside tables, and soap dishes are available.
W.T. Weaver & Sons, 1208 Wisconsin Ave., NW; 202-333-4200; weaverhardware.com. This family-owned Georgetown institution, in business more than 100 years, carries decorative hardware, tubs, high-end fixtures, and accessories.
This article is part of the 2008 Great Home Design package. To see the rest of the package, click here.