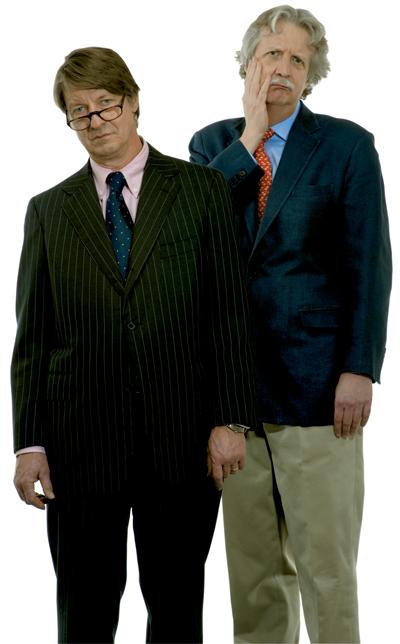 I was the first person in my family to register as a Democrat. The South Jersey town I grew up in was named after my father's family, longtime Republicans, so this wasn't a popular decision.
Since then, I've bumped along without much trouble. I married someone who's sometimes to the left of me and sometimes to the right but most often in pretty much the same place. I have friends of both political persuasions.
Ever since moving to Washington 22 years ago, I've had to defend the place to practically everyone I know outside the Beltway, all of whom seem to hold DC residents responsible for everything that goes on here. But I'm used to sticking up for where I live: That's something you learn when you grow up in New Jersey.
I find national politics mostly a spectator sport. Still, if labeling myself, I'd go with "liberal Democrat." Then I found myself laughing out loud at conservative writers.
So I decided to find out why—and which authors make conservative writers themselves laugh.
Radicals and liberals and such want all jokes to have a 'meaning,' to 'make a point.' But laughter is involuntary and points are not.
—P.J. O'Rourke in Republican Party Reptile
All of the conservative writers I talked with know one another. They're friends; they write introductions for one another's books. They feel as though they're the minority even with a Republican White House.
Andrew Ferguson, senior editor of the Weekly Standard and author of last year's Land of Lincoln: Adventures in Abe's America, says that's because "the culture itself is in the hands of people who don't agree with conservatives, don't even like conservatives—Hollywood, the media, the foundations, a lot of businessmen."
Ferguson offers a list of funny political writers: Mark Steyn, P.J. O'Rourke, Jonah Goldberg, Matt Labash, and—a surprise—Dave Barry. This list would be repeated by others.
Fredericksburg resident Florence King—who writes for the conservative National Review and once alternated columns with Ferguson in the American Spectator—is, he says, "off the charts, and the last chart was printed in 1565." He calls her Confessions of a Failed Southern Lady—a fond look at her unusual family that brings back a long-gone Washington—"one of the greatest American memoirs."
Ferguson is also high on Caitlin Flanagan (To Hell With All That: Loving and Loathing Our Inner Housewife) and DC writer Charlotte Hays (Somebody Is Going to Die If Lilly Beth Doesn't Catch That Bouquet: The Official Southern Ladies' Guide to Hosting the Perfect Wedding, written with Gayden Metcalfe). Flanagan is one of the "charming, very light writers" who are "not doctrinaire conservatives." Hays, he says, "has a lot in common with Florence King."
As for funny liberals, Ferguson doesn't find many. Chief among them is the late Texas writer Molly Ivins (Who Let the Dogs In? Incredible Political Animals I Have Known). He adds that "political writers who are funny are generally funny only on the surface." He cites the legendary H.L. Mencken as an example. Mencken, he says, was "revered, especially by writers on the left in the '20s," but he was later revealed to have had some offensive beliefs (including anti-Semitism): "The writing was just as good, the jokes were just as good, but now there was something about them that made people uneasy."
It was a romantic notion, hoping that I could be the first conservative in the history of glossy magazines to be shown with his arms not folded across his chest.
—David Brooks in the introduction to Backward and Upward: The New Conservative Writing
Like everyone else I spoke with, Christopher Buckley, author of several satirical novels including last year's Boomsday and my favorite Washington guidebook, Washington Schlepped Here—and son of National Review founder William F. Buckley—is a fan of Andrew Ferguson's. Chris Buckley describes him as "the great undervalued comic writer in America."
Ferguson, he says, "has a wonderful wryness to him that is so intoxicating and calming at the same time."
Buckley considers Tom Wolfe "the reason a lot of people my age wanted to go into this business." He recommends Wolfe's The Electric Kool-Aid Acid Test and Radical Chic & Mau-Mauing the Flak Catchers in particular.
Buckley calls Dave Barry "the funniest human being on the planet. I have no inkling whatsoever of his political views, except I would infer a sort of organic conservatism." Barry was named often, but no one could pin a political label on him; likewise controversial Washington author Christopher Hitchens, author most recently of God Is Not Great: How Religion Poisons Everything.
On Buckley's list of "funny lefties" are Calvin Trillin (particularly his novel Floater, about a reporter who moves from section to section of a newsmagazine, as Trillin did as a young man at Time), early Garrison Keillor (Happy to Be Here, Lake Wobegon Days), Woody Allen (also early—Buckley calls his 1975 collection, Without Feathers, "pretty classic"), and Carl Hiaasen, author of a long list of comic novels; Buckley says the first of them, Tourist Season, "still brings tears to my eyes and an asthma attack from laughter."
If you want to watch Americans throw democracy and equality to the winds and enshrine them at one and the same time, get tapped for jury duty and listen while one side eliminates Catholics who went to college and the other side eliminates Protestants who went to high school, until there's nobody left but twelve people incapable of understanding the case. That's the jury.
—Florence King, Reflections in a Jaundiced Eye
Charlotte Hays, a former blogger for the Web site Beliefnet.com and author of several books, claims that "all the great writers were conservative."
She cites Samuel Johnson, Fanny Burney, and Evelyn Waugh—"unfortunately a mean person, but hey, you can overlook things." Currently she loves Mark Steyn (America Alone: The End of the World as We Know It) and the essay collection Our Culture, What's Left of It: The Mandarins and the Masses by Theodore Dalrymple, a British doctor who works in an inner-city hospital and a prison.
While Hays thinks liberals take themselves too seriously, she says anti-Bush New York Times columnist Maureen Dowd "may actually become funny again if Clinton becomes president, God forbid."
If I had a better idea of what it meant, I might use the word "frisson" to describe the sensation I got reading a sexually explicit book and coming across my own name. "Startled" might be a better word; "freaked out" also. At the time, though, none of these words leapt to mind. What leapt to mind, and what I said, was "Holy s—!" (And if you think it's easy pronouncing those dashes, just try it.)
—Andrew Ferguson, Fools' Names, Fools' Faces
Matt Labash, a writer at the Weekly Standard and himself mentioned as funny by Ferguson, Goldberg, and O'Rourke, lists "many of the usual suspects"—Ferguson, Goldberg, O'Rourke.
He's also a fan of Tom Wolfe's, "particularly the journalism collections, which should be regarded as the four gospels"—The Pump House Gang; Mauve Gloves & Madmen, Clutter & Vine; The Kandy-Kolored Tangerine-Flake Streamline Baby; and Radical Chic and Mau-Mauing the Flak Catchers.
In college, Labash didn't understand "why the Gideons were still planting Bibles in hotel rooms when P.J. O'Rourke's Parliament of Whores was available." He also recommends P.G. Wodehouse ("The man never wrote a bad sentence, but particularly the Carry On, Jeeves collection") and Kingsley Amis (especially his classic, Lucky Jim), as "genuinely funny writers who wear their politics lightly."
Labash's guilty pleasure is Minnesota Democrat Garrison Keillor—not so much for his radio show and definitely not his newspaper columns, where Labash says he has turned into a "sputtering partisan hack," but for his comic novels such as Love Me and Wobegon Boy. Keillor's prose, he says, "is like the liquid center in Freshen-Up gum—bite into it and there's a surprising cool burst on every page."
Whistler did what temperamental artists tend to do when they are dissed by rich patrons: he painted over Leyland's incredibly expensive leather wall hangings with Prussian blue paint and added two more peacocks for good measure. If only world wars were fought this way, the world would be safer and much more interesting to look at.
—Christopher Buckley on the Freer Gallery of Art's Peacock Room in his book Washington Schlepped Here
Jonah Goldberg, editor at large of National Review Online, says P.J. O'Rourke will "remain the king of comedy on the right for a very long time." Goldberg thinks the funniest conservative writing today is that of Mark Steyn—"a weird cat but simply brilliant." Of Steyn's America Alone, he says: "To make a fairly apocalyptic vision about demographic collapse and jihady conquest is hard."
Goldberg admires Ferguson but thinks that—like David Brooks, Steyn, and himself—Ferguson has been forced to "tamp it down" in order not to be pigeonholed as a humorist (a term Christopher Buckley hates, so don't call him that).
"Because the liberal stereotype is that conservatives are knuckle-dragging, troglodydic puppy eaters," Goldberg says, "they're not supposed to have any joie de vivre. We need a truckload of bran just to crack a smile, so when we do crack a joke, people assume, 'Oh, you must be a humorist.' "
Brooks, he says, is now considered "a nice conservative." In fact, the anthology of conservative writers Brooks edited includes a lot of what Goldberg calls the "down-to-earth kind of daily observational life stuff, 'I'm a person too' kind of writing," as well as ideological pieces.
Goldberg's first book, Liberal Fascism: The Secret History of the American Left From Mussolini to the Politics of Meaning, came out in January. He's concerned that what he intended as serious writing will be misinterpreted: "I spent four years working on this thing, pulling the jokes out like teeth." Anything funny that remains, he says, is sarcasm.
Washington, though it costs the taxpayers a fortune, is itself inexpensive—at least compared with New York or Los Angeles. In Washington journalists can afford to live almost as well as people who work for a living.
—P.J. O'Rourke, Parliament of Whores
O'Rourke puts Andrew Ferguson at the top of his list: "hilarious," "a dry wit," and "good on television—funnily enough, Lincolnesque."
O'Rourke notes that Christopher Buckley's conservatism has little to do with what makes his writing funny: "Chris is remarkably evenhanded, and I don't think it's a conscious thing—I think it's just the way Chris sees the world."
O'Rourke says that conservatives should be funnier than liberals: "One of the principles of humor, for good or ill, is making fun of the different and the new, the unusual, and the odd. Conservatism tends to be resistant to the new, the untested, so it should be easier for conservative people to make jokes at the expense of people who are doing new, odd, or different things."
He shares Charlotte Hays's enthusiasm for Evelyn Waugh. "The six comedies from around the 1930s—Vile Bodies, A Handful of Dust, Scoop, Black Mischief, Put Out More Flags, and Brideshead Revisited—are the apex of humor in the English language. They have a small-C conservatism to them."
He says that Waugh and short-story writer Saki (H.H. Munro) are "the two people I like best in comedy" and that he could "in no way imitate them without sounding like a fool."
As for why a liberal like me would find conservatives so humorous, O'Rourke has an explanation: "I think what makes people funny really has nothing to do with their political or social tendency toward conservatism or liberalism. It actually has to do with a knack for logic and presenting fractured logic. The facility for logic ends up having so much more to do with a sense of humor than anything remotely political or sociological."
I choose to see this as being true of the one who gets the joke as well as the one who makes it.