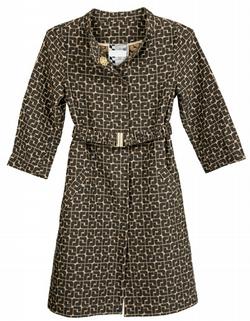 Graphic prints are big—and a cinch with L.A.M.B.'s Brighton coat. It's $385 in Savvy at Nordstrom at Tysons Corner Center andWestfield/Montgomery Mall.

High-waisted, full-leg pants are figure-flattering on most women. Dolce & Gabbana's white cuff pant is $425 at Saks Fifth Avenue in Chevy Chase and Tysons Galleria.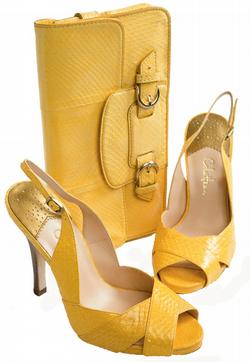 Citrus-colored accessories add zest. Cole Haan's snakeskin clutch ($425) and slingbacks ($375) are at Bloomingdale's in Chevy Chase; the shoes only are at Bloomingdale's, Tysons Corner Center.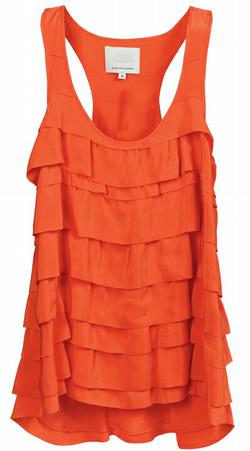 Update a neutral outfit with a burst of bright color. This Madison Marcus silk top is $242 at Barneys Co-Op in Chevy Chase and Georgetown.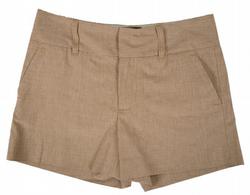 Dressy shorts are on spring's short list. This pair from Marc by Marc Jacobs is $168 at Neiman Marcus in Tysons Galleria.
Jazz up a suit with a shoe that has a great heel. This Prada peep-toe is $590 at Saks Fifth Avenue.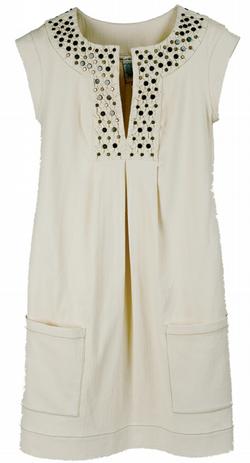 Baby dolls are out, high-waisted dresses in. This Diane von Furstenberg is $425 at Barneys Co-Op in Chevy Chase and Georgetown.
In
High-wasted, full-leg pants
Showing shape with a waisted dress or full skirt
Large graphic prints
Statement or "art" heels
Dressy shorts
Sheer, layered pieces
Citrus colors
Referencing other decades
Dressy, dark denim
Out
Leggings
Anything bohemian
Sequins
Baby-doll dresses
Capris
Overtly sexy items
Black or gray from head to toe
Wearing what you wore in other decades
Skinny, faded, or ripped jeans
Want to see more photos of what's in for spring and summer this year? Click here.