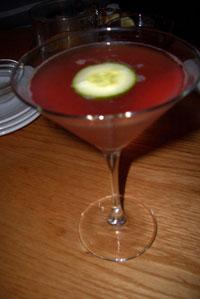 The spot: Hank's Oyster Bar, 1026 King St., Alexandria; 703-739-4265
The drink: Cherry Stone Blossom, a light and refreshing drink, made to reflect the coming spring. It was created in honor of Virginia's Garden Week (April 19 through 27), which will include garden and home tours. Made with Smirnoff vodka, Hakusuru sake, house-made lemonade, and cherry juice, the drink is garnished with a cucumber wheel.
The price: $11
First impression: Because it's served a martini glass, I was worried this could be just a jazzed-up vodka martini. Instead, I was surprised by how well the ingredients complemented one another. The cocktail's color and aroma (a combination of sweet cherry and fresh cucumber) were, appropriately, reminiscent of garden blooms.
Lasting impression: This is a solid springtime drink from beginning to end. The cooling flavors of lemonade and cherry juice help tone down the stronger-tasting vodka and sake, so no element overpowers another. A nice way to welcome the new season.
Grade: A
For more drinks and bar posts, click here.