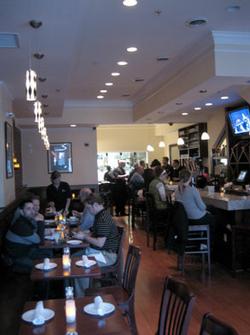 Med Lahlou, owner of Tunnicliff's Tavern on Capitol Hill and Stoney's Bar in Logan Circle, recently opened his newest venture, Ulah Bistro. (The name is a combination of its U Street location and the first three letters of the owner's last name.) The pizza-and-beer purveyor is aiming to create a more upscale version of his other two happy-hour-friendly spots.

Lahlou spent more than a year transforming an abandoned shell into the two-level, 140-seat bistro. On the first floor, a dining room with candlelit brick walls and dark wood furniture is set in front of an open kitchen. The upper level, black and red with low couches and a granite bar, has a loungier feel.
As at Stoney's and Tunnicliff's, the kitchen puts out pizza. Ulah's pies are baked in a wood-fired oven and sport crisp crusts. There's a basic Margherita or more creative options such as the Ulah, topped with crabmeat, cherry tomatoes, and basil.
As for the rest of the menu, it might sound familiar if you've ever been to Tunnicliff's. That tavern's seared tuna is billed here as ahi-tuna tartare, while meatloaf has become American pâté. You might recognize similar burgers and sandwiches—alas, Stoney's "super grilled cheese" is nowhere to be found—but the brunch menu does boast something new: a breakfast pizza with prosciutto and three eggs.

Ulah Bistro, 1214 U St., NW; 202-234-0123; ulahbistro.com.