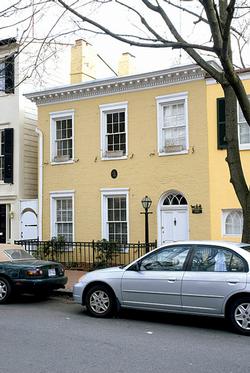 In DC: Former Channel 9 news anchor Tracey Neale sold a four-bedroom, four-bath Federal-style brick rowhouse in Georgetown's West Village for $1.3 million. The house, which Neale bought in January 2005 for $935,000, has a wrought-iron gated front and a private patio.
Business executive and civic leader Terence Golden bought a two-bedroom, three-bath penthouse on Military Road in Chevy Chase for $2 million. The 2,650-square-foot condo has a two-story master bedroom, terrace with Viking grill, and wet bar. Golden is chair of DC's Bailey Capital Corporation, a private investment company. From 1995 until 2000, he was president of Host Marriott Corporation. He is also chair of the Federal City Council, a civic organization of Washington business leaders.
Businessman Miles Gilburne and his wife, Nina Zolt, bought a two-bedroom, three-bath condo on E Street in Penn Quarter for $1.5 million. Gilburne, a former senior vice president at AOL, is a managing member of ZG Ventures, a venture-capital firm. Zolt is cochair and cofounder of ePals, an online education company.
Radio talk-show host Diane Rehm and her husband, lawyer John Rehm, bought a two-bedroom, three-bath corner condo in the Colonnade on New Mexico Avenue for $800,000. Rehm hosts The Diane Rehm Show on NPR and has written two books: Finding My Voice and, with her husband, Toward Commitment.
DC Superior Court judge John Mott bought a four-bedroom, four-bath Colonial in Northwest DC for $900,000. The house has a library, guesthouse, and rear patio. Mott was named to the court in 2000 by President Clinton.
National Building Museum president Chase Rynd bought a condo in the Lofts Eleven building near Logan Circle for $1.3 million.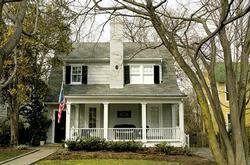 In Maryland: Former George W. Bush aide Dan Bartlett and his wife, Allyson, sold a three-bedroom, three-bath Colonial in Chevy Chase for $1.3 million. Bartlett resigned as White House counselor in 2007; he is now a senior strategist at the Austin, Texas, office of Public Strategies, a public-affairs firm.
Washington Wizards forward/center Andray Blatche bought a house in Mitchellville for $1.4 million. Built in 2007, the 7,000-square-foot house sits on more than an acre of land. Blatche was drafted by the Wizards directly from high school in the second round of the 2005 NBA draft.