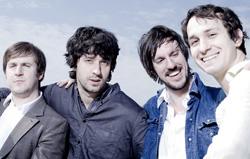 We have been fans of the French Kicks since our days in college, but until this afternoon's chat with him, we had no idea the band's vocalist, Nick Stumpf, was such an interesting and funny guy . . . er, giant—he's freakin' six-foot-six! Now we want to be best friends with him. Badly.
When not deadpanning "Jeans, no bra" to a question about his choice of wardrobe for the chat, Stumpf revealed some juicy information for fans: The band has just finished recording a series of cover songs, some of which it may or may not perform tomorrow at the Rock and Roll Hotel (1353 H Street, NE; 202-388-7625). "You'll have to come to the show to find out," he teased. Stumpf also talked about recording the band's latest album, Swimming, and mentioned film projects he'd like to work on soon.
To read more of what Stumpf had to say, read the chat transcript, and don't forget to check out the band at the Rock and Roll Hotel tomorrow night.
On Monday, April 28, we'll be hosting a music roundtable with local bands Le Loup, These United States and Jukebox the Ghost. Click here to submit a question.