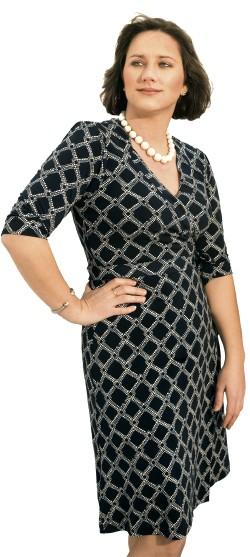 "A lot of young people fall victim to the 'too' trap—too short, too wrinkled, too trendy, too casual," says Mary Frances Kertz, who spent two summers interning in Washington while an undergrad at the University of Missouri and now works at the Department of the Treasury.
Kertz avoided style blunders thanks to guidance from her older sister. Now friends consider Kertz a fashionista. She shares advice for young professionals about how to look fashionable and appropriate.
What's the best style tip you were given when starting out?
Dress professionally, but dress your age. It's not as easy as it sounds. The hardest thing is to stay trendy without standing out as straight out of college.
How do you do that?
Look at what people in your office are wearing and branch out. I think a lot of it comes down to having good basics. Make sure you have a good three-piece suit—jacket, pants, and skirt—in a basic color: black, navy, or brown. Then add color with different shirts or fun shoes. Women should have a basic black purse, but the next step should be a fun print that shows more of your personality.
What are mistakes people make when starting a professional wardrobe?
Going too skimpy—with bra straps in full view or hemlines that are too short. Sometimes people are too wrinkled or a guy's belt doesn't match his shoes. The biggest mistake is when people buy entire wardrobes at full price, put it on a credit card, and worry about it later. Building a good wardrobe takes time.
Where do you find bargains?
Filene's and Loehmann's have high-end items at a discount. I go to Ann Taylor Loft for basic suits. Target has good wrap dresses. H&M is great for things that will be in for only a season. Go online and sign up at your favorite stores—they'll e-mail you when they're going to have a sale and send coupons. Don't forget eBay. One of my favorite pieces is a green crocodile clutch I bought on eBay.
What's worth splurging on?
Shoes. You can extend their life if you don't wear them to and from work. Wear a pair of flats for the walk or the Metro. And what's the point of spending $50 on a handbag when the handles break? You can find a Coach bag or the Italian designers at Filene's. That's a $400 purse you can get for $100, and it should last a couple of years.
Looking Cool in Summer

"People can get too crazy with them," Michael Curcio, 25, says of summer fabrics like seersucker, poplin, and linen. People get confused by the materials, he says, and wear odd shirt-and-tie combinations.
Curcio, an assistant manager of development for the Kennedy Center, knows seersucker: He grew up outside of Nashville and went to college in Mississippi. He recommends wearing a white shirt and plain bow tie: "Match your shirt and tie as you would with any other suit."
He's such a fan of summer fabrics that when Curcio and his fiancée tie the knot this summer, the bridesmaids will wear seersucker sundresses and the groomsmen will don butter-colored linen pants and navy blazers.
Curcio bought most of his seersucker in Mississippi, but in downtown DC he likes the Custom Shop: "You pick out fabric and they make everything. They have some great linen and seersucker." He says friends also recommend J. Press.
He offers more tips on looking cool:
■ Seersucker, poplin, and linen are for summer only. "My mother always told me not to wear them before Easter. That was the coming-out party for everyone's seersucker."
■ The difference among seersucker, poplin, and linen is weight. "Seersucker is the lightest," says Curcio. "Linen is the heaviest and great on the beach or someplace breezy. Seersucker and poplin might be similar weights, but seersucker's crinkled material makes it more breathable."
■ If you have white bucks, wear them with a plain brown belt. Otherwise, stick to brown or black dress shoes and a plain matching belt.
■ Summer fabrics work every day of the week, not just on the Hill's seersucker Thursday. "If I'm doing something like a meeting with a first-time client, I would go with something dark."
■ "There's no rule you can't wear these at night," says Curcio, who cautions that summer fabrics are not appropriate for formal events.
■ "Seersucker is a crumpled material, so it stays off the body and helps keep you cool," he says. "People worry about being wrinkled, but if you're too pressed, that looks funny. I don't do anything other than take it to the dry cleaner."
This article appears in the May 2008 issue of Washingtonian. To see more articles in this issue, click here.
More>> Shop Around Blog | Style | Find a Spa