Homes > Home Design > Outdoor Living Package
If you're looking for a landscape professional, don't focus too much on the person's title or professional degree, says David Jochnowitz, president of the local chapter of the Association of Professional Landscape Designers. Here's why:
Most landscape architects have a bachelor's or master's degree in landscape architecture, and in Maryland and Virginia they must be licensed. DC has no degree or licensing requirements.
Anyone can use the term "landscape designer," but many people in the field do have degrees in horticulture, botany, or urban design. Some, like Jochnowitz, have a degree in landscape architecture but have never completed the qualifications to become certified. Even people without degrees can be well suited for some design work: George Washington University's two-year certificate program in landscape design has a good reputation.
In general, landscape-architecture programs emphasize hardscaping—patios, walkways, retaining walls, drainage systems, and other structural elements. Landscape-design programs focus more on horticulture. But many landscape architects are knowledgeable about plants, and some landscape designers have expertise in construction and engineering.
There's a lot of collaboration between the two specialties. Landscape architect Jack Sullivan, coordinator of the University of Maryland's landscape-architecture program, says he often consults with a landscape designer "who has no relevant degree or license but has an incredible design sense."
Interview several landscape professionals, look at their portfolios, and review their Web sites. Consider whether you like their work, whether the chemistry feels right, and whether their experience is appropriate for the project.
Sullivan offers additional tips:
• Look to see if the portfolio represents diverse ideas. If all of the projects look similar, it's possible the professional is using only his or her ideas rather than collaborating with the homeowner.
• Ask about the payment structure and that the process be done in phases so you can stop at different stages and review the work to decide whether to proceed—before all your money has been spent.
There is a variety of other ways to find landscape professionals: Neighborhood e-mail listservs, usually free, can be a good resource. Some free online services offer lists of recommended landscape architects, designers, and other professionals; examples are Home Solutions Connection (homesolutionsconnection.com), Urban Referrals (urbanreferrals.com), and Home Connections (homeconnections.com).
For a $15 membership fee and $8.75 a month, Angie's List (angieslist.com) provides a similar service. And for subscribers to Washington Consumers' Checkbook (checkbook.org; $34 for two years), the Neighbor-to-Neighbor section is a forum for homeowners to share recommendations.
Two professional associations have free searchable databases of members: the American Society of Landscape Architects (asla.org) and the Association of Professional Landscape Designers (apld.org).
What follows isn't a comprehensive list of good landscape professionals—there are many more reputable and creative firms in the area—but it can be a starting point. These are some of the names most frequently recommended by architects, remodelers, garden centers, landscape architects and designers, and readers. Included are design/build firms, which are designated as such, and landscape-architecture firms, which provide only design services but often have relationships with contractors.
Landscape Professionals
Arentz Landscape Architects, 4201 Connecticut Ave., NW, Suite 407; 202-537-8020; additional office in Warrenton; arentzdc.com. At this design/build firm, owner Richard Arentz and his team of six landscape architects use a lot of stone and water in large-scale, high-end residential projects.
Chapel Valley Landscape Company, 3275 Jennings Chapel Rd., Woodbine, 301-924-5400; 20 S. Quaker La., Suite 110, Alexandria, 703-823-5751; 21617 Cedar La., Sterling, 703-406-0802; chapelvalley.com. Large design/build firm that does residential and commercial projects. Specialty in installation of large trees.
Clinton & Associates, 5200 Baltimore Ave., Suite 201, Hyattsville; 301-699-5600; clinton-la.com. Sandra Clinton, a landscape architect, horticulturist, and general contractor, worked for Oehme, van Sweden for 14 years before opening her design/build firm.
Fine Earth Landscape, 16815 Budd Rd., Poolesville; 301-983-0800; fineearth.com. Design/build firm with a gardening and maintenance division; specializes in high-end projects.
Fine Landscapes, 21558 Stonetree Ct., Sterling; 703-421-7441. High-end design/build firm doing projects mostly in Great Falls, McLean, and Leesburg.
Garden Gate Landscaping, 821 Norwood Rd., Silver Spring; 301-924-4131; gardengate.net. This 44-year-old design/build and maintenance firm does only residential projects.
Graham Landscape Architecture, 229 Prince George St., Annapolis; 301-858-5330; grahamlandarch.com. This highly recommended firm does a lot of work along the Chesapeake Bay.
Gregg Bleam Landscape Architect, 110-B Second St., NE, Suite 202, Charlottesville; 434-977-3232; gbla.net. This Charlottesville firm is known for its modern style and does lots of projects in Washington.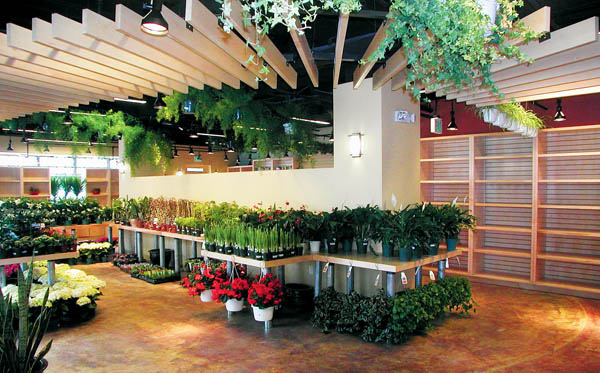 Garden District, a nursery in DC's Logan Circle neighborhood, has opened a new branch a few blocks away. Pictured here, it sells interior-garden products from houseplants to candles. Photo courtesy of Garden District.
Jane MacLeish Landscapes, 3743 Upton St., NW; 202-966-8279; janes-garden.com. A small design/build firm that specializes in gardens with an English feel; lots of country estates.
Jordan Honeyman Landscape Architecture, 711 Florida Ave., NW; 202-986-0711; jordanhoneyman.com. Owners Holt Jordan and Joan Honeyman emphasize detailed planting designs.
Landscape Architecture Bureau, 714 Seventh St., SE; 202-543-6550; labindc.com. Formerly the Fitch Studio, this firm with 11 designers does high-end work.
Lila Fendrick Landscape Architect and Garden Design, 6904 West Ave., Chevy Chase; 301-907-7700. Highly recommended by peers, Fendrick's small firm emphasizes architectural elements.
McHale Landscape Design, 6212 Leapley Rd., Upper Marlboro; 301-599-8300; mchalelandscape.com. Large design/build firm with its own masonry and carpentry divisions.
Oehme, van Sweden & Associates, 800 G St., SE; 202-546-7575; ovsla.com. Wolfgang Oehme and James van Sweden are internationally known for natural, contemporary gardens; 21 landscape architects on the staff of this design/build firm.
Scott Brinitzer Design Associates, 2300 S. Ninth St., Suite M-1, Arlington; 703-892-0266; brinitzer.com. Small design/build firm with landscape designers and landscape architects on staff.
Shimizu Landscape Corporation, 6101 Bryn Mawr Ave., Glen Echo; 301-229-9483. Osamu Shimizu's designs often incorporate water and have a Japanese quality. His wife, Holly Shimizu, is director of the US Botanic Garden. The firm also does building.
Tom Mannion Landscape Design, 3219 N. Fourth St., Arlington; 703-528-9098; tommannionlandscapedesign.com. This one-man design/build company creates lushly planted, contemporary gardens.
Garden Stores and Nurseries
These stores sell high-quality flowers, plants, and gardening supplies; some also offer landscaping services and education.
Alden Farms, 19215 Beallsville Rd., Beallsville, Md.; 301-972-7183; aldenfarms.net. Unusual annuals, perennials, and garden ornaments; owner David Therriault designs and cuts stone birdbaths and sculptures.
American Plant, 5258 River Rd., Bethesda, 301-656-3311; 7405 River Rd., Bethesda, 301-469-7690; 10160 Georgetown Pike, Great Falls, 703-438-8880; americanplant.net. Formerly American Plant Food, this nursery offers design and consultation services and has its own installation crews; it carries a wide variety of perennials, annuals, shrubs, and trees as well as organic fertilizers and pesticides.
Behnke Nurseries, 11300 Baltimore Ave., Beltsville, 301-937-1100; 9545 River Rd., Potomac, 301-983-9200; behnkes.com. Considered one of the best in the area, the original 11-acre nursery in Beltsville is more than 75 years old and offers everything from heirloom tomatoes to annuals and perennials. Design services available.
Betty's Azalea Ranch, 12507 Lee Hwy., Fairfax; 703-830-8687; bettysazalearanch.com. The nation's largest azalea collection as well as trees, perennials, annuals, bulbs, turf and garden supplies, and water-garden materials. Landscape design and implementation services.
Brent and Becky's Bulbs, 7900 Daffodil La., Gloucester, Va.; 877-661-2852; brentandbeckysbulbs.com. More than 1,000 flowering bulb varieties including daffodils, tulips, and lilies. The Bulb Shoppe, the farm's retail outlet, is open Tuesday through Saturday 10 to 4. You can sign up for tours and lectures.
Craven's Nursery, 9023 Arlington Blvd., Fairfax; 703-573-5025; cravensnursery.com. Lots of perennials, annuals, trees, shrubs, and a good selection of orchids, bonsai, and pottery. Two hardscape designers design and install patios, walkways, and driveways.
DeBaggio's Herb Farm & Nursery, 43494 Mountain View Dr., Chantilly; 703-327-6976; debaggioherbs.com. Specializes in herbs and vegetables, including more than 100 tomato varieties. Also carries perennials, annuals, and fruit shrubs, including raspberry, blueberry, and blackberry.
Garden District, 1801 14th St., NW, 1520 14th St., NW; 202-797-9005; gardendistrict-dc.com. This seven-year-old store in DC's Logan Circle neighborhood sells annuals, perennials, ornamental shrubs, trees, pottery, organic fertilizers, and exotic and hard-to-find plants. In March, a new location opened a few blocks down the street dedicated to interior and garden products, including houseplants, pottery, picnic baskets, and candles.
Ginkgo Gardens, 911 11th St., SE; 202-543-5172; ginkgogardens.com. Caters to urban gardens with perennials, small trees, shrubs, houseplants, pottery, and outdoor furniture for townhouses. Design, installation, and maintenance services, primarily in the District.
The Greenhouse at Washington National Cathedral, Wisconsin and Massachusetts aves., NW; 202-537-6263; cathedral.org. On the south side of the cathedral grounds, the Greenhouse specializes in herbs but also sells perennials, annuals, topiaries, fruit trees, pots, and statuary.
Greenspace Unlimited, 7835-B Richmond Hwy., Alexandria; 703-780-8657; greenspaceunlimited.com. Large selection of perennials, annuals, and herbs plus a landscape-design crew.
Hill's Nursery and Camellia Gardens, 1722 N. Glebe Rd., Arlington, 703-527-3472; Hill's Nursery West, 10500 Leesburg Pike, Vienna, 703-759-2207. These companies share ownership. The first specializes in mature camellias and holly, the second in custom residential landscaping as well as large trees and shrubs. Their 20 acres of planted fields—home to large rhododendrons, azaleas, evergreen and shade trees, and perennials—are open on weekends.
Holly, Woods & Vines, 8453 Richmond Hwy., Alexandria, 703-799-1607; hollywoodsandvines.com. This 12-year-old shop has plants, trees, shrubs, patio furniture, pottery, concrete statuary, and gifts. A ten-person team offers landscape and design services.
J.H. Burton & Sons & Granddaughter, 8215 Chestnut Grove Rd., Frederick; 301-898-8215 ext. 107. Specializes in large trees such as dogwoods, evergreens, and Bradford pears. Landscape-architecture services.
Johnson's Florist & Garden Centers, 4200 Wisconsin Ave., NW; 202-244-6100; also in Kensington and Olney; johnsonsflorists.com. Annuals, perennials, statuary, garden art, furniture, and cut flowers.
Lilypons Water Gardens, 6800 Lilypons Rd., Adamstown, Md.; 800-825-5459; lilypons.com. Water-garden products including plants, fish, and pond essentials such as filters, pumps, and lights. Cleaning, installation, and maintenance services.
Merrifield Garden Center, 8132 Lee Hwy., Merrifield, 703-560-6222; 12101 Lee Hwy., Fairfax, 703-968-9600; merrifieldgardencenter.com. Garden center, nursery, and landscape-design/build company carrying everything from flower and vegetable seeds to houseplants and trees.
Nicholls Gardens, 4724 Angus Dr., Gainesville; 703-754-9623; nichollsgardens.com. Thousands of irises along with daylilies, hostas, and peonies. Primarily a mail-order business; it's best to call and set up an appointment before visiting.
Pine Knot Farms, 681 Rockchurch Rd., Clarksville, Va.; 434-252-1990; pineknotfarms.com. A four-hour drive from DC, this nursery specializes in hellebores and other unusual perennials.
Susanna Farm, 17700 White Ground Rd., Boyds, Md.; 301-972-7513; susannafarmnursery.com. Specializes in unusual evergreens and Japanese maples.
Tri-State Stone, 8200 Seven Locks Rd., Bethesda; 301-365-2100. Source for Carderock stone and other types of flagstone and wall stone.
Furniture and Accessories
Barbeques Galore, 12219–21 Fair Lakes Promenade Dr., Fairfax; 703-278-0024; also in Columbia, Gaithersburg, Springfield, and Sterling; bbqgalore.com. Grills, smokers, accessories, and patio furniture. Web site offers cooking and grilling tips as well as recipes.
Brookstone, Westfield Montgomery mall, 301-469-9610; also in Pentagon City, Gaithersburg, Fairfax, Tysons Corner Center, and Reagan National Airport; brookstone.com. Outdoor furniture, grilling accessories, games, and lighting.
Country Casual, 7601 Rickenbacker Dr., Gaithersburg; 301-926-9195; countrycasual.com. Specializes in teak garden furniture such as Adirondack chairs, porch swings, and dining tables.
Crate & Barrel, 4820 Massachusetts Ave., NW; 202-364-6500; also in Alexandria, Bethesda, McLean, and Clarendon; crateandbarrel.com. Contemporary outdoor furniture, grilling accessories, and kitchen and serving items.
Fogdog Sports, fogdog.com. Sports Web site with outdoor sports equipment including basketball hoops, croquet and bocce sets, and trampolines.
Frontgate, frontgate.com; 800-626-6488. High-end source for outdoor merchandise including a copper fire pit and a backyard theater system.
Go Mama Go!, 1809 14th St., NW; 202-299-0850; gomamago.com. This housewares store with an international flair features picnic items, outdoor dinnerware, fountains, and metal sculptures.
Home Rule, 1807 14th St., NW; 202-797-5544; homerule.com. Hip, colorful outdoor accessories (in summer) and dinnerware are among this housewares store's merchandise.
Notting Hill Gardens, 815-B King St., Alexandria; 703-518-0215; nottinghillgardens.com. High-end imported garden furniture and accessories from Europe, including urns, containers, tools, and watering cans. Owner Geoff Stone offers landscape-design services.
Offenbacher's Fireplace, Patio & Christmas, 5500 Randolph Rd., Rockville; 301-881-8565; also in Columbia, Falls Church, Fairfax, Springfield, Sterling, and Fredericksburg; offenbachers.com. Large selection of outdoor furniture in aluminum, wrought iron, wicker, and wood.
Park Place, 5100 Wisconsin Ave., NW; 202-342-6294; parkplacedc.com. High-end outdoor furniture in teak and wicker as well as portable lighting and garden accessories.
Patio.com, 8022 Leesburg Pike, McLean, 703-827-0099; 824 Rockville Pike, Rockville, 301-309-0025; patio.com. Extensive selection of patio furniture and accessories along with outdoor games.
Plow & Hearth, plowhearth.com. Catalog and online store with a large selection of traditional outdoor furniture, some with a country flair.
Pottery Barn, 3077 M St., NW; 202-337-8900; also in Chevy Chase DC, North Bethesda, Clarendon, McLean, Reston, Fair Oaks Mall, and Leesburg; potterybarn.com. Stylish outdoor furniture, accessories, and items for entertaining.
Qi, 722 N. Henry St., Alexandria; 703-838-1600; qihouse.com. Reasonably priced garden ornaments, birdbaths, and fountains, mostly from China. Large selection of glazed ceramic pots and planters.
Restoration Hardware, 1222 Wisconsin Ave., NW; 202-625-2771; also in Alexandria, Tysons Corner Center, Columbia, and Leesburg; restorationhardware.com. Outdoor furniture in wicker, wood, and durable aluminum as well as items for entertaining and other accessories, many with a retro feel.
Smith & Hawken, 1209 31st St., NW, 202-965-2680; 8551 Connecticut Ave., Chevy Chase, 301-215-5960; 6705 Whittier St., McLean, 703-506-0065; smithandhawken.com. Well-made garden accessories such as statuary, fountains, and birdbaths plus furniture and games.
Sport Systems, 10078 Tyler Pl., Ijamsville, Md.; 301-607-4747; sport-systems.com. Installation of high-end backyard game courts, such as half or full basketball courts, tennis courts, and multiuse backboards for tennis, lacrosse, and inline skating.
Spring Valley Patio, 4300 Fordham Rd., NW; 202-966-9088; springvalleypatio.com. Outdoor furniture in teak, wrought iron, wicker, and aluminum; also hammocks and swings.
Sur la Table, 5211 Wisconsin Ave., NW; 202-237-0375; Tysons Galleria, 703-749-1125; 1101 S. Joyce St., Arlington, 703-414-3580; surlatable.com. Kitchen and party items, ice buckets, and coolers.
Urban Essentials, 1330 U St., NW; 202-299-0640. Contemporary, transitional, and outdoor furniture and accessories.
West Elm, 1020 G St., NW, 202-347-8929; Tysons Corner Center, 571-633-0227; westelm.com. A small selection of contemporary outdoor furniture, including dining tables, sofas, lounges, and umbrellas.
Williams-Sonoma, 5300 Wisconsin Ave., NW, 202-237-1602; also in North Bethesda, Pentagon City, Clarendon, Alexandria, Tysons Corner Center, Tysons Galleria, Reston, and Fairfax; williams-sonoma.com. High-end grills, accessories, dinnerware, and outdoor furniture.
Inspiration and Education
Magazines such as Garden Design, Horticulture, and Fine Gardening can provide good ideas. Here's a list of Web sites, public gardens, and organizations that can help you get started.
American Society of Landscape Architects, 636 I St. NW; 202-898-2444; asla.org. Though many ASLA members do commercial or large-scale projects, the Web site's database has a residential-firm finder.
Association of Professional Landscape Designers, 4305-A N. Sixth St., Harrisburg, Pa.; 717-238-9780; apld.org. Web site has resource links and a searchable member database.
Brookside Gardens, 1800 Glenallan Ave., Wheaton; 301-962-1400; brooksidegardens.org. Fifty acres of gardens, special exhibits, lectures, classes, and family events.
George Washington University Landscape Design Graduate Certificate Program, 202-973-1130; nearyou.gwu.edu/landscape. For-credit program with a concentration on small-scale landscape design. Many well-known area designers are graduates.
Green Spring Gardens, 4603 Green Spring Rd., Alexandria; 703-642-5173; greenspring.org. Twenty-seven-acre park offering lectures, demonstrations, classes, family activities, and rentable gardening plots.
Kenilworth Aquatic Gardens, 1550 Anacostia Ave., NE; 202-426-6905; nps.gov/nace/keaq. Twelve-acre park with many varieties of water lilies and lotuses on display. Educational programs and gift shop offer information on aquatic gardening.
Landscape Contractors Association MD-DC-VA, 15245 Shady Grove Rd., Suite 130, Rockville; 301-948-0810; www.lcamddcva.org. Web site has a searchable database of landscape professionals in the area, links to plant databases, landscaping tips, and a list of industry organizations.
Montgomery College Landscape Technology Program, 20200 Observation Dr., Germantown; 240-567-7700; montgomerycollege.edu. Courses in horticulture and landscape design, technology, and contracting.
Professional Landcare Network, 950 Herndon Pkwy., Suite 450, Herndon; 703-736-9666; landcarenetwork.org. Web site provides tips for finding a landscape contractor as well as a searchable database of contractors.
United States Botanic Garden Conservatory and Bartholdi Park, First St. and Independence Ave., SW; 202-225-8333; plant hotline, 202-226-4785; usbg.gov. National plant museum showcasing unusual ornamental plants that grow well in the Mid-Atlantic. Educational events include lectures and tours as well as programs for children.
United States National Arboretum, 3501 New York Ave., NE; 202-245-2726; usna.usda.gov. Specialized gardens including azaleas, dogwoods, herbs, and perennials. The Friendship Garden is a signature New American Garden by Oehme, van Sweden. Education programs and lectures on a wide variety of topics.
This article appears in the May 2008 issue of Washingtonian. To see more articles in this issue, click here.
More>> Open House Blog | Homes | Real Estate