In Maryland: Booz Allen Hamilton CEO Ralph Shrader sold a five-bedroom, eight-bath Colonial on Country Club Drive in Bethesda for $4.7 million. The house has a pergola and waterfall that overlooks Congressional Country Club. Shrader has led the McLean-based consulting firm since 1999.
Gospel singer Stephen A. Hurd bought a house on Kittama Drive in Clinton for $820,000. The 4,000-square-foot house was built last year. Hurd is a Brandywine native whose recordings include My Destiny and A Call to Worship.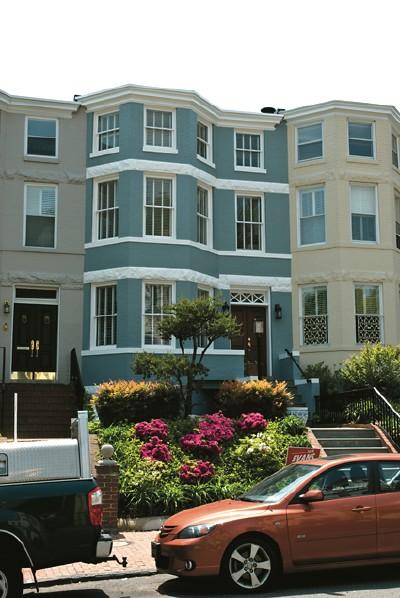 In DC: Hospitality executive Philippe Bourguignon sold a four-bedroom, four-bath Victorian rowhouse in Georgetown for $2.3 million. The hundred-year-old rowhouse, which sold after just six days on the market, has a separate apartment. Bourguignon is vice chair of Revolution Places, a travel-and-tourism company founded by AOL cofounder Steve Case.
Private investigator Terry Lenzner sold a five-bedroom, five-bath house in Cleveland Park for $3.6 million. The house has a pool, artist studio, and master suite with two porches and a sitting room. Lenzner, who founded Investigative Group International in 1984, has done detective work for President Bill Clinton, Ivana Trump, and Senator Ted Kennedy.
John W. Warner IV, son of the Virginia senator, and his wife, Shannon, bought a house on Olive Street in Georgetown for $2.3 million. The house has a third-level deck and a rear garden. A former racecar driver, Warner has directed several documentaries including The Wendell Scott Story, about the first African-American driver to reach the top level of stock-car racing.
Authors Michael Eric Dyson and Marcia Dyson bought a home on Warren Place in Spring Valley for $1.9 million. Michael Eric Dyson, who recently joined the sociology faculty at Georgetown University from the University of Pennsylvania, has written more than a dozen books, including April 4, 1968: Martin Luther King Jr.'s Death and How It Changed America, released in April. Marcia Dyson, an ordained minister, writes and speaks about spirituality.
Architect Ali R. Honarkar bought a three-bedroom, three-bath contemporary on W Street near Logan Circle for $1.1 million. The townhouse, which Honarkar's firm, Division1 Architects, designed, has a gourmet kitchen and a rooftop deck with bar.
In Virginia: Tech executive Gary Nakamoto bought a five-bedroom, six-bath Colonial in Great Falls for $1.7 million. The 7,000-square-foot house has a three-car garage, two-story foyer, master suite with marble bath, and four fireplaces. Nakamoto is CEO of Base Technologies, an information-technology firm in McLean.
Some sales information provided by American City Business Leads and Diana Hart of Sotheby's International Realty.
This article is from the June 2008 issue of The Washingtonian. For more articles from the issue, click here.