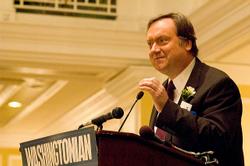 In 2004, The Washingtonian honored NBC's Tim Russert as a "Washingtonian of the Year." Russert died Friday after suffering a heart attack at the NBC bureau. The award citation follows below:
TIM RUSSERT

The kids of the Boys & Girls Clubs knew they'd be winners no matter who won the presidential election. That's because Tim Russert, moderator of NBC's Meet the Press, got Washington's most partisan spouses, Republican Mary Matalin and Democrat James Carville, to bet $1,000 on the outcome. The loser had to write a check to the Boys & Girls Clubs of Greater Washington.
Last year Russert encouraged Senators George Allen and Jon Corzine to make a similar bet on the air. Before that, Russert challenged the chairs of the national parties. Each bet was another win for the kids of the DC area.
Russert got involved with the clubs nine years ago, when they asked him to emcee their annual congressional dinner. But he had known about their work for years.
"My father was in a boys' club in the 1930s in south Buffalo," he says. "It's an organization where you can see firsthand results. You know you've changed someone's life."
Russert has emceed nine annual dinners and announced that he'll give $100,000 from the sales of his book Big Russ & Me to the clubs. When he won $20,000 on Jeopardy!, that check also went to the clubs.
"Last year we reached our $1-million fundraising goal and we absorbed the Metropolitan Police Boys & Girls Clubs," Russert says. "The best part is when the kids come back from college and talk about what they did. They want to come home and sponsor a kid."
"Tim brings tears to our eyes when he speaks so lovingly about his father or so painfully of the plight of our children," says Pat Shannon, president of the clubs. "He makes us laugh at his Yogi Berra stories, and he lifts us up with his donations. It doesn't get any better than Tim Russert."
Related:
Remembering Tim Russert: The Interview
Remembering Tim Russert: Fathers and Sons
More>> Capital Comment Blog | News & Politics | Society Photos