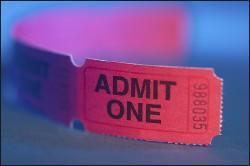 Are you a fan of Ludacris, Annie, Coldplay, Ciara, and Lady Sovereign? If not, that's okay—you don't have to be. You can hear their music in an entirely new way if you get tickets to see music masher Girl Talk mix its hit songs at Sonar on Saturday, October 11. Openers include Hearts of Darkness and Grand Buffet, and tickets go on sale Saturday at 10 AM for only $15. If you want to hold out for a DC show, we also hear that Girl Talk will be at the 9:30 Club on October 10, but ticket information is currently not available.
Ra Ra Riot, an up-and-coming indie quintet from Syracuse, New York, will perform at the Black Cat on Sunday, October 12, in support of its new album, The Rhumb Line. Tickets go on sale Friday, July 4, at 5 PM for $12 and can be purchased here.
Good Charlotte, whose founding members are from the Washington area, has scheduled a show on its old stomping grounds—at Sonar on Saturday, August 23, in addition to its 9:30 Club show on August 19 (tickets for that show are still available). Tickets for this show are $25, and Burn the Fields will open. You can purchase your tickets beginning Saturday, July 5, at 10 AM.
Named band of the year by Blender magazine in 2006, indie rock band the Hold Steady is stopping by the 9:30 Club with the Loved Ones on Thursday, August 14, for $20 a ticket. Hold Steady's new album, Stay Positive, will be released on July 15, and tickets for the show just went on sale this morning.
Looking for an affordable summer concert experience where you're sitting out on the lawn with friends on a warm, breezy day? There are some big-name summer concerts coming to the area with relatively inexpensive tickets still available. For these shows, you can still purchase lawn seats or general-admission tickets for as low as $25.
• The Vans Warped Tour '08
Numerous bands are scheduled to perform at this general-admission rock concert. Some of the more well-known artists include Angels and Airwaves, Gym Class Heroes, and Katy Perry. This tour comes through town on Wednesday, July 16, at Merriweather Post Pavilion; tickets are $31.
• Unity Tour 2008: 311 and Snoop Dogg
We're still not sure how this unlikely tour combination came to be, but it sounds like Hillary and Obama aren't the only ones going for the "unity" theme these days. You can check them out, with UK rock group Fiction Plane opening the show, on Sunday, July 20, at Nissan Pavilion for as low as $25.
• Counting Crows and Maroon 5 with Sara Bareilles
The two headliners will certainly draw big crowds to Nissan Pavilion on Saturday, August 16, and Sara Bareilles has her own fan following now after her hit, "Love Song," became another one of those radio tunes you can't seem to get out of your head. Lawn seats for this show are $36.50 and are still available.
• The Jonas Brothers with Demi Lovato
Don't pretend you've never heard of them—their notoriety among teenage girls today is reminiscent of the Backstreet Boys in the '90s. And even if you're not a closet Jonas Brothers fan, taking your kids or younger siblings is still affordable at $25 for lawn seats. They're coming to the Nissan Pavilion on Monday, August 18, and you can get more information here.
Related:
Music and Dance for the Month of July
Cheap Outdoor Fun in Washington
More>> After Hours Blog | Arts & Events | Happy Hour Finder | Calendar of Events