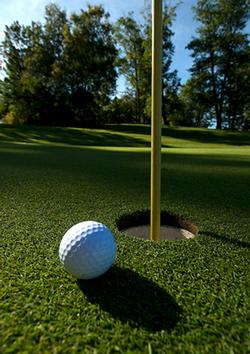 Depending on how far you extend the radius, there are 100 good golf courses around Washington, a mix of great private courses such as Columbia and Congressional, expensive daily-fee courses such as Westfields in Virginia and Whiskey Creek in Maryland, and many good public courses, including Langston, Rock Creek Park, and Hains Point, all in DC.
Area courses have been home to top players from former PGA pro Lee Elder and occasional PGA tournament contender Olin Brown to University of Maryland golf coach turned tour star Fred Funk.
Washington golf constitutes a universe of more than 1,800 holes scattered over some 540,000 yards of grass, sand, and water. (The 100 courses have more than 1,800 holes because the Gold Course at Bethesda's Congressional has 19.) That's about 120 miles of fairway, or the equivalent of one long golf course that could start at the Jefferson Memorial and end at the Old State Capitol in Richmond.
Golfers say that a great golf hole is one that's challenging on every shot. Says former college basketball star Pat Tallent, who has won every amateur title around: "It's about accuracy and positioning your ball on the fairway as opposed to merely hitting the ball a long way."
There's a right place and a wrong place to land your shot. The right place should have some risk/reward but, if well struck, should produce a second shot with a chance to make the green. Once you get there, the hole can be hidden along a ridge line or swale. On a great golf hole, you're very satisfied with par.
Out of all these holes, what are the toughest, most scenic, most interesting—the likeliest places for Tiger Woods to lose a ball?
We consulted some of Washington's best players and club pros. We talked to a few hackers, too. Many of them zeroed in on the same holes. The courses most often named were Congressional, Columbia, Whiskey Creek, and Musket Ridge, all in Maryland. In Virginia, top golfers appreciate Robert Trent Jones, Stonewall, Raspberry Falls, Westfields, and Augustine.
Here are some of the holes that our experts deemed the greatest.
The Three Best Par-Threes
The 16th at Columbia: Just north of the District in Chevy Chase, Columbia Country Club's rolling hills sport several wonderful holes. Golfing legend Bobby Jones took a famous nine on the fifth hole in the 1921 US Open. But no Columbia hole is so memorable as the 16th, a tiny jewel that reminds many golfers of the famous 12th at Augusta. From multiple tee boxes, some reached by steps, a player has to negotiate a glistening pond, a bunker that protects the green on the front right, and a long, narrow green surrounded by lovely azaleas, rhododendrons, and pine trees.
Former Ohio congressman Mike Oxley, who helped change American business with the Sarbanes-Oxley Act, still locates the highlight of his Washington life not at the Capitol but at Columbia: "The pin was up, and I hit a sand wedge—one bounce and in the cup!"
The 10th at Congressional: For three decades, Congressional Country Club members debated what to do about a wonderful course that ended with an ordinary par-three across a lake. It was a nice enough hole but not adequate for when the Bethesda club entertained the US Open. In 2006, the decision was made to do away with number 18 and build a new 10th hole. Golf architect Rees Jones was called in. The result was an instant classic—a terrifying par-three across a lake to a green 218 yards away that looks like a kidney bean from the tee box.
"It's all carry to the green," says Congressional pro John Lyberger. Only one person, he says, has made a hole in one.
The 17th at Rock Creek Park: What would be the last hole in Washington that Tiger Woods would want to play? How would Tiger fare on the treacherous, 164-yard, par-three 17th in the middle of Rock Creek Park just off 16th Street? After dodging a herd of deer and perhaps a lost hiker, Tiger would get out the shortest club he has—but one powerful enough to smash through the canopy of leaves and branches that separates the tee box from the green. But there isn't much room behind the green, and Tiger might find himself, like dozens of predecessors, searching Rock Creek Parkway for his ball.
Former Rock Creek pro Christina Brecto says playing Rock Creek is the closest thing to hitting a ball on the moon. "Our slopes mess up your brain," she says. "We're not some flat pancake with tricked-up greens."
Five Great Par-Fours
The 17th at Robert Trent Jones: Golf purists consider the Robert Trent Jones Golf Club on Lake Manassas one of the world's finest courses. After Mauna Kea in Hawaii, it's regarded as the masterpiece design by Robert Trent Jones Sr., who died in 2000.
The 17th illustrates that a hole doesn't have to be long to be great. Jack Vardaman, one of the city's best lawyer/golfers, calls this 380-yard gem one of the nation's classic par-fours. It's dominated by a tall walnut tree 70 yards in front of the green. Most players stand and ponder which club to use to avoid getting too near the tree. Not even the pros pull out a driver and challenge the tree.
The green has several "bays," which can make holing your putt very hard, although in 1996 Fred Couples sunk a 40-foot birdie putt to clinch the President's Cup in a match against Vijay Singh. Says club pro Cary Sciorra: "If you make par, you've done well."
The 7th at Musket Ridge: Formerly head pro at the Country Club of Woodmore, Larry Ringer, now 63, played on the PGA Tour and once shared the lead at the US Senior Open. He now gives lessons at Musket Ridge north of Frederick. His pick for the best par-four is the 448-yard 7th hole there. One might accuse him of being a homer, except that many others agree that this is a challenging—and scenic—hole. A visit to Musket Ridge in the fall, when the leaves are turning, is one of the nicest experiences a golfer can have.
Ringer says that course architect Joe Lee designed this hole to require an accurate tee shot to a slightly elevated fairway to keep the ball from bounding toward the hazard on the left side. The second shot must be struck solidly to an elevated green. Once it's on the green, the challenge isn't over, says Ringer: "You must gauge the slope to avoid a dreaded three-putt. The score of par-four is very good. Those seeking a birdie by attacking the pin, beware."
The 8th at Westfields: Designed by Fred Couples, the 8th at Westfields Golf Club in Clifton, Virginia, is another hole that makes you feel good about escaping with par. Westfields is one of the newer "daily fee" courses where for $109 a round on weekends anyone can enjoy playing a top course without being a member.
The 8th hole plays 441 yards from the blue tees. If you hit a good drive down the right side of the fairway, you have a tall oak tree and deep bunkers guarding the green. If you hit a 240-yard drive down the left side, you're just short of deep bunkers that will block your view of the green. You want to hit your drive down the middle, maybe a little left of center, to set up the shot to the green. If the pin is in the back right, you still have to consider the tree and a series of traps on the right front of the green. Westfields calls its back tees "boom-booms" in honor of course designer Couples's nickname. Even the former Masters champion would find the eighth a challenge.
The 11th at Four Streams: Designed by golf legend Nick Price, Four Streams in northern Montgomery County opened in 1998. Its 11th is one of the most controversial holes in Washington. From the back tee, it's 496 yards, but the 235 regular members don't get much of a break playing from the gold-tee distance of 450 to 460. When the US Open has qualifying rounds at Four Streams, this is the hole that players whisper about. If you bomb a drive, you run the risk of hitting an environmental-hazard area. That leaves a 180-yard second shot up a hill, through a gap, to a green protected by bunkers. Most players believe it should be a par-five. This is a hole that not many people love but all remember. If you manage a par, you've pretty much made your day.
The 16th at the Country Club at Woodmore: The Country Club at Woodmore, designed by the Arnold Palmer Group in 1981, is the preeminent golf course in Prince George's County. It has become the site of a midsummer tour event for aspiring professionals on the Nationwide Tour. It has two attention-getting par-fours in succession—the 15th, with a long tee shot over water, and the 16th, a 490-yard behemoth.
The 16th is a hole only Arnie could love. For the club's 400 male members, it plays around 465 yards. The tee shot requires distance and accuracy, and the second shot must fly over a swale that guards the last 30 yards of the hole. From there, you find a two-level green where a three-putt always looms.
Best Par-Five Finishing Hole
The 18th at Whiskey Creek: It isn't every day that a player looks down the middle of the fairway to see a 19th-century stone house that once belonged to a family of German immigrants. Top-level golfers say this course offers all the strategy and options a player could want.
On the gently sloping 18th, the risky play is to aim to the left of the house, but that gives you a shot to a green that looks unconquerable on the far side of a gorgeous creek held in by a rock wall. (Before the course was built, the creek was used to float kegs of liquor downstream—hence the name Whiskey Creek.) Sober high handicappers are more likely to aim to the right of the house and go for the green in three. Good players have an option to go for it in two but risk dropping the second shot into the water. The risk/reward nature of golf is nowhere better illustrated than on 18 at Whiskey Creek.
The Best of Them All
The 18th at Congressional: It figures that the most storied golf course in Washington would have the best hole: the par-four 18th at Congressional Country Club. In the 1964 US Open, it was the site of Ken Venturi's historic winning putt. Venturi, on the verge of heat stroke, had been advised by a doctor to withdraw but instead went on to win one of the most dramatic opens of all time. In the 1997 open, it was where Tom Lehman's hopes for a major championship went to a watery grave.
The 18th at Congressional meets all the criteria for greatness. The drive must be placed through a narrow opening to a sloping fairway. The green is located on a peninsula in the middle of a lake. Too far to the right and you're blocked by a tree. Too far to the left and you may have no choice but to fly your shot to the green and risk losing it in the water, just as Lehman did. There are few things that almost everyone in Washington agrees on, but most golfers would agree with Venturi's assessment: "It's the best course I ever won the open on."
Other Very Good Holes
»1st and 4th at Augustine
»4th at Lowes Island
»7th at Woodmont South
»8th at Belle Haven
»8th at Raspberry Falls
»9th at Bethesda Country Club
»11th at Swan Point
»12th at Worthington Manor
»12th at Woodmont North
»13th at Stonewall
»13th and 18th at Robert Trent Jones
»16th at Kenwood Country Club
What It Costs to Play
The private courses in this article are not readily accessible—a member must take you as a guest. The rest of the courses are public courses or privately owned "daily fee" courses. Daily-fee courses range widely in difficulty and price. Here are the names and price ranges of courses mentioned that are not private:
Augustine Golf Club, Stafford, Va.; 540-720-7374; $70 to $95.
Musket Ridge Golf Club, Myersville, Md.; 301-293-9930; $75 to $100.
Raspberry Falls Golf & Hunt Club, Leesburg; 703-779-2555; $85 to $105.
Rock Creek Golf Course, Northwest DC; 202-882-7332; $22 to $27.
Stonewall Golf Club, Lake Manassas; 703-753-5101; $75 to $100.
Swan Point Yacht & Country Club, Swan Point, Md.; 301-259-0047; $45 to $79.
Westfields Golf Course, Clifton, Va.; 703-631-3300; $89 to $109.
Whiskey Creek Golf Course, Ijamsville, Md.; 301-694-2000; $62 to $99.
Players Who Know Good Golf Holes
To arrive at a list of the best, toughest, most challenging golf holes, we consulted a variety of professional and amateur players. Here are some of our experts.
Pat Tallent, former pro basketball player and women's coach; Virginia, Maryland, and Mid-Atlantic amateur champion.
Larry Ringer, former PGA Tour member, former pro at the Country Club of Woodmore, now instructor at Musket Ridge.
Marty Russo, lobbyist at Cassidy & Associates, former US congressman and club champion at Congressional.
Marty West, stockbroker at UBS, former US Walker Cup team member, and club champion at Columbia; made cut in 1976 US Open.
Jack Vardaman, partner at Williams & Connolly, captain of golf team at Washington & Lee University, former general counsel to the United States Golf Association; played in three US Senior Opens.
Ed Rogers, partner at Barbour Griffith & Rogers, member of Robert Trent Jones Golf Club.
Fred Eames, partner at Hunton & Williams, member of Allegheny College golf team that won Division Three NCAA Championship in 1983.
What are you favorite Washington-area spots for a round of golf? Driving range? Chip-and-putt? Tell us in the comments, and your comment could appear in our next issue.

More>> After Hours Blog | Arts & Events | Happy Hour Finder | Calendar of Events