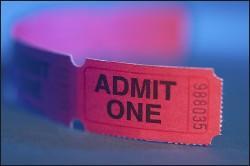 Standup comic Jerry Seinfeld continues to prove his staying power since Seinfeld went off the air—aside from reruns—ten years ago. Fans can check out his tour at one of two shows on Saturday, September 6, at Baltimore's Meyerhoff Symphony Hall. Tickets for both shows, at 7 and 9:30, go for $46.50 to $76.50 and are on sale Friday at 10 AM.
But wait—there's more: Kathy Griffin has added another date in DC, making it her third show at DAR Constitution Hall that weekend. There are still some seats available for her shows on Thursday and Friday, September 25 and 26, but tickets for Sunday, September 28, go on sale Friday at 10 AM for $48.50 to $55.50.
Brooklyn-based duo Ratatat fuses electronica, pop, and hip-hop to create an easygoing, rhythmic mix of music, and it's lined up a show at the Black Cat on Thursday, October 2. Tickets ($16 in advance, $18 at the door) go on sale Friday at 5 PM.
Here's a show that's quickly approaching: In a couple of weeks, powerpop band the Jet Age, from Silver Spring, and DC indie rock band the Console War, provide a local lineup at the Black Cat on Wednesday, July 30, for only $8. Tickets go on sale Friday at 5 PM.
Last year's American Idol winner, Jordin Sparks, and sugary-pop singer Jesse McCartney are making a stop at DAR Constitution Hall next month that's sure to excite Top 40 radio fans. The date is Friday, August 29, and tickets ($39.50 and $49.50) go on sale tomorrow at 10 AM.
Argentine singer Federico Aubele—after performing with indie favorites Thievery Corporation and TV on the Radio at Merriweather last month—returns to the area with opener Dawn Landes on Tuesday, September 2, at the 9:30 Club. His songs, which are in Spanish, combine acoustic guitar, hip-hop beats, and Latin sounds.Tickets ($15) went on sale this morning.
More>> After Hours Blog | Arts & Events | Happy Hour Finder | Calendar of Events