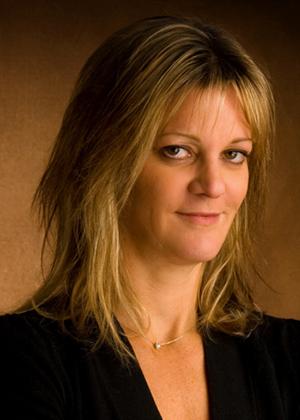 Katharine Weymouth is cruising down Connecticut Avenue, the top down and windows up on her 1991 black BMW convertible. Her three kids are safely off to day camp. Dressed in a striped crew-neck T-shirt and tan pants, she's preparing for a day as publisher of the newspaper that's been in her family for four generations.
Riding shotgun, pen and pad in hand, I figure I have her strapped in for a few probing questions.
"What did you think about the editorial that mentioned you in the paper this morning?" I ask.
The editorial, "To Our Readers," touched on "worry about the future of news reporting," described "particularly painful" changes at the Post, and devoted a paragraph to Weymouth's recent promotion to publisher and her commitment to quality journalism.
"Haven't looked at it," she says. "I've been up since 5:55 and going nonstop."
Got the three kids up. Put drops in the eyes of Red, the Cavalier King Charles spaniel. Fed the kids. Made lunches for the kids. Attempted to work out. Got two to the bus stop and the youngest to day camp at Beauvoir. Picked up the reporter doing a profile of her.
"You didn't know about the editorial?" I ask.
"I read a draft," she says.
Did she read the Metro article about Beauvoir? A third-grade teacher was placed on leave when his camera was found to have "inappropriate pictures" of a young boy. Two of Weymouth's children attend the school. The story mentioned that she's on the board.
We stop for a latte at Starbucks. Waiting for her cup, she picks up a stray Metro section and reads the Beauvoir article.
"I knew the story was out," she says. "Such a horrible thing to have happen. But we've been open and transparent with parents. I think we're handling a bad situation very well."
The woman seems unflappable. I'm beginning to think that longtime journalist Sally Quinn was not far off when she said, "Katharine is one of the most authentic people I've ever met."
Perhaps I can rattle her with a question about the Post's editorial policy. Had she been publisher at the time, she could have had a say in the way the newspaper supported the war in Iraq before, during, and after the 2003 invasion. I mention the subject and ask, "What are your political leanings?"
"Moderate to conservative Democrat," she says. "But I'm not going to impose my views on the editorial page. I'll leave that to Don." Her uncle Don Graham remains chair of the parent Washington Post Company, and the newspaper's editorial-page editor reports to him. "My plate is full," she adds.
Her schedule today at the Post includes orchestrating the change of chief editors, from Len Downie to Marcus Brauchli, whose name has not been announced at the time of our interview. "It's my first big decision" is all she'll say at the time. "If I do it right, that person will be around for a long time."
We're passing under Dupont Circle. I try the social scene: "Your grandmother was very involved in public policy and Washington's social whirl. Will you do the same?"
"That's not my world," she says. "I don't pretend to have any ambitions in that way. My grandmother knew JFK and LBJ. That was her world. I enjoy meeting interesting people. But that's not my world."
"How did you do at the party last night?" I ask, figuring she might be surprised that I know that Boisfeuillet "Bo" Jones Jr., whom she replaced as publisher, hosted a party for her with Don Graham. The guest list of about 125 power players included House Speaker Nancy Pelosi, DC mayor Adrian Fenty, Ted Leonsis, Bob Barnett and Rita Braver, Brendan and Lila Sullivan, Don Brown, Judy Woodruff, Steve Roberts, Debbie Dingell, and many of Katharine's friends.
"It was fine," she says. "Bo said my grandmother gave him a party, and he wanted to do one for me. Now we're done with parties. All my friends are tired of celebrating me. So am I."
She takes a left on DeSales Street, passes between the Mayflower hotel and the ABC TV bureau, and heads toward 15th Street and the Washington Post.
As publisher, Katharine Weymouth becomes one of the region's most influential leaders. She also has one of the toughest jobs in corporate America.
Many businesses, from airlines and automobiles to banking and housing, are facing hard times, but newspapers have been hit especially hard as readers and ad revenues move to the Internet.
In trying to reverse publishing's declining fortunes, Weymouth joins Rupert Murdoch, who just bought the Wall Street Journal; Sam Zell, trying to turn a profit at the Tribune newspapers; and Arthur Sulzberger Jr., publisher of the New York Times.
The Grahams and Sulzbergers stand alone atop the last two major media companies still controlled by families. The Bancrofts, Ridders, and Chandlers have given up family control. The Sulzbergers have owned the New York Times since 1896; Weymouth's great-grandfather, Eugene Meyer, bought the Post in 1933 and passed it on to his daughter, Katharine, and her husband, Philip Graham.
Newspapers grew and thrived after World War II. But not one corporate leader has figured how to make the publishing business as profitable as it was even a decade ago.
The Post has suffered steep declines. According to the Washington Post Company's annual reports, paid circulation for the daily peaked at 832,232 in 1993; circulation was down to 658,059 in 2007. Sunday circulation dropped from 1.035 million in 2003 to 890,163 this spring.
Advertising revenue is dropping, too. The company's annual report says print advertising declined from $596 million in 2005 to $573 million in 2006. Then last year print-ad revenue plunged to $496 million and this year is likely to see a further decline.
Before becoming chief executive of Washington Post Media in February, putting her in charge of both the newspaper and its Web site, Weymouth had been head of newspaper advertising since 2005.
Every workday, she faced the declining fortunes of the family's flagship paper.
The morning before I interviewed Katharine Weymouth for the first time, I put in a call to Bob Woodward, the brand-name reporter who's been with the Post since 1971. He and Carl Bernstein had written their legendary Watergate stories while Kay Graham was publisher; he had remained close to the Grahams and the newspaper while Kay's son Don ran the paper from 1979 to 2000.
"I remember her as one in a group of Kay's grandchildren at Martha's Vineyard," Woodward says.
What about now?
His voice gets gravelly. "She has the weight of the world on her shoulders," he says. "With all the convulsions we are going through, it is on her head, her shoulders, her lap—to put it together. It makes her grandmother's job look easy."
That's quite a statement, considering that Katharine Graham was thrust into leading the Post after her husband, Phil, committed suicide in 1963; published the Pentagon Papers against charges that the Post was threatening national security; took the Post Company public in 1971 at $6.50 a share (it's now trading around $600); backed the Watergate investigation despite threats from the Nixon White House; broke the back of the newspaper unions; and passed the paper to her son.
Woodward continues: "It makes Don's job look easy."
Perhaps. Don Graham ran the Post during its gravy days, but he was one of the first newspaper publishers to invest hundreds of millions in a Web site. He also grew Kaplan, the Post Company's fast-growing education division. It now brings in more than half the company revenues.
"What's the business model for newspapers?" Woodward asks. "What makes a paper viable?"
Walter Pincus puts Weymouth's challenges more succinctly. A veteran Post reporter and, with his wife, Ann, an intimate friend of Kay Graham's, he says: "Katharine has to face what Don never faced—survival."
Midway through our first interview, I read Woodward's lines to Weymouth. She fixes me with a level gaze.
"It's not fair to say they had it easy. They had their challenges; I have mine," she says. "I don't personally feel that I have to save democracy and journalism."
Comparisons to Kay and Don are unavoidable, but Katharine Weymouth is different in ways that could position her well to pilot the Post in these times. She's the first Post publisher to be born and raised outside of Washington. Recently divorced, she is the first to be raising young children as the principal parent. She's very much part of the generation of young readers the Post must reach, by paper or by any digital means. She's steeped in the business side when the Post's problems are more economic than journalistic.
Weymouth is much more like her grandmother Kay than her uncle Don. I saw flashes of Kay's shyness and her steely command. The granddaughter seems comfortable, assured, yet decisive. Like Kay, she never lusted to be publisher but was thrust into the job.
"Whatever genes Kay had came out in Katharine," says her friend Molly Elkin.
But does Weymouth think she can make the paper "viable," in Woodward's word?
"It's intimidating," Weymouth says. "It's a difficult time for us; it's a difficult time for the industry. I don't have a magic answer. I'm not sure anyone does."
How did a girl who grew up on New York's Upper East Side become publisher of the Washington Post? It would be easy to explain her rise as the result of the Graham family's dynastic need to have an heir in charge. Too easy.
Was she headed for journalism, and the Washington Post, at an early age, like her uncle? "Never for a moment," she says. "It evolved. I never had a grand plan for my life."
"Absolutely not," her mother, Elizabeth "Lally" Weymouth tells me.
Katharine Graham's autobiography, Personal History, mentions her granddaughter in an account of the brutal 1975 printer's strike. "Lally came down from New York," she wrote, referring to her daughter, "with my granddaughter Katharine, then nine years old, who stood on a box one Saturday night in the mailroom, helping to wrap papers."
But for that moment and occasional visits to the capital city, Katharine is a product of Manhattan.
Katharine was "always very disciplined," says her mother.
"I think I felt like a regular kid," Katharine says. "Growing up in New York, I never felt I was a big deal."
Weymouth is still in the office she's used as advertising chief for the past three years. On the Post building's sixth floor, overlooking 15th Street, it's decorated with artwork by her three children—and furnished with her grandmother's desk and chairs. Her favorite photo hangs behind the desk, a black-and-white shot that shows her mother and grandmother laughing. Kay wears her trademark pearls.
For Katharine Weymouth, being "a regular kid" meant going to Dalton and Brearley, two private schools on the Upper East Side. The elite schools have excellent reputations, but Brearley, an all-girls school, could also be confused with Nightingale-Bamford, the setting for Gossip Girl, a soap opera about mean rich girls.
"I was a geek," Weymouth says. "I would pull my hair back in a tight bun, go to school, and work hard."
And dance.
Her worst crisis came when she was 15 years old in tenth grade. She had been taking ballet since she was eight and had danced with the New York City Ballet. She had to choose between switching to ballet school or staying at Brearley.
"My mother said if I loved it enough, I could devote myself to ballet," she says. "She also said I was more likely to wind up in the corps and see my career end at 40. I decided against ballet. I remember the day. My friend and I stood in the rain and wept at the corner of 79th and Madison.
"I still sit upright," she says. "People kid me about it. I just don't slouch."
Katharine Bouchage Weymouth was born in Boston in 1966 while her mother was married to architect Yann Weymouth. Her sister, Pamela, is two years younger. The family moved to New York in 1968. Her parents divorced when she was five.
"We always had a great relationship with our dad," she says. "He was a presence in our lives. He made it clear he loved us and wanted us to succeed. We talk regularly. He's a very involved parent in my life."
But for the most part, Weymouth grew up in a family of three. She recalls dinners together, discussions about politics and news and world affairs, guests from her mother's social and journalistic pursuits.
Lally Weymouth, Don Graham's older sister, is known in news circles as a difficult—at times imperious—personality. But inside the family, Lally was close to and supportive of her mother, especially after her father, Phil Graham, descended into depression and committed suicide in 1963.
Katharine Weymouth says she's always been close to her mother. "She told us the world didn't owe us anything," she says. "Success is 90 percent hard work and 10 percent talent."
Does she really believe that?
"I absolutely believe that," she says. "We were taught we weren't entitled to anything. I'm very grateful to my mom for that."
Weymouth applied to Harvard early admission, following in the footsteps of her uncle Don. At school in Cambridge she deepened her love for literature, especially Mark Twain, the subject of her thesis.
"He's my favorite author to this day," she says. "I found him smart, sarcastic, and irreverent. The fact that people still burn his books says a lot."
Has Twain had an effect on her?
"I think I have a sense of humor and a healthy dose of cynicism."
After graduating in 1988, she knew she wanted to study law but didn't want to go right to law school. Travel? Work for a law firm? Climb mountains?
"I applied to a master's-in-English program at Oxford," she says. "I loved school."
In England, Weymouth studied Joseph Conrad. She didn't stay long enough to get the master's degree. But she came away with a best friend, Molly Elkin. She looks out the window and points to a window in an office building across 15th Street.
"That's Molly's office," she says. "We joke about stretching a wire from office to office and talking on tin cans."
About that time, Weymouth's cell phone goes off. It's Elkin. We look across the street. A brunette wearing a blue sleeveless shirt is waving from her window.
Weymouth says, "I can't talk. I am being interviewed."
I ask for Elkin's number so I can interview Weymouth's best friend.
Two days later Elkin and I meet at the University Club, around the corner from her office. She works in a small labor-law firm, mostly representing firefighters and police officers.
"We talk every morning," Elkin says. "It used to be 20 minutes; now it's down to about five. That's one downside to having the Post publisher as your best friend."
Elkin grew up in St. Louis. Her father, novelist Stanley Elkin, taught at Washington University. In 1988 Elkin was a junior at the University of Wisconsin when she enrolled in a summer English program at Oxford. She and Weymouth began to bond rowing on the Thames.
"The British students went home for Christmas," she says. "I asked Katharine if she had plans for the holidays."
She remembers Weymouth wearing lots of leather and heavy eye shadow. "Tough," she says, "and fun."
Weymouth wanted to visit her father in Paris. He was working on I.M. Pei's Louvre Pyramid, a series of glass-and-metal structures in the museum's courtyard. But she was free after that.
"Want to go to Israel, maybe Greece?" Elkin asked.
"Sounds good," Weymouth said, according to Elkin, who figured they could stay in hostels.
"Let me work on it," Weymouth said.
Elkin recalls getting to security at the El Al desk and having the officer ask if they knew anyone in Israel. Weymouth presented him with a five-page itinerary, listing visits with Yitzhak Rabin and Benjamin Netanyahu and stays at the King David Hotel.
"Who are you?" Elkin wondered to herself. Answer: She was the granddaughter of Katharine Graham, who had had these leaders to dinner, and daughter of Lally Weymouth, who had interviewed them for Newsweek.
"She was comfortable with world leaders, like her mother," Elkin says. "We had dinner with Yitzhak and Leah Rabin and their children. We had a fabulous trip."
Elkin returned to her senior year at Wisconsin, moved to Washington, and went to law school at George Washington University. Weymouth went to Stanford Law.
I asked Weymouth if she liked the West Coast. "I loved it," she says. "I would have stayed, but they were in a recession, and there were no jobs."
She contacted lawyer and agent to the political stars Bob Barnett and applied for a job at Williams & Connolly, where she had worked as a summer associate. She got the job and moved to DC in 1993.
"We rekindled our love," says Elkin.
Weymouth also rekindled her relationship with her grandmother.
In 1993, Katharine Graham was 76 and almost a mythic figure in Washington's political, journalistic, and social circles. She had stepped down as head of the Washington Post Company two years before. One of the country's few top female corporate bosses, she had built the Post Company into a growing and profitable media conglomerate. She was beginning to write her memoirs.
"We had plenty of time on our hands," Weymouth says, "especially on Friday nights. My dating life was so pathetic. We would curl up, eat dinner on TV trays in the library, and watch Jim Lehrer's news show."
Shortly after Weymouth came to town, Mrs. Graham threw what Weymouth's friends call her "coming-out party." Mrs. Graham called her friends and asked them to recommend "young people" who might want to meet her granddaughter. Vernon Jordan suggested his niece, Carolyn Niles, who remains one of Weymouth's close friends. Molly Elkin remembers coming wide-eyed to the Graham mansion on R Street in Georgetown. She remembers seeing George Stephanopoulos and Michael Kinsley, among others.
"It was like kids' night at Mrs. Graham's house," Elkin says. There would be many more, as Mrs. Graham brought Katharine into the fold. "Those two adored one another," Elkin says. "Mrs. Graham got a big kick out of Katharine. She would be delighted to see what she's doing today."
Weymouth cherishes the quiet evenings when Kay's chef would serve them rhubarb stalks in their martinis with an oatmeal-raisin cookie on the side.
Some nights Mrs. Graham would take Weymouth as her "date" to movie premieres and book parties. Hoping to interest her granddaughter in one of her passions, she and Ann Pincus took Weymouth to the opera: "I told them they had introduced me to my first—and last—opera."
Weymouth joined the litigation practice at Williams & Connolly. "I wanted very much to prove myself as a good lawyer," she says.
Weymouth's working at Williams & Connolly fit into the dynastic puzzle. The Washington Post had been one of the firm's clients for decades. The firm had been founded by Edward Bennett Williams, and besides being one of the city's most powerful and storied lawyers, Williams gets credit for making sure the Post remained in the Graham family. Williams was Phil Graham's lawyer when he separated from Katharine Graham. Phil Graham then changed his will to pass on much of his estate to another woman, but Williams attached notes to the documents questioning his client's mental well-being. As a result, the Post passed to Mrs. Graham and her heirs.
At Williams & Connolly, Katharine Weymouth logged long hours preparing for litigation. She worked closely with attorney David Kiernan on a medical-malpractice case. They defended Georgetown Hospital in a suit brought by parents who said their son's leg was injured through negligence.
"She did a great job," Kiernan says. They split the witnesses in court: "She had good presence, and we had a good result."
I ask if Weymouth's being a Graham made a difference.
"She was pretty much like every other associate," Kiernan says. "I would say half of the lawyers knew who her grandmother was; the other half didn't. 'Weymouth' doesn't ring the same bell as 'Graham.'
"Katharine is not the kind of person who puts on airs at all," he says. "Everyone here earns their keep. She was hired because she had the credentials."
Kevin Baine, who managed the Post's legal work for Williams & Connolly, says he saw Weymouth become "part of the fabric of life here. She threw herself into life and work. She was the kind of person who would bring people together. She was an easy person to get to know. Very direct. No mystery about her. She had the talent and judgment to become a first-rate litigator."
I press Weymouth on whether going to Williams & Connolly was a step on her prescribed path to the Post. Was it part of her anointment?
"There was no sense of that at all," she says. "I was proud of my grandmother and Don and what they had done with the Post. But that didn't mean I was expected to join the paper as some kind of birthright."
Weymouth's move to the Post came by way of a memo.
Kevin Baine got a call from the Post's general counsel's office in 1996. It was short of lawyers. He sent a memo to all the lawyers at Williams & Connolly asking if anyone was interested in a temporary assignment at the Post.
"I thought this might be a perfect way to dip my toe in and not make a commitment," Weymouth says. She called to consult with her mother and Don Graham; "they thought it was a good idea."
Baine saw what was coming: "I was afraid once she got there she wouldn't come back."
Don Graham joined the Post in 1971, after Army service in the Vietnam War and several years as a DC cop. He had been president of the Harvard Crimson. At the Post he worked his way from news to sports to editing to the business side.
Katharine Weymouth skipped the news side and rose through the legal and corporate ranks.
"Working in the general counsel's office was a great place to see a smattering of everything," she says. She worked with circulation, news, human resources, information technology: "I spent two years in that office, then went to the dot-com."
Don Graham had established Washington Post Newsweek Interactive (WPNI) as a separate entity across the Potomac River in Arlington. In 1993, years before other publications knew the difference between analog and digital, Graham created Digital Ink and started investing tens of millions of dollars to build up the Post's Internet operations.
By the time Weymouth joined WPNI's general counsel's office in 1998, it was already one of the country's best newspaper Web sites. Chris Schroeder was running the operation at the time.
"Katharine put her head down and worked to earn everything she got," he says. "She took nothing for granted."
Schroeder, who left the Post three years ago to start his own Internet venture, says Weymouth is "the single most unpretentious person I've ever known. She is a profoundly good listener. And she has a fabulous sense of humor."
She started to work more closely with Don Graham. He had stepped down as publisher of the Post in 2000 to devote full time to being CEO and chair of the umbrella Washington Post Company.
Bo Jones, Don's pal going back as far as St. Albans School, took over as publisher.
When Don Graham appointed Weymouth vice president of advertising for the paper in 2005, she took over an advertising division that was bleeding revenue.
"I couldn't take it personally," she says. "Part of it you could control; part of it was going on across the industry. I couldn't take personal responsibility for the migration of ads to the Internet. But sure, I felt bad."
She didn't sit back and watch the ads disappear. "I met with businesses of every size—from small, local retail shops to multinational agencies. I wanted to hear directly from our customers what we do well and what we need to do better. I focused on everything from customer service to new products that would help our advertisers reach their customers, to how they wanted to buy us."
Still, ad revenues kept declining at about the same rate as at other big newspapers. Weymouth's trial by fire didn't dissuade Don Graham from seeing his niece as the person who would succeed Bo Jones as publisher of the Post.
"Don and the board kept their options open and watched her," says Chris Schroeder. "She had done well at many jobs on the ground. It made her uniquely positioned to become publisher."
In Weymouth's view, there was no plan that led to her promotion as head of both the newspaper and the Web operation.
"I started suggesting to Don the need for a greater degree of integration between print and Internet," she says. "It was really an evolution."
In fact, events may have evolved too quickly. She told people she wasn't ready for the top job. "I liked running the ad side. I was in no hurry to rush out of it," she says. "I cared much more about doing what I wanted to get done. I liked my life. I was in no hurry to have a bigger title or run the whole thing."
Weymouth runs her household pretty much by herself. She lives with her three young children and two dogs in a tan stucco house with arched porticos over the front porch on a small street in the District, just south of Chevy Chase Circle. Maria Olinda Pinto, who was Kay Graham's housekeeper, lives with them and helps out.
"Mornings are crazy," she says. "I'm up before 6. I try to keep my sanity by running or working out. I read the papers, make lunches, put eye drops in the spaniel. He has no tear ducts. The other dog is deaf." That would be Maxine, the longhaired German shepherd.
"I put the clothes out the night before, make sure the backpacks are in place. I try to take the kids to school every day. And take the clothes to the dry cleaner. And pay bills. Same as every other mom. Like all of us, I juggle and do the best I can."
Weymouth married Richard Alan Scully in July 1998 at her mother's summer house in Southampton, New York. They'd met and dated in Washington, where Scully was practicing international law at the Chicago firm Baker & McKenzie. They had three children: Madeleine, now eight; Beckett, six; and Bridget, four. Weymouth and Scully are divorced. He lives in the District; they share time with the children, who live with Weymouth and the dogs.
I ask if she misses Manhattan.
"Not at all," she says. "If I didn't love it here, I would have moved. New York is too crazy for me. There I would get harassed on the subway on the way to work; here I drive to work with my top down. A run in Rock Creek Park is five minutes away. I have a house with a yard for my two dogs."
Weymouth loves to cook—and precook. Vegetables for the week on Sunday night, bagged and ready for dinner. Cupcakes for birthdays at school.
One morning she got up especially early to bake birthday brownies. Loaded with goodies and kids, she was driving to school when a friend called, and she recounted her morning.
"Ever heard of Safeway?" the friend asked.
She sees herself first as a mother. "If I ever felt I was falling down on that job, I would bail out, move to Vail, and ski," she says. "Kids come first, but that doesn't mean I don't care about working."
And throwing dinner parties.
"My favorite weekend event is dinner at Katharine's," Molly Elkin says. "She's a fabulous cook. She makes everything. She puts together an interesting array of people. Lots of laughing, lots of drinking."
Her friends don't like her—they adore her.
Katharine Graham was renowned for hosting A-list dinners for politicians, corporate titans, and diplomats. It was said that an invitation to Kay's R Street house was more coveted than one to a White House state dinner.
Her granddaughter might invite Sally Quinn and Ben Bradlee, Walter and Ann Pincus, two couples who dined with Katharine Graham, but Weymouth will also invite members of her posse, such as Elkin and her husband, Ivan Wasserman; Goli Sheikholeslami, who works at Washington Post Newsweek Interactive; Kyle Gibson, a longtime Nightline producer who's now a documentary filmmaker, and husband Mit Spears, an antitrust lawyer; and some Post staffers, such as political writer Anne Kornblut and editor Liz Spayd.
"She entertains," says Quinn, "but in a very different way than Kay. It's two generations later in a city that has changed completely.
"Kay would entertain heads of state. Katharine is much more informal. There are flowers on the table and people are seated with place cards, but it's much more informal, casual, looser—fun.
"She's not trying to be Kay."
But she may be entertaining exactly the way Kay did when she had young children. Kay also had a posse, which included columnists Joseph Alsop and Walter Lippmann. Katharine serves dinner on the same round, clawfoot table.
Finishing Personal History in 1997, Katharine Graham devoted a few paragraphs to her family. She wrote about her daughter Lally's books and columns and Lally's daughters—"Katharine and Pamela are well launched on their own professional careers."
Kay's son Bill had worked at Williams & Connolly, then moved to the West Coast, where he worked in Los Angeles and started an investment firm. His children, Edward and Alice, are now in their late twenties.
Kay's youngest child, Steve, made a life in New York, becoming a theater producer. He and his wife, Cathy, had no children when Mrs. Graham finished writing but now have two.
Graham saved her eldest son, Don, for last. "I am lucky to have Don and Mary in Washington," she wrote. "They have brought up four children—Liza, Laura, Will, and Molly." Don's children are now out of college and in the workforce, and Don and Mary have separated.
So why, in a generation of ten heirs and potential publishers, did Katharine Weymouth become the only one to choose to work at the Washington Post? And is she in line to follow Don as head of the $4.2-billion-a-year Washington Post Company?
Leaving aside human nature and the hopes and desires of each of Kay Graham's grandchildren, there is an answer, in fact a Biblical one. Katharine Weymouth is the eldest.
"It always had to be someone in the family," says Walter Pincus, the veteran Post reporter. "Katharine was the most logical. She was also Kay's favorite. Always was."
The question of whether Katharine Weymouth is destined to lead the Post Company is premature. But it is safe to say the company board of directors is eager to see how she does in her new job. Longtime board member George Wilson was assigned to work closely with her.
Besides the question of whether she will measure up to the board's expectations, there's this: If she were offered the chairmanship of the Post Company, would she leap at the chance?
Says one company executive: "People crave titles. She's not that person."
Weymouth has already been tested in her first six months as publisher.
The easy part was meeting with people in all divisions of the empire, from news and printing to online and marketing. For the most part, she has left her employees feeling connected to her and hopeful. In the newsroom, editors and reporters refer to her as "KW" or "Kaywey."
But in some ways she has moved quickly and forcefully.
She precipitated the sacking of Susan Glasser, whose management of the national staff had hurt morale. She let it be known that she wanted to name her own executive editor, which meant Leonard Downie Jr., appointed by Don Graham in 1991, had to go.
On July 7, Weymouth appointed Marcus Brauchli to replace Downie. Brauchli, 47, rose to prominence at the Wall Street Journal, where he was editor briefly before being forced out by new owner Rupert Murdoch. In his tenure at the top, he merged the Journal's print and online newsrooms.
When Brauchli takes over in September, he will be the first top editor from outside the Post since Weymouth's great-grandfather bought the paper in 1933. Choosing Brauchli was seen as a radical move. Weymouth said she went outside not because there wasn't talent in the paper; "rather," she said in introducing Brauchli to the newsroom, "I thought that we could benefit from someone who would come in and look at what we do with fresh eyes."
Weymouth said she remembered why her grandmother chose legendary editor Ben Bradlee, who was on hand for the introduction. If Weymouth and Brauchli can develop the kinship and camaraderie that Kay and Ben shared, they might last a long time. Returning news gathering to economic health will be much harder.
Caroline Little, publisher of Washingtonpost.com, stepped down shortly after Weymouth became head of both the paper and the Web site. Weymouth says that was not her doing. "Caroline is a close friend," she says. "I am a huge fan. She's the godmother of my youngest. That was her decision."
Weymouth decides by delegating, listening, and acting. That's how she ran advertising; she's taken the same approach to leading the newspaper and the digital side. "It's not up to me alone to figure this out," she tells me. "There are smart, talented people throughout this building."
Among the people she listens to are Steve Hills, president of the Washington Post; Chris Ma, senior vice president of the Post Company; Jim Brady, editor of Washingtonpost.com; Liz Spayd, political director of the Web site; and Goli Sheikholeslami, who works in advertising at WPNI.
"What I like about this job is solving problems and fixing things," she says. "We can be a tremendous success. I would love to see it through."
When it comes to running the media properties, one Post executive says: "Don is not the ultimate decider. She is."
As Weymouth and I near the end of our drive to work, I ask what she reads first in the Post.
"Front page, then Metro, then Style," she says. "I'm a chick."
And Food: "I love food, love to cook."
She offers to drop me off at The Washingtonian on 19th Street, which gives me time for a few more questions. What other papers does she read?
"I read the index of the Wall Street Journal before anything," she says. "I once asked [former top Post Company executive] Alan Spoon what he read. He said: 'I feel naked if I don't read the Wall Street Journal index before I come to work.' "
Why not copy the idea in the Post?
"We should think about it, but we are in a totally different market," she says. "I think we have a great newspaper. Any changes will be evolutionary, not dramatic. We have a group of loyal readers. If you change one thing—a comic strip, for instance—they protest.
"There's a group of people who are not interested in the Post," she says. "We shouldn't have to stand on our heads and do cartwheels to get people we are not going to get. But we do have to give people a reason to read the paper. Beyond accountability journalism, our paper has to be fun and surprising and give people something they didn't know."
One thing Weymouth knows is that she has to merge the print paper in DC and the online enterprise in Arlington. The Wall Street Journal, New York Times, and other papers already have brought the two sides together. She recently traveled to London to see how the Guardian melded the two.
How will that play out at the Post?
"My gut is we should be under one roof," she says. "I haven't thought the issue through completely. We have editors working out the details, and I am relying on them."
But as another print publisher says, "Integrating the people is relatively easy. Integrating the economics is hard."
The reality of news publishing is that the lion's share of profits still comes from the print side, though those are declining because of high overhead costs in labor, newsprint, production, and delivery. Revenues from the Internet are increasing, but they are still relatively small. Last year ad revenue at the Post was close to $500 million; at Washingtonpost.com it was $114 million.
Weymouth's challenge, among others, is to stem falling revenues at the paper while she makes the online operation profitable.
"It's intimidating," she says.
I save this question for last: "Are you dating?"
"Yes," she says. "In all my spare time."
Have something to say about this article? Send your comment to editorial@washingtonian.com and it could be featured in our next issue.
This article appears in the August 2008 issue of Washingtonian. To see more articles in this issue, click here.