Washingtonian > Packages > Best of Washington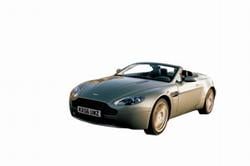 The wind in your hair and a smile on your face—nothing says summer like some time in a convertible. Rental agencies offer a fleet of top-down stunners for every occasion—whether a night on the town for two or a drive to the beach with the kids.
Take a spin in a two-passenger Ferrari 360 Spider (list price: $190,000) or a silver 380-horsepower Aston Martin V8 Vantage Roadster, a car the New York Times called "a Bond-worthy beauty." Locally owned Capital Dream Cars (capitaldreamcars.com; 703-785-9357) offers both. Rates range from $895 for a 12-hour joyride in the Aston Martin up to $2,950 for a weekend with the Ferrari. The McLean company also offers to put you behind the wheel of one of these cars for a three-hour tour ($495 to $795) through the Blue Ridge–Piedmont area.
The Hertz Fun Collection (hertz.com; 800-654-3131) offers sporty cars like the Shelby Mustang GT-H convertible and the Jeep Wrangler. This summer, Hertz is offering travelers $25 off a weekly rental from this series; mention promotion code 113503 when reserving.
Thrifty (thrifty.com; 800-847-4389) offers the Chrysler Sebring, Ford Mustang, and PT Cruiser convertible in this area. Each has five seat belts but seats four comfortably. Rates run around $500 a week. Use American Express and get 10 percent off your rental.
Avis (avis.com; 800-331-1212) offers Mustangs and Sebrings to Washingtonians, with fees also a bit more than $500 a week.
ZipCar (zipcar.com; 866-494-7227) can spice up your summer with a convertible Mini Cooper.Zip around town for $95 a day during the week or $100 a day on weekends. ZipCar is a member-only service; the most popular enrollment plan costs $50 annually, and there's a $25 one-time application fee.
Related:
Trivia Nights and Pub Quizzes at Local Bars
Where to Find Karaoke Fun Every Night of the Week
Guitar Hero at a Bar Near You
More>> After Hours Blog | Arts & Events | Happy Hour Finder | Calendar of Events