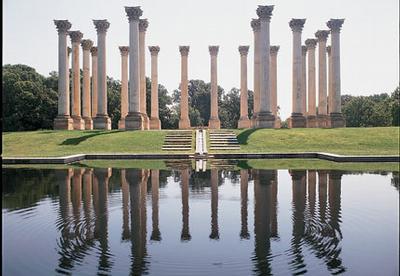 Washingtonian > Packages > Best of Washington
We asked Betsy Washington, a Falls Church landscape designer who teaches at George Washington University, for her favorite spots to visit in July. Washington recommends strolling the National Arboretum, where a nearly 50-year-old collection of crape-myrtle trees bursts with color this time of year. Washington's favorites there include the Natchez cultivar, with its long, blooming white flowers and reddish-brown bark, and the Tuskegee, distinguished by sandalwood bark and fuchsia flowers. Water lilies and lotuses can be found in the koi ponds all summer.
Year-round visitor favorites at the arboretum include its National Bonsai and Penjing Museum, among the largest of its kind in North America, and the meadow that's home to 22 sandstone columns that once were part of the US Capitol.
Georgetown's Dumbarton Oaks, another Washington pick, is a masterpiece of landscape architecture that feels like the home of European royalty. Beautiful details abound in Portuguese tiling, 18th-century French sculpture, and Italian-inspired garden patterns. Stroll through manicured lawns in formal gardens. Or get lost among crabapple trees in wooded areas. Washington suggests searching out the Japanese Katsura tree's brown-sugar-like fragrance, unique to summer and fall.
Washington also suggests a trip to Meadowlark Botanical Gardens in Vienna near Wolf Trap. The junglelike Bold Garden includes tropicals such as the 12-to-15-foot-tall and six-foot-wide musa bajoo banana tree. Its magnitude "creates a veritable Alice-in-Wonderland feel, as though we have suddenly shrunk in size." The butterfly garden is aflutter in summer; bring a pair of binoculars to zero in on their wing patterns as well as the myriad songbirds.
In Maryland, head to Wheaton's 50-acre Brookside Gardens and its fragrance garden. Washington suggests taking a whiff of the pink or white, trumpet-shaped Brugmansia flowers, whose sweet scent has lemon overtones. Take in the 100 rose varieties in the medallion-shaped garden with rectangular beds, where you can sit by a fountain or under a shaded pergola. You might catch a cool breeze coming off the two ponds, both of which feature shaded pavilions on small islands.
Related:
Great Lakes: Swimming Spots Near Washington
Local Pools to Swim In
Where to Rent a Boat on the Potomac River and the Chesapeake Bay
More>> After Hours Blog | Arts & Events | Happy Hour Finder | Calendar of Events