Washingtonian > Packages > Best of Washington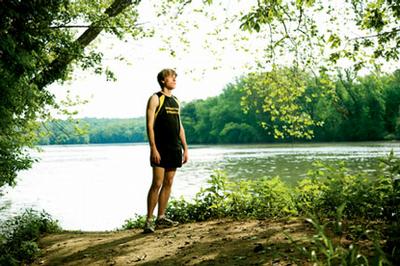 For a great run along the Potomac, Cooke takes a trail that runs through Great Falls Park. (Get there via the parking lot for Difficult Run, which is on Georgetown Pike about half a mile east of Old Dominion Drive in McLean.)
The trail's first mile or two climb a challenging ridge, but then it's down into the 800-acre park, where Cooke says the shady, wooded trail runs "flat as a pancake" along the Potomac.
To skip the hilly start, park in the lot at Great Falls Park (9200 Old Dominion Drive, McLean); there's a $5 car fee.
For another run along the water, head to Silver Spring's Northwest Branch Trail, a dirt track that hugs the stream of the same name. The route's not well known, Cooke says, and it's in better shape than many popular trails. Start at the trailhead at the Burnt Mills East Park (10701 Columbia Pike) parking lot. The 51⁄2-mile run is shaded, but watch out after a rain—it gets muddy.
In DC, Cooke likes a three-mile dirt trail that climbs a gradual slope in Glover-Archbold Park and crosses a few creeks. It's a great summer run, Cooke says, thanks to the "patch of air conditioning" you hit as you head into the woods: "You can just feel the cold air blowing out of the woods—it's very refreshing.
"The trail's a bit rough, but I like the challenge of it," Cooke says. The path is shaded and woodsy—a great escape from the sun. It's secluded enough that you might want to run with a partner.
The trail runs north and south through the park. The north entrance to the park is on Van Ness Street between Nebraska and Wisconsin avenues; the south entrance is where Canal Road, Foxhall Road, and MacArthur Boulevard meet. Or park near Georgetown University Hospital and pick up the trail where it crosses Reservoir Road, about a block west of the French Embassy.
Where are your favorite running paths? Let us know in the comments!
Related:
Ten Great Golf Holes in Washington
Great Lakes: Swimming Spots Near Washington
Local Pools to Swim In
Where to Rent a Boat on the Potomac River and the Chesapeake Bay
More>> After Hours Blog | Arts & Events | Happy Hour Finder | Calendar of Events