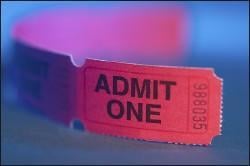 Heads up, music fans: The Warner Theatre has a slew of jazz musicians performing over the next several months. Tickets for all of their shows go on sale Tuesday, September 2, at 10 AM. First is Sweet Honey In the Rock, a DC-based African-American female vocal group, on Friday, October 24 ($28 to $58). Next comes Cassandra Wilson, a jazz singer/songwriter from Mississippi, on Saturday, November 8 ($40 to $58). Moving into 2009, Dianne Reeves, who sang on the award-winning Good Night, and Good Luck soundtrack, performs with opener Esperanza Spalding on Friday, February 6 ($40 to $58). A couple of months later, the Dave Brubeck Quartet performs Saturday, April 18 ($40 to $80). Brubeck, who formed the original quartet in 1951, has received numerous awards for his talents as a jazz musician.
The Farmer's Almanac is predicting an extra-chilly winter this year, but fear not—on Friday, January 16, a warm beach will be closer than you think. The Hot Winter Nights Tour, an indoor beach-volleyball competition with a partylike atmosphere, comes to the Patriot Center at George Mason University. The tour, sponsored by the Association of Volleyball Professionals, is in its second year, and some of the top-ranked men's and women's players are expected to be there. Tickets ($15 to $45) go on sale Friday, August 29, at 10 AM.
Savion Glover helped make tap dancing mainstream, from his Tony Award-winning performance on Broadway to his tapping appearance in a 1997 Puff Daddy music video. See him at Warner Theatre on Thursday, October 16, and Friday, October 17. Tickets are $39 to $69 for both shows; sales begin Tuesday at 10 AM.
American Idol alum Blake Lewis was runner-up to Jordin Sparks in 2006, but his success on the show still led to the release of his first album, A.D.D. (Audio Day Dream), in 2007. This year he's on tour, and he'll perform at Sonar on Thursday, October 9. Los Angeles band Carlotta opens the show; tickets ($10) go on sale Friday at 10 AM.
Diplo's Mad Decent tour comes to the Black Cat on Wednesday, November 12. You'll hear Diplo along with No Age, Abe Vigoda, Boy 8 Bit, and Telepathe, all of whom will without a doubt provide a high-energy show packed with techno, house, punk, and alternative sounds. Tickets to the show go on sale Friday for $15.
In addition to his show at Sonar on October 11, Girl Talk (also known as Gregg Gillis) has scheduled at second show at the 9:30 Club on Friday, October 10. His shows offer a mix of popular hip-hop, pop, and alternative songs like you've never heard them before. Grand Buffet and Hearts of Darkness are the opening acts; tickets ($15) went on sale this morning.
More>> After Hours Blog | Arts & Events | Happy Hour Finder | Calendar of Events