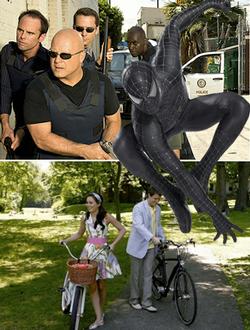 • Yeah, we didn't watch last night's MTV VMAs either, but apparently Britney Spears was the big story of the night… again. This time, however, the singer collected three awards rather than a public embarrassment.
• Salon.com gave out The Buffy, its fifth annual award for the most underrated television show, to FX's The Shield. Heather Havrilesky (whom we totally adore) makes the case for this show, which she calls "groundbreaking" and "intelligently plotted."

• File this one under "Terrible Idea": both the Hollywood Reporter and the Los Angeles Times report that not one, but two more Spider-Man films may be in the works, pending last minute negotiations with Tobey Maguire and Sam Raimi.
• Entertainment Weekly takes a stab at explaining the cultural phenomenon that is Gossip Girl, addressing some recent rumors concerning the future of the teen drama and giving away some juicy spoilers for season two.
More>> After Hours Blog | Arts & Events | Happy Hour Finder | Calendar of Events