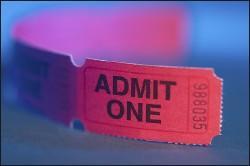 The Kings of Leon are literally a band of brothers. Well, three to be exact, plus one cousin. Their catchy single, "Sex on Fire," is the first off their new album, Only by the Night, out September 23. They're touring this fall in support of the album, and they'll be in town on Monday, November 10, at DAR Constitution Hall. The Whigs and We Are Scientists open the show; tickets ($37.50) go on sale Friday, September 12, at 10 AM.
The band OneRepublic had been around a few years before it burst onto the mainstream music scene last year. It's set to launch its first national tour at George Mason University's Patriot Center on Thursday, October 23. Openers include Augustana, the Spill Canvas, and the Hush Sound; tickets ($30) go on sale Saturday, September 13, at 10 AM.
Rapper Matisyahu incorporates Judaism into his reggae/hip-hop music, and he's been a growing success since the release of his debut album in 2004. These days, he's showing no signs of slowing down, and he's got two shows coming up in the area: The first is at Rams Head on Saturday, November 1; tickets go on sale Saturday at noon. Then he performs at the Sixth & I Historic Synagogue on Monday, November 3; tickets go on sale Friday at noon. Tickets are $25, and Flobots will open for both shows.
R&B crooner Maxwell has yet to announce a release date for his first album in seven years, but he does have a tour lined up, which is sure to please his old-school fans. He'll perform at DAR Constitution Hall on Monday, November 17. Tickets ($59.50 to $150.50) go on sale Friday at 10 AM.
One of today's most well-known heavy-metal bands, Metallica, is releasing its latest album, Death Magnetic, tomorrow. The group is touring through next year, along with openers Machine Head and the Sword. You can check out the show at the Verizon Center on Thursday, January 15. Tickets ($62.50 to $82.50) go on sale Saturday at 10 AM.
The alternative-rock band Calexico has a Southwestern touch to its music, and the band has just lined up a show at the 9:30 Club for Thursday, November 13. Tickets go on sale Friday at 10 AM.
Vampire Weekend, an indie punk group from New York, will also perform at 9:30 Club a few weeks later. The show is slated for Monday, December 1; tickets go on sale Friday at 10 AM.
More>> After Hours Blog | Arts & Events | Happy Hour Finder | Calendar of Events