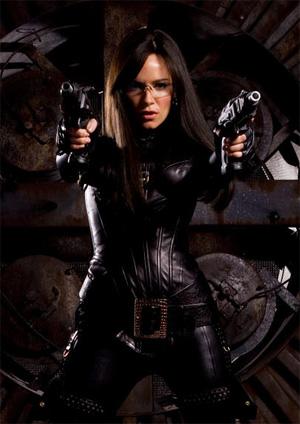 Author David Foster Wallace, whose works of fiction—particularly Infinite Jest—developed a cult following, was found dead in his home on Friday. Salon.com, Entertainment Weekly, and NPR pay tribute to the author.
Spoiler Alert! Salon has a video featuring the collections of this season's Project Runway finalists, which were shown at Bryant Park during New York Fashion Week.
If it weren't already taken, How to Lose Friends and Alienate People would be the perfect title for Sienna Miller's memoir. Fans behind the actress's Web site, Sienna-Miller.org, are jumping ship, citing her off-screen behavior as a factor.
Jack White's theme for the new James Bond movie, Quantum of Solace, made its debut last week as part of a Coke Zero commercial. Apparently, White wasn't too happy about it: His management issued a statement clarifying that White had no involvement in the decision to run the music in the ad promoting the popular soda. Check out the commercial here.
Despite lukewarm reviews, the Coen brothers' latest comedy, Burn After Reading, topped the box-office with an estimated $19 million.
More>> After Hours Blog | Arts & Events | Happy Hour Finder | Calendar of Events