No empty seats. That's the mantra for Chinatown's Sixth & I Historic Synagogue, which, since deciding to use its space as a concert hall for touring artists, has had no problem selling out show after show. In fact, it's quickly becoming one of the most popular—and unusual—music venues in town.
Not bad for a synagogue that, while hosting such impressive star power as senator John Kerry, comedian Sarah Silverman, and actor Alan Alda, hadn't been making much of a mark with the music-loving hipster crowds of the city. But that's all changing.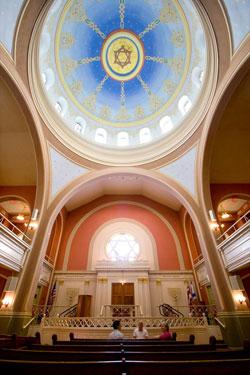 "It all began with Matisyahu back in late October of 2005," says family and live-music programmer Aaron Weintraub.
At the time, Matisyahu—a Hasidic Jew from Brooklyn—was making a name for himself with his appealing blend of reggae, rock, and hip-hop.
"We were running on the idea—as we still do—that you need unique, often big talent to attract a new, young population into our space that probably would not have come before," says Weintraub.
After a meeting with staff and local community members, Sixth & I contacted JDub Records—the innovative nonprofit Jewish label that had signed Matisyahu. With JDub's help, the synagogue sold out the 900-seat space for the Matisyahu concert and for one night transformed its beautiful Byzantine and Moorish architecture into a premier music venue.
In its second incarnation as a synagogue, Sixth & I isn't missing a beat. Located in the young, refurbished, and Metro-friendly Chinatown, the staff and owners—including Washington Wizards majority owner Abe Pollin—have shaken up the traditional role of a congregation in order to attract young passers-by who may never have set foot in a synagogue before.
"We want to bring people into this space—Jewish people and people who aren't Jewish," says Foer. "What we know is that the current models aren't working very well, so we're trying to create something new, and our mission is to experiment: Some stuff will work, and some stuff won't. But we try to fill the place."
Sixth & I's most ambitious experiment began last September when it partnered with Live Nation, the world's largest concert promoter. Three shows were scheduled to test the format, beginning with the psychedelic folk of Devendra Banhart.
"It worked," says Weintraub. "Artists loved the space."
Surrounded by stained-glass windows and sweeping arches and performing under an intricately decorated dome, many of the artists leave the bimah—the synagogue's elevated platform—overwhelmed by the ambience and intimacy of the space, says Weintraub.
Audiences come to Sixth & I—which is stark in contrast to the typical club—overwhelmed by a sense of respect for the holy nature of the building. Seated in the curved wooden benches of the main hall and balcony or standing feet from the performer, spectators soak up the rare intimacy the venue elicits.
"There's something about this space that inspires people to do more than their traditional canned talk or performance," says Foer. "Whether it's a Jewish performer or not, the space has an impact on them."
The building's lauded acoustics have attracted the young talent of Grizzly Bear, Jose Gonzalez, Elbow, and Adele—and even big-time rocker Bryan Adams. Adams, best known for the classic-rock anthem "Summer of '69," could fill the neighboring Verizon Center but instead opted to play a more toned-down show. He was so impressed with the space that he's scheduling a return date. He's not the only one: Matisyahu, now popular enough to fill the 9:30 Club, has made plans to come back November 3.
Constructed in 1908 by the synagogue Adas Israel—now located in DC's Cleveland Park—Sixth & I has been able to preserve its historic elements while pushing itself socially into the 21st century. There are no restrictions on what type of act the synagogue will host, says Weintraub. It just looks for someone who can fit the space.
"We're not going to have Metallica here," he jokes, "but someone who can really can connect in a space like this with an audience. It's big, but it doesn't look that big."
Foer notes that Sixth & I is still figuring out its mission. Freshly sold out of tickets for High Holy Days and with a fall lineup including Jenny Lewis, Matt Nathanson, and Yael Naim, the synagogue may be faced with a new challenge: finding seats for everyone.
More>> After Hours Blog | Arts & Events | Happy Hour Finder | Calendar of Events