Head to the Mall this Saturday—but not to visit museums and monuments. Instead, check out the 2008 National Book Festival.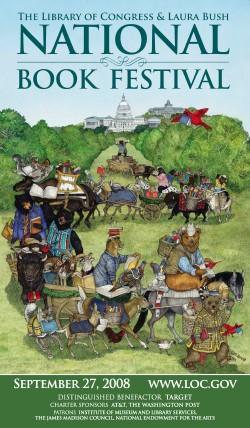 Organized in 2001 by the Library of Congress and First Lady Laura Bush to promote reading, the festival features more than 70 authors, poets, and illustrators who will discuss their work. Writers include Mrs. Bush and her daughter Jenna, who will present the children's book they cowrote, as well Salman Rushdie, Alexander McCall Smith, David Maraniss, Cokie Roberts, Tiki Barber, Arthur and Pauline Frommer, Steven Kellogg, Bob Schieffer, Paul Theroux, R.L. Stine, and Dionne Warwick. Authors will be at pavilions categorized by children, teens and children, fiction and mystery, history and biography, home and family, and poetry.
Before heading to the signing area, drop by the book-sales pavilion to pick up one of the authors' latest books. If you're just visiting Washington, head to the Pavilion of the States to learn about reading and literacy projects in your home state and to meet local authors.
Bring the children along to meet their favorite PBS characters including Abby Cadabby from Sesame Street, Curious George, and more. NBA and WNBA players will read their favorite children's books with students from local schools.
The festival runs 10 to 5:30, rain or shine, on the Mall between Third and Seventh streets.