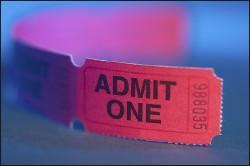 The Smashing Pumpkins celebrate their 20th anniversary this year, and fans can celebrate with a new DVD—If All Goes Wrong, due in November—and concert tickets to the band's latest tour. Two shows are scheduled at DAR Constitution Hall—Tuesday, November 11, and Wednesday, November 12. Tickets ($58.50) go on sale Saturday, September 27, at 10 AM.
The Eagles recently added a stop at the Verizon Center to their new tour, which kicked off this week in Chicago. The band, which will be 30 years old next year, will perform in DC on Thursday, November 20. Tickets ($53 to $188) go on sale Monday, September 29.
Reba McEntire and Kelly Clarkson will end their 2 Worlds 2 Voices tour in Baltimore at the First Mariner Arena on Saturday, November 22. The show will combine Reba's country tunes with Kelly's pop-rock songs. Tickets ($47.50 to $57.50) go on sale Saturday at 10 AM.
The Maxwell show we told you about two weeks ago already sold out, but rest assured—he scheduled another show at DAR Constitution Hall for the following night, Tuesday, November 18. Tickets ($59.50 to $150.50) go on sale Friday, September 26, at 10 AM.
Nearly 30 years after their first collaboration, David Byrne reunited with Brian Eno to create their second album together, Everything That Happens Will Happen Today. Byrne is touring to support the new release, and he comes to the Warner Theatre on Sunday, November 9. Tickets ($59.50 to $69.50) go on sale Friday at 10 AM.
Soulful singer/songwriter Marc Broussard has toured with Willie Nelson and Maroon 5, among other acts, but now he's headlining his own shows, two of which are coming to the area. He performs at Rams Head Live on Thursday, November 13. Tickets ($22) go on sale Saturday at noon. He comes to Sixth & I Historic Synagogue on Saturday, November 8, but tickets aren't on sale for that until next week.
More>> After Hours Blog | Arts & Events | Happy Hour Finder | Calendar of Events