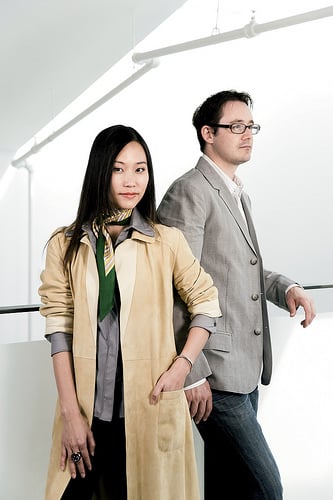 Style > Fashion > Well-Dressed Couples

Pum Lefebure, 33, and her husband, Jake, 35, Owners of Design Army, a DC graphic-design firm
What is your fashion philosophy?
Pum: We do cutting-edge graphic work, and I think our clients expect us to dress the part. Growing up in Bangkok, where many people have clothes made to measure, I know how important it is to follow your body type regardless of what's "in."
Jake: I'm from Pennsylvania, where you don't have someone making you perfect clothes. I have three simple rules: If it fits, wear it; you have to feel like yourself in clothes; and if it looks fancy, it's likely not fine fashion.
What's your favorite thing in your closet?
Pum: I love coats; they make me feel put together. My current favorite is a pale-yellow double-sided leather coat by Maison Martin Margiela that I got on sale.
Jake: Graphic T-shirts from Bangkok's up-and-coming street artists and jeans make me feel good. But a nice suit makes me feel fantastic.
Where do you like to shop?
Pum: Relish in Georgetown. I know some of the pieces I get there—by Marni, Dries Van Noten, and Junya Watanabe—will be vintage one day.
Jake: That's good because I just got the bill from Relish.
Pum: But it's worth it to buy good quality, Jake.
Jake: Okay, Pum.
Pum: Jake doesn't shop. I shop for him.
Jake: I do like shopping in Thailand when we visit. You can get great inexpensive stuff from street artists.
Do you have a fashion inspiration?
Pum: I admire the Japanese for being so bold in fashion. I can't pull off the look, but I like how they mix and match.
Jake: The Fonz. I have my dad's leather jacket from 1972.
What's your best fashion advice?
Pum: Invest in quality, not quantity. And don't look like it takes you two hours to get ready.
Jake: Trust your wife; let her dress you. Women know best.
What was your worst fashion disaster?
Pum: I was on a business trip, and my flight was delayed three hours. I had to go straight to a dinner in jeans. Good thing I had a pretty scarf on. But after that, I learned to travel in something stylish.
Jake: I only have fashion issues when Pum is out of town.
What was your biggest splurge?
Pum: That leather coat. And a pair of $800 shoes.
Jake: Prada shoes.
A dream item you'd love to own?
Pum: An amazing piece of jewelry, something I can pass on to my daughter, four-year-old Sophie, one day.
Jake: A motorcycle to match my jacket.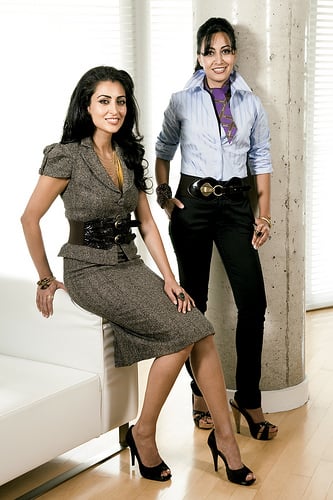 Rouzita Vahhabaghai, 33, and sister Bita, 35 Partners at Ita-Design
Do you have a similar style?
Bita: We do, but there are differences. My style is simple, but it has a bit of an edge. My favorite designers are Dior, Moschino, Zac Posen, and L'Wren Scott. I love Botkier accessories.
Rouzita: I tend to choose more girly, fitted pieces. I'm more likely to pick out feminine brands like Diane von Furstenberg, Cavalli, Alice + Olivia, and Nanette Lepore.
Has it always been that way?
Bita: When we were young, our mother used to dress us identically. It was cute, but I'd always try to change something in my outfit so we could look a little different.
Rouzita: Growing up, we were both experimental about fashion. In high school, we'd sketch our own dresses for prom and our aunt would sew them. I can't say they were amazing, but at the time we loved them.
Do you shop together?
Rouzita: When we go shopping, we'll go together. But we don't like to shop that much—we both prefer to do it all at once and get it out of the way. It's more out of necessity than a fun day out.
Bita: If we have to get something by a deadline, we'll go to Saks or Neiman Marcus because they have a large selection. But we prefer boutiques like Urban Chic or Sugar in Georgetown.
What's your fashion weakness?
Rouzita: Probably handbags. We're working on our own line of bags that will be out this fall. The designs reflect both of us—a combination of feminine and edgy.
Bita: Right now, Ita-Design focuses on interior design, graphic design, and architecture, but we envision it eventually encompassing fashion, homewares, and fragrance.
Rouzita: A lot of it is born out of necessity. When we go shopping, we can't always find what we want.
Do you have a standard uniform?
Rouzita: During the day, you'll usually find us in skinny jeans and simple, flowy tops. We're both almost always wearing heels. As an architect, I'll go to construction sites in my heels.
Bita: I did just get a pair of flat sandals with a chain detail from Burberry. Maybe they'll help me start wearing flats more.
Heels aren't too hard when you're on your feet all day?
Bita: There are a lot of people who are about comfort versus fashion. Not us.
Rouzita: We've never been sweatsuit types.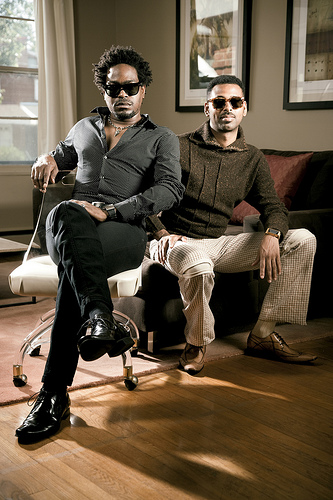 Ayo Okunseinde, 34, and Adrian Loving, 37Owners of Dissident Display Gallery in DC's H Street corridor.
How would you describe each other's style?
Ayo: Adrian's aesthetic is influenced by '80s rock and hip-hop. He might take a T-shirt from Japan, mix it with a bag from England and a pair of Italian shoes—and he gets it all at thrift stores.
Adrian: He has an underground style; he has no rigid style guidelines.
Who's your biggest style influence?
Ayo: People say that I dress like Lenny Kravitz or Andre 3000 from the hip-hop group Outkast. I'd say I dress like a "rude boy" or a Jamaican film gangster.
Adrian: I'd say rocker Tommy Lee and Japanese designer Issey Miyake.
What's your favorite thing in your closet?
Ayo: Red platform velvet shoes that I bought for $2 from the Salvation Army. I wear them all the time with everything.
Adrian: He also carries a man purse.
Ayo: Only when I'm feeling my European/West African roots. But yo, my dad used to rock a man purse! He was a very elegant dresser.
Adrian: I love my black angora Kangol hat that I got years ago for $30. I'm probably known for my collection of hats. It's an old-fashioned touch that sets you apart.
Where do you shop?
Adrian: I'm definitely not a label whore. I mix things from Meeps, the vintage store in Adams Morgan, with Banana Republic or Jean Paul Gaultier.
Ayo: I like the District Line in Georgetown. If money were no object, I'd go for British designer Ozwald Boateng.
What would each of you say is the other's biggest fashion mistake?
Ayo: Oh, God, he wore this glistening shirt once that was baggy and snug at the same time.
Adrian: I remember a suit that was three shades of burgundy. Not a good look.
What's your best fashion advice?
Adrian: Take some chances. If you see someone wearing something you like, don't be afraid to try it yourself.
Ayo: Wear pink shirts. People think it's sissy for a man to wear it, but I think it shows you're confident in your masculinity.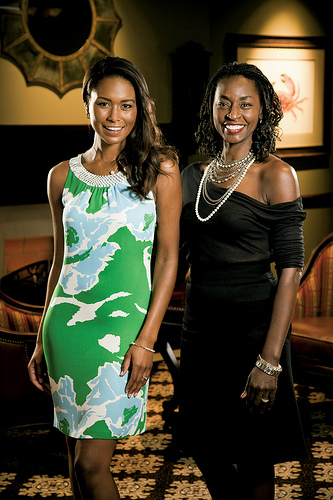 Rynthia Rost, 53, and daughter Katie Rost, 29, Rynthia is vice president of public affairs at Geico; Katie is a model.
Do you have similar tastes in fashion?
Katie: We are always shopping in each other's closets. She likes pieces that are conservative and have very clean lines—Ralph Lauren, Donna Karan, Armani.
Rynthia: Katie's style has evolved. When she was younger, her style was more adventurous. Now her look is more classic but with a New York savvy she picked up over the course of her modeling career.
Katie: I love J. Crew and Stella McCartney. I do have a funky side, though. My favorite item is a pair of black suede Jimmy Choo boots with tassels. They're beautiful, but they're definitely over the top.
Do you ever disapprove of each other's outfits?
Katie: A few years ago, when I moved back to the area, I had to have an intervention with my mom about her bad taste in accessories. She would pair her Chanel suit with a really cheap bag and shoes. I started buying her Louboutin shoes and Marc Jacobs bags. It's been a huge improvement.
Rynthia: I am not cheap! I'm just frugal. I don't like to pay full price. My favorite times to shop are during the sales at Saks.
Katie: If she doesn't like my outfit, she'll say, "What are you wearing?" She doesn't mean, "What label?" She means, "Go change."
What's your favorite thing to shop for?
Katie: Gowns. During ball and gala season—basically March through May—we can be out almost every night.
Rynthia: I serve on several boards and am involved in various philanthropic activities, so there are a lot of events to attend. She's been my date since she was 11.
Does that mean your mom foots the bill for your gowns?
Katie: Not a chance. I love beautiful but kind of expensive pieces—I have three Marchesa gowns that are my favorites. I don't think she approves of spending $4,000 on one dress.
Is that true?
Rynthia: Definitely. But it's her money. If I'm going to splurge on anything, it would be nice jewelry. It's a better investment. I love pearls—I could wear them with T-shirts. Actually, I do.
Has your mother taught you any fashion lessons?
Katie: She's always making sure I'm fully accessorized. If I've forgotten earrings, she'll pull a pair out of her purse—she's got so much stuff in there.
Have you taught her any in return?
Katie: One of the first things I did when I moved back to the area was redo her closets. I don't understand anyone who doesn't use wooden hangers. You can't hang a Chanel suit on a wire hanger.
Rynthia: I can if I want to. Forget Mommie Dearest—this is Daughter Dearest. Still, my closet definitely looks great.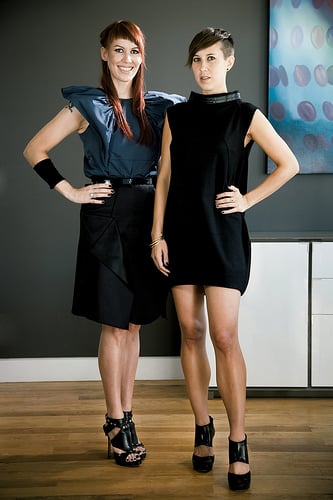 Lesley Benn, 36, and friend Johanna Cox, 28. Benn is an attorney at Milbank, Tweed, Hadley & McCloy; Cox is a China analyst at Defense Group Inc. and a contestant on the upcoming fashion reality show Stylista on the CW.
How would you describe your style?
Lesley: I'm a risk taker. The fact that I have a conservative job makes me want to take risks when I'm not at work. I look at fashion as a way to express myself.
Johanna: My style is a little narrower—Lesley is more experimental. Sometimes we do like the same things, but we each have our own unusual take on it.
Do you have a signature look?
Lesley: I tend to be a high/low dresser. I mix in pieces from H&M, Club Monaco, and Zara with high-end designers like Marni, Miu Miu, Balenciaga, and Lanvin. My typical daytime look is a flouncy dress with a structured jacket and a belted waist.
Johanna: I'm very into necklines. Whether it's on a dress or a shirt or a coat, if it's high and dramatic, I love it.
Do you go shopping together?
Lesley: We'll e-mail each other pictures of items we think the other will love from Web sites like Style.com or Net-a-Porter.com.
Johanna: It's not unusual for us to send the same picture within minutes of each other.
What's your favorite thing to shop for?
Lesley: Shoes are my weakness. I have a big collection of high-end shoes.
Johanna: They're beautiful.
Lesley: My favorite designer is probably Louboutin, but right now my favorites are a pair of Martin Margiela open-toed booties. And I really love my Dior gladiator sandals. I have a pair of Chanel spectator pumps that I love.
Johanna: My favorites are the first high-end shoes I ever bought, a pair of Marni exposed platforms. They're very simple, in patent leather, with 5¼-inch heels. When I looked at them, I thought, 'That's higher than I ever thought I could go.' I wore them around my apartment for a good three weeks before I wore them outside.
If you could steal something from each other's closet, what would it be?
Johanna: I'd have to take her bolero jacket that matches the Akris sheath dress I own. Her closet is so big, I don't think she'd notice it was gone.
Lesley: Yes, I would! I like that jacket.
What do you splurge on?
Lesley: In the past year, I've bought two cocktail dresses that were big splurges. One was a Prada black dress with sable sleeves.
Johanna: Actually, I might have to steal that, too.
Lesley: The other was a Lanvin. When I find an amazing cocktail dress, I have a hard time resisting. I know there are things in my closet I will eventually get rid of, but these are items I will have forever.
Johanna: For me to justify a splurge, it has to be an everyday item, like the Hanii Y. winter coat I bought last year. I have a difficult time spending money on something I don't see myself wearing in ten years.
If you could have any fashion item, what would it be?
Johanna: There's a dress by Roland Mouret called the Pigalle that's everything I ever wanted in a dress—it's sexy, it's structured, it's ladylike. Unfortunately, it's $2,065.
Lesley: I fantasize about these Givenchy black leather skintight pants. I'll never get them because they're ridiculously expensive—about $3,000. If I could find them for $600, I'd buy them. Okay, maybe $800.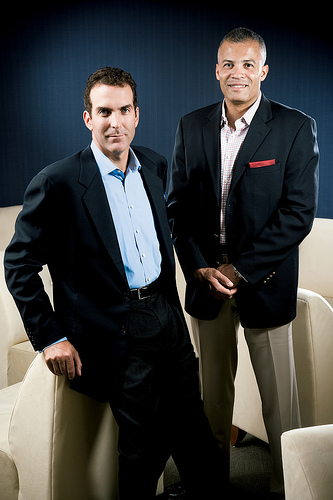 Eduardo Gerlein, 41, and his friend Ben Watkins, 39, Gerlein is an orthodontist living in Bethesda; Watkins is a DC prosthodontist.
How would you describe your style?
Ben: My style is pretty traditional with a little flair. I wear a shirt and tie to work.
Eduardo: I'd say I'm classic and conservative.
Really? You're wearing a purple shirt.
Eduardo: I do wear Thomas Pink shirts, but that's as liberal as I get. Since neither of us wears a jacket during the day, it all comes down to the shirt and tie. You end up playing with color a lot.
What about on weekends?
Ben: I'm much more relaxed then. With two-year-old twins, I'm pretty much wearing whatever they haven't thrown up on.
Where did you get your sense of style?
Ben: When you come from a Catholic-school background and you're forced to wear some sort of dress code, that has an influence. But I mostly got it from my father and grandfather. Both of them were very sharp; they always had pocket squares.
Eduardo: Growing up in Bogotá, I was definitely influenced by the conservative nature of the city. My grandfather would go to church and lunch every Sunday, and he would always wear a suit.
Where do you like to shop?
Ben: The Saks Men's Store has a great selection. I also like a store in London called Haines & Bonner that sells online; they've got a wide range of shirts, ties, and cuff links.
Eduardo: I like Ralph Lauren in Chevy Chase, which happens to be right near my office. Most of my shirts are from Pink. And 98 percent of my ties are from Hermès. They have colorful, playful designs.
Do your wives shop for you?
Eduardo: Most of the time I buy my clothes, but my wife has a huge influence on what I wear. I'll buy a pair of Tommy Bahama jeans that are more suitable for a 65-year-old just because they're comfortable. She'll go to the Denim Bar and pick out something trendier I wouldn't think I could've pulled off, but she'll insist I can.
Do you like to shop?
Eduardo: I enjoy shopping—for me, not for anyone else. I hate to go shopping with my wife.
Ben: Men go shopping with a focus—we know what we want, and we go get it. Women tend to go so much more on feel, and it takes much, much longer.
Sounds like you've both spent time in the "guy chair" at stores.
Ben: Oh, yes. Thank God for BlackBerrys.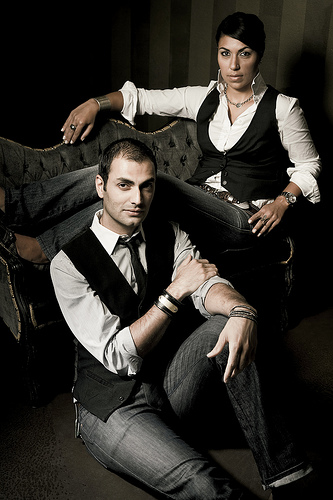 Fatima Popal, 28, and her brother Omar, 30. Owners of the DC restaurants Napoleon Bistro and Café Bonaparte
How would you describe your style?
Omar: We both tend to favor a more European look, something classic and crisp.
Fatima: Europeans tend to take more risks with clothes than Americans. I like that attitude.
Omar: I studied at a British private school when I was younger, so I love navy-blue pinstripe suits, but worn in an eccentric way with a polka-dot tie and mismatched socks—one red, one blue.
Fatima: I also pay attention to details, and I like adding pieces from different cultures—the heavy handmade jewelry from Afghanistan that I collect or purses from South America.
Do you have a signature look?
Fatima: I wear a collared shirt and 7 for All Mankind jeans almost every day. I pop my collar all the time, as much of an '80s cliché as it is. I also collect silver belt buckles—my favorite is made of lapis—and men's watches. I like the look of a big watch face on a girl.
Omar: In the summer, I wear brightly colored cotton pants and flip-flops almost exclusively. I can do that working in a restaurant. I bring out the pinstripe pants in winter or wear a double-vented jacket with dark-denim jeans. I also have a lot of leather cuffs.
Where do you shop?
Omar: I like American Apparel for T-shirts and H&M, Barneys Co-Op, and J. Crew for staples. When we go overseas, I have a few shirts made. I once spent $400 on a few dress shirts. It was a splurge, but I got so much wear out of them. The cut was impeccable.
Fatima: Zara has good, classic pieces for women. Omar buys clothes for me if he sees something I'd like. But it's not about the brand. I do a lot of work in Afghanistan [the family's home country], and I can't in good conscience spend thousands of dollars on clothes when that money can go to the people there.
Has your taste changed as you've gotten older?
Omar: I'm more comfortable taking chances. I mix patterns and colors; I put odd things together just to see if they'll work. Fit is more important; if everything is tailored well, you look more elegant.
Fatima: I've gotten more conservative, but I like a subtle sexiness to come through. I don't pay attention to trends. You have to be comfortable with who you are and be comfortable wearing your clothes.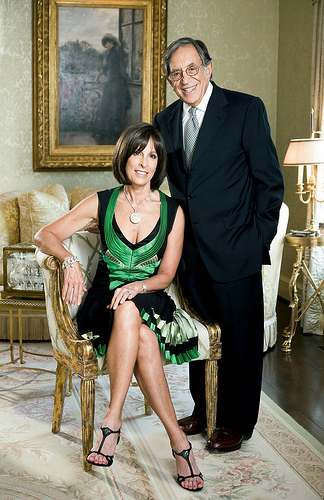 Dr. Ronald Dozoretz, 73, and wife Beth Dozoretz, 57. He is chair of ValueOptions Healthcare; she is a Democratic activist and philanthropist.
Who was your fashion inspiration?
Ron: My uncle Max. He was a classy guy. Whatever he wore, he put himself together perfectly.
Beth: He smoked with a long cigarette holder, and he drove a convertible.
Ron: He was the Clark Gable of Buffalo.
Between the two of you, who has better taste in clothes?
Beth: He does. I won't buy anything special that he doesn't like when he sees me in it. He's usually right.
Where do you shop?
Ron: In Washington, Neiman Marcus.
Beth: I don't shop much. Lynn Blitzer, a personal shopper, helps me at the beginning of each season. I'm a sale shopper, and I have excellent scouts in New York. I also go to Saks here.
What outfit makes you feel fabulous?
Beth: During the day, I'm more casual than anyone would expect. I love short dresses, whether they're casual or elegant. A dress is so easy.
Ron: I'm comfortable in conservative, classic clothes—Hermès ties and Brioni suits.
Beth: Ron's a sweater fiend. He has lots of cashmere sweaters in colors—yellow, orange, green, purple. . . .
Ron: I always get a lot of hugs when I wear nice sweaters.
What was your worst fashion disaster?
Beth: I was in the clothing business in New York, and I decided to design and make my own clothes. They were hideous.
Ron: When I ran for the Senate from Virginia in 1988, they told me I had to dress down. I went to Charlottesville to get outfitted in button-down shirts and rep ties. It wasn't me.
Does Washington have a different style than other places you've lived?
Beth: Fashionwise, I like Washington better than New York. People want to look good here, but it isn't the center of their existence. You can wear a dress more than once.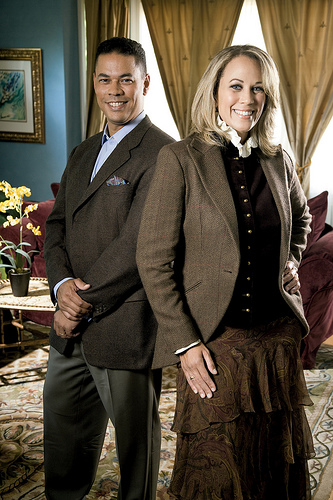 Lloyd Howell, 42, and wife Patricia, 38. He's a vice president at Booz Allen Hamilton; she's a stay-at-home mom.
How would you describe your style?
Patricia: I'm very into classic American sportswear—I'm in love with Ralph Lauren right now—but I also love a dressy-casual look. I'm a stay-at-home mom [to sons Lloyd, 13, and William, 11], so I don't have a lot of opportunities to wear a suit. In the winter, it's all about the riding ensemble—boots, jeans, and cashmere sweaters. It doesn't matter that I haven't actually been on a horse in years.
Lloyd: I'd say I'm classic but with a modern twist. Ninety percent of the time, I'm in a suit—I love Hickey Freeman, and lately I've been drawn to its made-to-measure service. I've been going to personal shopper Chauncey Foust at Saks for years. When I started seeing him, I was a lump of clay. He and my wife have been working on me ever since.
Who is your biggest fashion influence?
Lloyd: My father. He grew up in the '30s and '40s and was very classic and dapper—very Frank Sinatra. When Patricia and I met, she and my father would make comments about my taste in shoes and let me know I needed to step up my game.
Patricia: I have an 87-year-old aunt, Estelle, who taught me two things: Always finish with fragrance, and never leave the house without lipstick. I might be a mom, but I get up every day and do my hair and makeup and get nicely dressed. Even when I was running after toddlers, I had heels on. I really believe that how you present yourself goes a long way in how other people perceive you and how you feel.
What's one fashion item you'd love to own?
Patricia: I made a wish list when I was in my twenties and have slowly been checking it off. There was the Cartier "Love" jewelry set and then the "Trinity" set—the earrings, bracelet, necklace, and ring. I'm currently waiting on a tennis bracelet and diamond studs. These are iconic pieces.
Lloyd: I've been slowly working through my wish list, too. The last thing I checked off was a vintage Patek Philippe watch. I think a camelhair sport coat is next.
Patricia: I'm also waiting to get a Chanel suit, but I have it in my mind that I can't get it before I'm 50. It's a classic, but it has a bit of a little-old-lady quality.
What item do you have the most of?
Lloyd: About five years ago, I started wearing a pocket square. I think they add personality to a suit. I have about 30. Which one looks best is the subject of debate every morning.
Patricia: I always ask, "Is that the absolute cutest it can be?"
Lloyd: She gives me the once-over before I leave the house.
It sounds like your wife gives you style advice. Do you ever give her any?
Lloyd: I tease her about how many shoes she has and if she really needs all of them.
Patricia: Which I do.
Do you ever fight over closet space?
Lloyd: She always wins. She has 90 percent of the closet.
Patricia: This past spring, he asked for a little more room. We're still negotiating.
This article first appeared in the October 2008 issue of The Washingtonian. For more articles like it, click here.