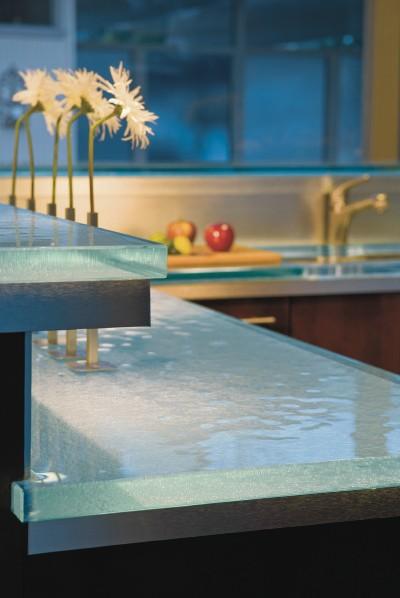 There's more to choosing a countertop than picking the right color and material. There's thickness and finish, and then there's perhaps the most overlooked consideration: how the countertop is likely to look after a few years of wear and tear.
"Some people come in and want their counters to look exactly the same five years later," says DC architect Robert Cole of Cole Prévost. "Other people are very prepared to let the stone acquire a certain patina with use."
Certain materials get more complaints than others, so, with experience, architects have started to revise their opinions and steer clients toward materials they'll continue to like despite mishaps and upkeep. Says Cole: "By virtue of some mistakes and failures, you realize there's a reason you come back to some materials."
Other trends? "People are moving away from polished toward honed products that are less glitzy," says designer Caryn Slattery-Walp of Stuart Kitchens in McLean. Other designers cite a move toward monochromatic materials. And for the past few years, some have been going with thicker countertops—a style that's more "masculine" but isn't widespread yet, says designer Jerry Weed of Kitchen and Bath Studios in Bethesda. He estimates that about 5 percent of kitchens have them so far.
From Granite to Marble
Granite—which has been very popular in new and renovated kitchens for several years—is praised for its durability, but it's slowly giving way to other materials.
"People used to want low maintenance," says Bethesda kitchen designer Jennifer Gilmer, "but now people are for form over function. They say, 'I just want it tobe cool.' "
Stephen Vanze of Barnes Vanze Architects in DC and Middleburg says more people are asking for marble than granite because of its "softer look."
You have to be careful of marble, he notes. A glass of water left on the counter will leave a ring for a few days, while red wine could leave a permanent one. But as the countertop develops more stains over time—as well as the patina of age—it acquires a look that some people like.
According to Reena Racki, an architect in the District, white Carrara marble from Italy—the same kind Michelangelo used for his statue of David—is particularly popular. It's pure white but porous—so it will stain. "It's fashionable to use for kitchen countertops for people who don't do a lot of cooking," Racki says. "Or, for people who do, they use a block of it. It's nice and cold for rolling out dough."
For an upcoming project, Racki is considering using a stone called Luce di Luna, distributed by Stone Source (stonesource.com). It's quartzite but resembles white marble with some gray and green streaks. Unlike marble, it doesn't stain, says Matt Waas, the company's DC sales representative. Racki has poured red wine, tomato juice, and oil on a sample and says none left a permanent mark.
Concrete, Steel, and More
Granite and marble are only two of many choices available. Here are others that are popular.
Engineered stone: Several architects are leaning toward Caesarstone, Silestone, and Celador. Made from quartz mixed with an aggregate, they're probably the most resistant to stains, heat, and scratches of any countertop material on the market.
Though Ralph Cunningham says his firm, Cunningham Quill Architects in Georgetown, does use other materials, most of its countertops are synthetics such as Caesarstone: "I have one myself, and I love it. It has perfected something we've been looking for for years—something that is visually 'quiet.' It's durable and easy to take care of."
Concrete: Despite its expense and vulnerability to stains and chipping, concrete continues to grab attention. "People tend to think of it as contemporary," Slattery-Walp says, "but it can fit into a traditional construction, too."
Says architect Randall Mars of McLean: "They're starting to perfect colors in concrete, so there's more variety. Concrete Jungle does a great job."
Mixing concrete with other products is also popular. Racki likes the look of chips of recycled glass or seashells in a substrate of concrete.
Some stains will seep into concrete and disappear over time, says Kelly Carr, who owns Concrete Jungle in Frederick. Stains that go beyond the sealer can be permanent, but most are fixable.
"One of our clients is an architect who got concrete countertops for his own home," says Carr. His wife had polished the silver and got some Tarn-X on the countertop, he says. "We sanded and resealed it, and you can't tell where it was."
Stainless steel: Homeowners with modern kitchens often like the cool, sleek look of stainless. It's used in commercial kitchens because it's easy to clean, withstands heat well, and won't stain.
The trouble is, it scratches easily. But Cole has found a way of camouflaging small imperfections: "We prescratch stainless steel. It takes the glossiness out of it, and it looks softer. It's very beautiful in terms of the luster you get."
Wood: Larry Dobbs, owner of Rockville's Creative Kitchens, has been incorporating a lot of wood into countertops—"not as a chopping block but as a dressier piece to add some warmth to otherwise sterile kitchens."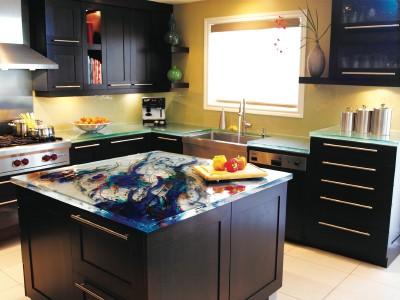 Though you can coat wood with varnish or lacquer, Dobbs likes it best in its natural state, which requires an occasional coat of linseed oil. It can scratch and stain, though some problems are repairable by sanding and oiling.
Glass: Dobbs also likes an ecofriendly product made of recycled glass and concrete from a Brooklyn company called IceStone (icestone.biz).
Another approach he uses: "I'm doing a top now that's a stainless-steel underlay and 1¾-inch glass on top," he says. "It has a flamed edge to it, so it looks like shaved ice. It looks like it's been chiseled by human hands."
The edges can chip unless they're set inside a frame of some kind, says Cole. But glass is very hard, it won't stain, and polishing can make small scratches disappear.
Soapstone: Racki likes soapstone, which is similar to quartz: "It's nonreactive and can take a tremendous amount of heat. You can take a pot right off the stove and set it on the countertop. It also has a warm feeling to the touch, in contrast to granite, which some people say is cold.
"The only fault is that it comes only in black with a streak of green, and you have to oil it maybe once a month with linseed."
Laminates: The old standbys Formica, Wilsonart, and Nevamar—which offer loads of colors and styles—have never gone away, says Slattery-Walp, in part because they're so inexpensive and wear well.
Several years ago, Slattery-Walp designed a kitchen for a couple on a limited budget who had always wanted a top-of-the-line Wolfe range. "So we did a fabulous kitchen in this little bungalow," she says. To make it work, they tried to save money wherever they could, including using laminate countertops.
"That made it more affordable," says Slattery-Walp. "And they knew they could replace them in a few years."
Radon Levels in Granite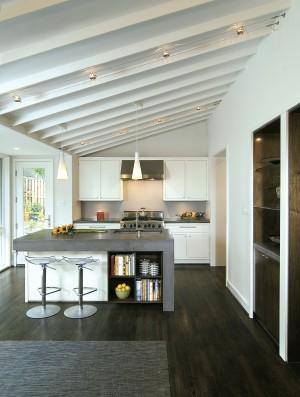 As granite has become more popular, there have been more reports of elevated radon levels from uranium in the stone. Exposure to radon can increase lung-cancer risk, but according to the Environmental Protection Agency, most granite countertops emit only trace amounts. Some of the more exotic types, however, may yield higher levels.
"I've had 100 people press the panic button about it," says designer Larry Dobbs of Creative Kitchens in Rockville. "I've been trying to calm people down, but I've told them, if you're hugely concerned, get a radon test."
To find out more about the EPA's recommendations regarding uranium in countertops—including testing and mitigation—go to epa.gov/radon and click on "frequent questions," then "What about radon in granite countertops?"
What Those Countertops Cost
Prices for countertops can go up or down depending on such factors as the quality of the material, edging details, type of finish, and cutouts for the faucet, says Tuba Omur, a manager at Marblex in Fairfax.
Quality can depend on many things. It costs more to mine granite from deeper in a mountain than closer to the surface, but the increased pressure on that deeper stone makes it denser and stronger.
Beware of a company with extremely low prices. Caryn Slattery-Walp of Stuart Kitchens in McLean says she had a client who bragged about the great deal she'd found on a granite countertop, but it looked as though it had been constructed from remnants. "There were seams all over the place," Slattery-Walp says.
The following prices are ballpark figures. Exotic granites, woods, and other materials can be far more expensive than those listed here, and some discount stores may be less expensive. These prices are per square foot installed.
Granite: $45 to $195
Marble: $70 to $150
Quartzite: $100 to $200
Engineered stone: $50 to $100
Concrete: $75 to $95
Stainless steel: $100 to $120
Wood: $30 to $200
Glass: $80 to $200
Soapstone: $70 to $150
Laminate: $10 to $30
This article first appeared in the October 2008 issue of The Washingtonian. For more for articles from that issue, click here.