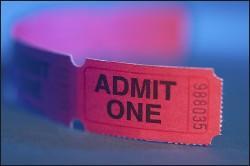 In addition to performing in support of Barack Obama, R&B artist John Legend has been preparing for the release of his new album, Evolver, and an upcoming worldwide tour. He has two shows lined up for Washington, the first of which is at the Lyric Opera House in Baltimore on Monday, December 8; tickets are $73. He performs at DAR Constitution Hall the following night; tickets are $71. Sales for both shows begin Friday, October 17, at 10 AM, but you can purchase presale tickets to his Baltimore show today until 10 PM. The password is "satisfied."
The alternative-rock band 3 Doors Down, who performed at Merriweather Post Pavilion just last month, is coming back to town later this year. This time the band will play at the Patriot Center with opening bands Switchfoot and American Bang. Thursday, December 18; tickets ($29.50 to $55) go on sale Saturday, October 18, at 10 AM.
Coliseum, a metal band from Kentucky, has been touring almost nonstop since the release of its album No Salvation last year. The three-man band is showing no signs of slowing down—catch it at the Black Cat on Tuesday, November 25. Tickets ($8) go on sale Friday, October 17.
Q-Tip, of the hip-hop group A Tribe Called Quest, is back on the scene with a new solo album, The Renaissance, which will be released on November 4. He'll perform at 9:30 Club—with the old-school hip-hop-inspired duo the Cool Kids and the California-based hip-hop trio Pacific Division—on Sunday, November 30. Tickets went on sale this morning.
More than 20 years ago, four guys from Indiana University in Pennsylvania decided to form a band called the Clarks. Several albums later, those same guys have sold more than a quarter million records and are still going strong. Check out the band at the 9:30 Club on Saturday, November 29. The Spring Standards will open the show. Tickets went on sale this morning.
More>> After Hours Blog | Arts & Events | Happy Hour Finder | Calendar of Events