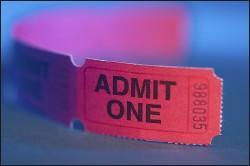 The DC-based duo Thievery Corporation just released its fifth album, Radio Retaliation, last month and will perform several shows in the area early next year. A whopping three consecutive shows are lined up at 9:30 Club for Tuesday, January 27, through Thursday, January 29. Tickets ($40) to all three went on sale this morning. Another has also been scheduled at Rams Head in Baltimore on Friday, February 27. Tickets (also $40) go on sale Saturday, November 8, at noon.
The 2007 album from band Shiny Toy Guns, We Are Pilots, received a Grammy nomination for best electronic/dance album last year. The band performs with openers Your Vegas and the Delta Fiasco at 9:30 Club on Tuesday, November 25. Tickets ($20) went on sale this morning.
The South American band CSS—short for Cansei de Ser Sexy, which is Portuguese for "tired of being sexy"—formed in 2003 from a group of five friends. They've toured with Gwen Stefani and Diplo, but you'll probably recognize them most easily from their single, "Music Is My Hot Hot Sex," which was featured on Apple's iPod commercial last year. Check them out live at 9:30 Club on Saturday, December 20. Tickets ($20) went on sale this morning.
Hip-hop emcee Jean Grae, who is signed to Talib Kweli's Blacksmith Music label, performs with New York-based DJ Mr. Len at the Black Cat on Saturday, December 6. Tickets ($15) go on sale Friday, November 7, at 5 PM.
Chunk of Change, the EP from the Boston band Passion Pit, was originally a Valentine's Day gift to one of the bandmates' girlfriends. Now the album is available online and in stores, and the band has opened for artists including Girl Talk and Death Cab for Cutie. The indie-pop band performs at the Black Cat on Tuesday, February 3. Tickets ($12) go on sale Friday at 5 PM.
More>> After Hours Blog | Arts & Events | Happy Hour Finder | Calendar of Events