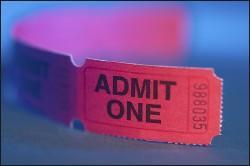 The evolution of R&B singer Robin Thicke continues: He released his third album, Something Else, in September, and it reinforces the change he's made from the shaggy-haired bike-riding days of his first album to a more sophisticated look and sound. He performs with opener Eric Benét on Saturday, December 27, at DAR Constitution Hall. Tickets ($70) go on sale Friday, November 14, at 10 AM.
Self-proclaimed best rapper alive Lil Wayne became a more mainstream artist with the release of his single "Lollipop" off his latest album, The Carter III. He comes to the Verizon Center on Tuesday, December 30. Tickets ($45.75 to $85.75) go on sale Friday at 10 AM.
Pop singer Katy Perry, the voice behind the hit single "I Kissed a Girl," embarks on her first major tour next year. She'll play the 9:30 Club on Friday, April 10. Tickets ($18) go on sale Saturday, November 15, at 10 AM. Presale tickets are available now until tomorrow at 10 PM; the password is "wakeup."
In celebration of the tenth anniversary of its 1999 album, Clarity, alternative-rock band Jimmy Eat World is performing the album in its entirety at ten shows. The second stop on the band's tour is at 9:30 Club on Tuesday, February 24. Reubens Accomplice will open the show; tickets ($40) go on sale Saturday at 10 AM.
Citizen Cope performed a solo acoustic show in Washington last month, and he'll be back next year for a performance with a full band. This time he'll perform at Recher Theatre in Towson on Tuesday, January 27. Tickets ($25) go on sale Friday at 10 AM.
The upcoming Dancing With the Stars tour will feature contestants from past and current seasons of the ABC show, including Lance Bass and Toni Braxton. Check out the tour on Thursday, January 29, at the Verizon Center. Tickets ($52.50 to $225) go on sale Saturday, November 15, at 10 AM.
More>> After Hours Blog | Arts & Events | Happy Hour Finder | Calendar of Events